3
min read
by Prachi Jain – Follow @BrownGirlMag
Photos are courtesy of Kevin Yatarola and Anne Whitman. 
It is highly improbable to grow up in India and be unaffected by the magic of Hindi cinema. My family members constantly raved about old Indian movies—discussing the meaningful story lines, the soulful numbers, and the fresh-as-a-dewdrop beauty of Waheeda Rahman and Madhubala. My teenage-self was awestruck by Shah Rukh Khan of DDLJ and bowled over by Hrithik Roshan's dance moves. So I was excited to revisit those memories at Bollywood Boulevard.
The gray clouds loomed ominously outside the Lincoln Center before clearing away for our flight on a magic carpet to land amid the various decades of the last hundred years of Hindi movies. We traversed the mesmerizing world of Bollywood, getting goosebumps from Guru Dutt's songs, wooing the leading ladies just like Dev Anand, even imagining ourselves under the umbrella like Raj Kapoor and Nargis. From Dada Phalke to Imtiaz Ali, Kishore Kumar to A.R. Rahman, Nargis to Priyanka Chopra—the Bollywood Boulevard team captured the magic of iconic directors, composers, and actors.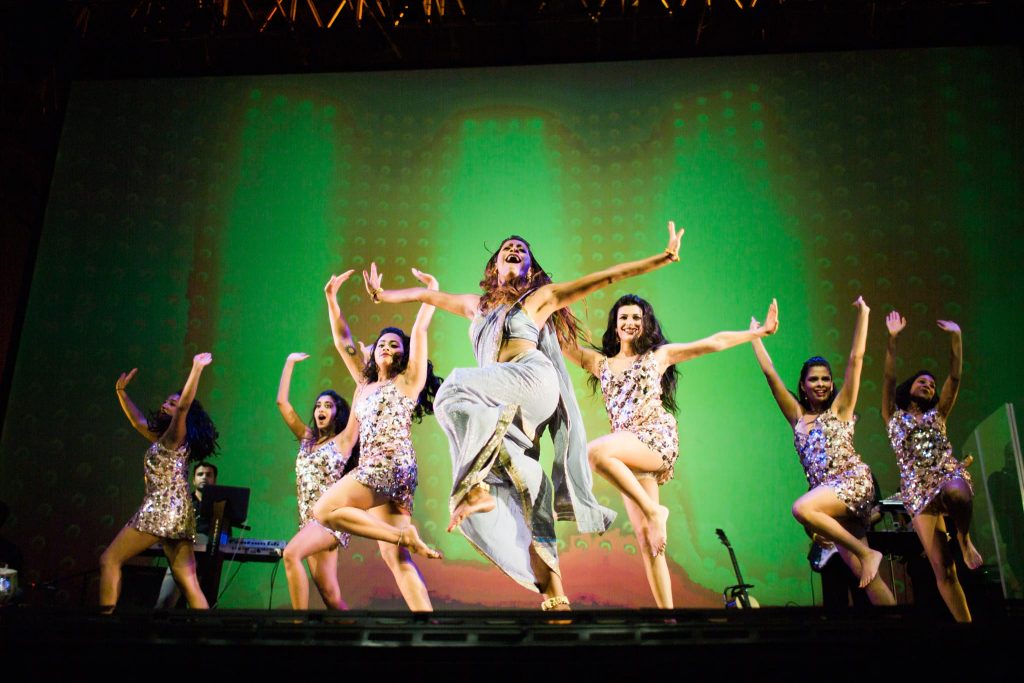 In a seamless flow of non-stop entertainment, the visually stunning and immersive production brilliantly told the history of Hindi cinema to an audience of more than 4,000 people. You could see silver-haired women singing alongside millennials—a poignant reminder of how Bollywood is a family experience on and off screen.
Like watching a movie, the show too had a story to it, moving from black and white classics, which were performed in monochromatic costumes against gray scale backdrops to the gems of the Golden Era against Eastman color scenes to the pulsating dance numbers of today. So captivating were the artists' performances and so transported were we as the audience that you could hear shouts from the audience telling Babuji to let Simran go when the iconic DDJL train scene took place on stage. Alongside the artists, we envisioned ourselves playing coy like Mumtaz, dancing like Sridevi, smiling like Madhuri, having a swagger like Salman, and doing the boogie-woogie like Govinda. Songs like Yeh Dosti and Khaike Paan Banaras Wala brought vivid memories of the monumental films "Sholay" and "Don."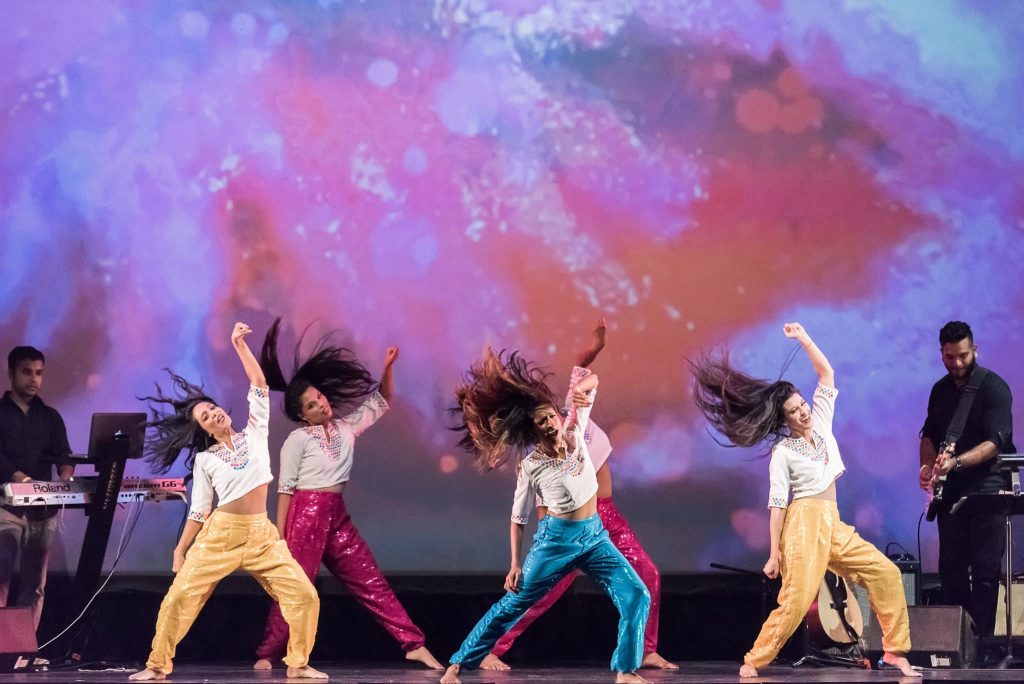 Featuring 18 dancers, nine musicians, digital backdrops and short films, Bollywood Boulevard was a 3D time capsule with an extremely thoughtful song list created by Heena Patel of MELA Productions and Rushi Vakil of Aaditaal Music Project. From classical and folk dance numbers to disco and hip-hop pieces choreographed by Rohit Gijare, the show beautifully portrayed the entire repertoire of dance and music: vaudeville, burlesque, classical, jazz, hip hop, ghazals, qawwalis, and a welter of other forms were presented to the spellbound audience with sets, props, and costumes replicating the movies.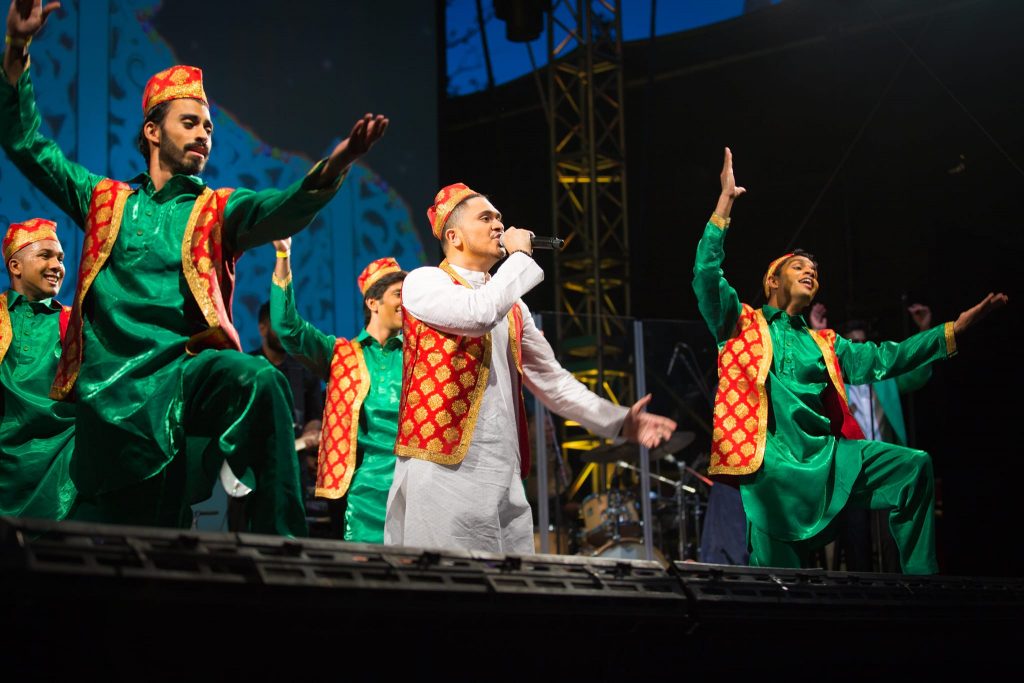 Bollywood Boulevard demonstrated once again the magnetic power of Hindi cinema and Indian entertainment. Indians could be seen gustily joining singers Harini (Rini) Raghavan (who also played violin), Harshitha Krishnan, Krishna Sridharan, and Neel Nadkarni as they sang songs from Raj Kapoor's era to today. Audience members were in the aisles dancing, while new fans of Bollywood were talking about going home to watch more Hindi films. The band consisting of Varun Das (drumkit), Sanjoy Karmakar (percussion), Niranjan Nayar (guitar), Achal Murthy (bass guitar), and Rohan Prabhudesi (keyboard) captured the sounds across the decades beautifully, while characters from over the decades such as Vyjanthimala, Gabbar, Raj and Simran were represented by a dance cast including Aaliya Islam, Aria Dandawate, Avinash Gabbeta, Barkha Patel, Bhumit Patel, Bindi Patel, Geatali Tampy, Manav Gulati, Minal Mehta, Payal Kadakia, Poonam Desai, Pranav Patel, Proma Khosla, Rhea Gosh, Rohit Gijare, Rohit Thakre, and Sean Kulsum.
---
Prachi works as a freelance copywriter. She likes to write short stories. With two kids, a part-time job, and an immense love for reading, writing and jogging, she is hard pressed for time – all the time. Her work has been published in Foliate Oak, Vending Machine Press, and Ascent Aspirations to name a few.