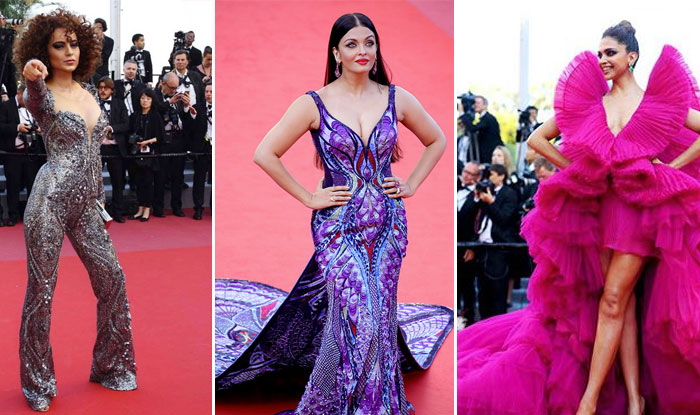 by Nehal Mehra – Follow @browngirlmag
The renowned Cannes Film Festival completed its 71st year. Known as the second largest global event, after the Olympics, Cannes hosts film fraternities from all over the globe. This year at the two-week long festival, Bollywood made its presence known.
Here's how the heartthrobs of B-town made heads turn while the gracing the red carpet at Cannes.
1. Deepika Padukone
Let's kick it off with Padukone, the reigning queen of Bollywood and one of the most sought-after actresses in the Indian film fraternity.
After the disappointment from the Met Gala in a Prabal Gurung gown, which fell short of wowing the crowd, I was really holding my breath for Padukone at Cannes. Happy to announce, the queen claimed her crown as she stepped out in killer outfits one after the other throughout the festival, especially on the red carpet.
Her first red carpet look was a white cape gown by Zuhair Murad. The dress was a plunge neck with beautiful white embellishments on beige fabric – a quintessential Zuhair Murad ensemble. Her look was completed with simplistic jewelry, traditional Hollywood waves and fresh, coral makeup.
Just when you thought, Padukone couldn't look anymore radiant, she stops everyone in their tracks with this Ashi Studio Couture dress. To call this look bold would be an understatement. From the color to the ruffles to the asymmetrical hemline and the train, it all screamed drama, drama and more drama.
2. Kangana Ranaut
Ranaut made her first ever appearance on the Cannes red carpet this year. Safe to say that her debut was quite a success story when it came to her fashion diaries. Day 1 on the carpet started off with a grey sheer gown from Zuhair Murad. Her look was clean, fresh and minimalistic. No heavy makeup and completely jewelry free.
Ranaut's second red carpet look definitely had some heads turning and people whispering. Stepping out in a Nedret Taciroglu embellished catsuit instead of the traditional dress. Her hair was in messy curls, natural perhaps, with smokey eye makeup. She really let her inner-self shine through with this one.
3. Aishwarya Rai-Bachchan
The former Miss World is no stranger to the Cannes Film Festival. Year after year, the actress has created headlines with her apparel choices. However, this year it might not be for the right reasons.
Her first appearance on the red carpet was in a Michael Cinco Stellar Butterfly gown in a mermaid cut. A truly unique and one-of-its-kind gown – it left me scratching my head and with some unresolved feelings. She sported a bright red lip and a glitter eyeliner – choices again I was not too sure about.
Her second look was an ivory crystal gown from Rami Kadi – very reminiscent of Priyanka Chopra from the 2017 Oscars. This look was nothing extraordinary and fell short of the expectations from the actress. She wore her hair in a tight bun with certain pieces stiffened with too much gel – the look almost looked like a hybrid of a futuristic robotic bride and Mulan. Her makeup was clean with bold eyes. Nonetheless, the actress looked stunning per usual.
4. Mallika Sherawat
Although we don't see much of Malika Sherawat on the big screen anymore, she did make an appearance on the Cannes red carpet.
Her first look was a Tony Ward lavender gown adorned with a swan pattern. The dress was a high neck with a sheer plunging neckline. Her makeup was soft and pulled back in a ponytail. Nothing too bold, but elegant for the red carpet.
Sherawat channeled her inner princess for the second day on the red carpet in a Yolancri Couture strapless gown that did not wow. It resembled more of a prom dress from 10 years ago with the lace printed pattern and mini polka dots. Her makeup again was mediocre with soft curls.
The actress also deems an acknowledgment for having a voice and her posing in a cage to represent the growing rape culture in India.
5. Huma Qureshi
Qureshi also made her debut at the festival this year. Opting out of a gown, she walked the carpet in an embellished Nikhil Thampi designed beige pantsuit. Resembling a fashionable tin-man, Qureshi still screamed confidence and fashion-forward with this outfit. I would've preferred a more tailored outfit or something a few notches up to make this look "first-ever red carpet" worthy. I'm still unsure how much I'm feeling this look, but the sleek hair and makeup awarded her the look of a boss!
6. Neena Gupta
Last but not least, we're wrapping up the first half of the Cannes Film Festival with actress Neena Gupta who also made her debut this year. A veteran of the Bollywood film fraternity and mother to the very trendy fashion designer, Masaba Gupta, she looks elegant and poised in one of her daughter's saree. The white and gold silk saree with a hot pink blouse was not reflective of junior Gupta's wild prints.
Folks, this list was just the first half of the Cannes Film Festival with some of our favorite Bollywood stars stirring up some fashionable conversation.
Stay tuned to catch the rest of the looks as the festival wraps up this Saturday, May 19th.