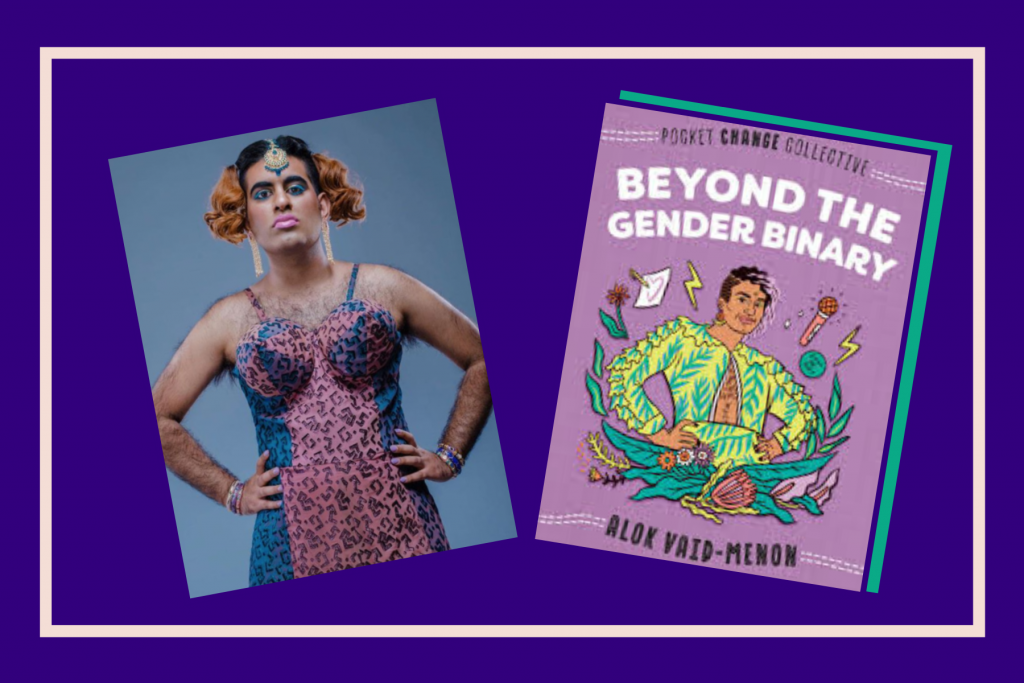 It was finally warm, finally June, and I had finally received the long-awaited copy of "Beyond the Gender Binary" in the mail. From collecting it at the mailbox, my partner and I went on a long walk, eventually stumbling across an open lower Manhattan wine bar.
After claiming seats at the one lonely table set outside, I coyly told him, "Pick a number between 5 and 63."
Sipping his glass of red wine he said, "How about 7?"
I flipped to page 7 realizing it was the introductory title page relatively vacant of text. Such a page was not so useful for the purposes of this game. "Ummm can we just do seven…teen instead?" I asked, observing his face. His facial expression visibly vetoed my potential solution. Exasperated by our collective sass I said, "OK fine, just pick another number."
"Try… Twenty-two," he responded as I took a sip and cleared my throat.
Upon landing at that page I gave the disclaimer, "OK but I'm going to start at the beginning of the paragraph on page 21 so we have some context." I proceeded to read through the pages that paint the formative events in Alok's high school life: attempting to fit in. Avoidance of calling too much attention to themself. Being harassed. Being traumatized. Alok narrates how over time their body became its own closet.
I then got to the subsequent paragraph that detailed how Alok doesn't remember much of their childhood since they spent most of their childhood feeling dismembered. I started telling my partner how much Alok's narrative deeply resonates with me when suddenly—
"Look at those beautiful faggots!" we heard as a group of men on bicycles drove by, interrupting our otherwise cute wine date. They came, caused their damage, and rode off. They forged every chance to freely express themselves to us while simultaneously removing our ability to communicate anything in response. It all happened so fleetingly and we were left to figure out what to do with the pieces that were covered in our emotional residue. We looked at each other and blinked and smiled. "Do people still do that?" my partner asked rhetorically. I immediately pushed my emotions (and my ability to metabolize those emotions) temporarily aside.
This is what I have learned to do to survive. And after reading Alok's book, I can better understand why.
Although Alok's book speaks mostly about how we can imagine better futures, I found myself inevitably traveling down memory lane remembering times the gender binary has affected me. As I read, I remembered the aghast look on my auntie's face when she saw me as a pre-teen placing two bouncy balls under my shirt as if to imitate having breasts. I remembered being called a "ladies man" every day by my eighth-grade social studies teacher. I remembered awkwardly attending high school dances with my best friend who was lesbian.
View this post on Instagram
I remembered being called "brave" repeatedly by seemingly kind colleagues at a work happy hour as if my nonconforming gender expression is a cloak of courage. I remembered being told, "But Sir, these socks are for madams" while shopping in a mall clothing store in Bombay. I remembered a former school supervisor telling me "morality has nothing to do with this" as I frantically tried to urge him to respect my student's preferred gender pronouns. I remembered comforting a straight male who claimed the hour-long LGBTQIA+ training I facilitated was "just so much to absorb." For him.
I remembered being dismissed as "not having American values" while completing a Fulbright in Brazil and advocating for public university students to not be called the Portuguese-equivalent of "faggot" by their professor in the classroom. I remembered experiences as both a student and an employed teacher. I remembered events that happened to me both locally and abroad.
Reading Alok's informative book allowed me to remember past experiences that have dismembered me over time. For me, Alok's book plays a crucial role in helping me re-member my own brokenness.
While Alok's book makes me feel seen, Alok makes the argument that the queer experience need not be universal for it to be valid. Alok's book takes the know-thy-enemy approach and preemptively discredits arguments nay-sayers frequently posit to discredit the true, real, and authentic experiences of us queer folks.
In this short book, Alok walks us through the divisive ways queer people are dismissed and targeted as inconvenient. Alok empirically rejects "biology" and "slippery slope" justifications used to erase and victimize us. Alok deconstructs reality in order to lay the groundwork for reconstructing a reality that would be better for everyone.
"Beyond the Gender Binary" attempts to give us the tools to build a better future. In doing so, Alok indirectly gives us the tools to more clearly understand how we feel. After finishing Alok's book I was better able to process my past trauma. I was more equipped to process the wine bar incident with the bikers that ironically happened while I recited from "Beyond the Gender Binary." Although those men on bikes rode off before we could even respond, Alok gives us the theories and language to communicate with those who stick around to converse rationally.
"Beyond the Gender Binary" serves as a mirror to everyone in society. The book is not just for queer people to read. Although we have necessarily been damaged by the pervasive existence of the gender binary, we have all inevitably swung it as a weapon as well—and in many cases against ourselves—as Alok transparently mentions having done as well.
View this post on Instagram
Alok humbly imparts their wisdom without putting themself on the pedestal of gender inclusivity. "Beyond the Gender Binary" agitates the status quo by providing an innovative theoretical framework to combat what we seem to think we know. Alok and their book deserve adopters of this paradigm to apply as praxis so queer people no longer face mistreatment in schools, at work, in public, at home, in private, and in our own bodies.
Assuming every reader who reads this book not only reflects on having the gender binary wielded to delegitimize their identity—but also considers how they themselves have leveraged this binary to feign a feeling of powerfulness—only then can we move towards this liberatory future that Alok creatively imagines on our behalves.
Purchase "Beyond the Gender Binary" from Penguin Random House and keep up with Alok's work on Instagram!