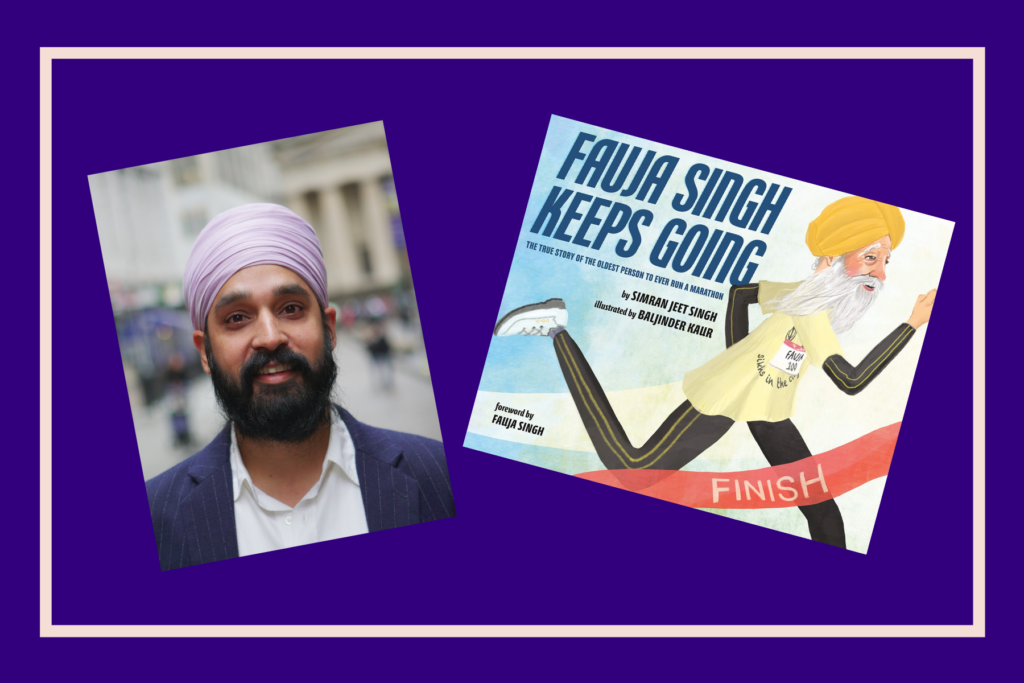 To virtually meet debutant author Simran Jeet Singh, RSVP to our webinar on Sunday, October 25th at 10am pst/1pm est featuring him and the all-female team — Namrata Tripathi, VP & Publisher, Kokila, illustrator Baljinder Kaur, and literary agent Tanusri Prasanna. The discussion will be moderated by Brown Girl Magazine contributors Nikki Singh and Ravleen Kaur.
Fauja did not listen and he certainly did not stop.
While you may know of Fauja Singh as the world's oldest marathon runner, his life story is perhaps even more extraordinary than his many world records. Born in a small village in Punjab, Fauja Singh, whose name means "warrior lion," longed to play with other children but could not walk. It wasn't until his fifth birthday that he began to take steps and then worked to strengthen his legs.
While there have been other children's books with Sikh characters, "Fauja Singh Keeps Going: The True Story of the Oldest Person to Ever Run a Marathon" is the first children's picture book by a major publisher to feature a Sikh character. Author Simran Jeet Singh beautifully shares Fauja Singh's life story in a way that highlights his unique resilience and is somehow also relatable to both children and adults, especially immigrants. Baljinder Kaur's illustrations bring the story to life with depictions of Punjabi villages and gurdwaras.
View this post on Instagram
Due to his resilience as a child who couldn't walk to becoming the oldest marathon runner in the world, Fauja Singh's story is not only relatable but also inspiring. As daughters and granddaughters of Sikh immigrants, we each have our own stories of parents and grandparents overcoming odds and breaking barriers. Everyone has their own struggles to overcome in their journey abroad, but the resilient attitude and strong faith is a common thread we see across immigrant stories.
Throughout the book, Simran Jeet's words and Baljinder's art showcase life for so many Sikh families. Women with long braided hair, men wearing dastaars, community members eating parshad, a living room with a photo of Guru Nanak Dev Ji and a coffee table with cha and jalebis feels like home. There is something incredibly powerful and heartwarming about seeing a Sikh as the main character as opposed to a token or supporting character.
"Fauja Singh Keeps Going" normalizes the expression of the Sikh identity for the next generation. Gone are the days when growing up, little girls like us would wonder if we should hide parts of our identity to avoid being made fun of at school. Fauja Singh's story packs a punch because it teaches us about resilience and motivation, shows us why we should be proud of our immigrant roots and shouts to the world that Sikhs are part of the mainstream population. If our generation had this book growing up, we imagine that we'd be much more proud and accepting of our families, religion and culture.
As Fauja Singh grew up, he got married, had children, and eventually immigrated to England. Throughout his life, he continued to face many challenges and yet he did not listen to criticism and did not stop trying. Fauja Singh lives his life through the Sikh value of chardi kala, or eternal optimism.
Many of us have seen our grandparents retreat to primarily staying within the home during their old age. This may be because of health issues or language barriers. But at 81 years old, Fauja Singh saw people in England "running for fun" and decided he wanted to learn to do the same. He remains positive throughout all his setbacks, from the beginning of his life when he was struggling to walk to his later years when he's struggling to finish his first marathon. With this spirit of eternal optimism, he overcomes and achieves whatever he puts his mind to.
Fauja Singh learned of the hate crimes Sikhs in the United States were experiencing after the 9/11 attacks around the same time he was starting to run. Although he could not read, write, or speak English, he wanted to use his visible identity — wearing a turban and maintaining unshorn hair — to raise awareness about who Sikhs are. He decided that he would use his platform as the world's oldest marathon runner to run the world's biggest marathon in New York City, bringing positive attention to the Sikh community.
View this post on Instagram
While the marathon did not go as planned because it was his slowest recorded time and he collapsed after the race, his idea to use his platform for good is both a lesson and an inspiration. For some people, it's running a marathon. For others, it's raising awareness through art, fighting for equitable policies, or writing a book. Whatever our roles and challenges in the world may be, we can all learn from Fauja Singh — to remember to keep going!
You can purchase "Fauja Singh Keeps Going" from Penguin Random House and keep up to date with Simran Jeet Singh on Twitter!