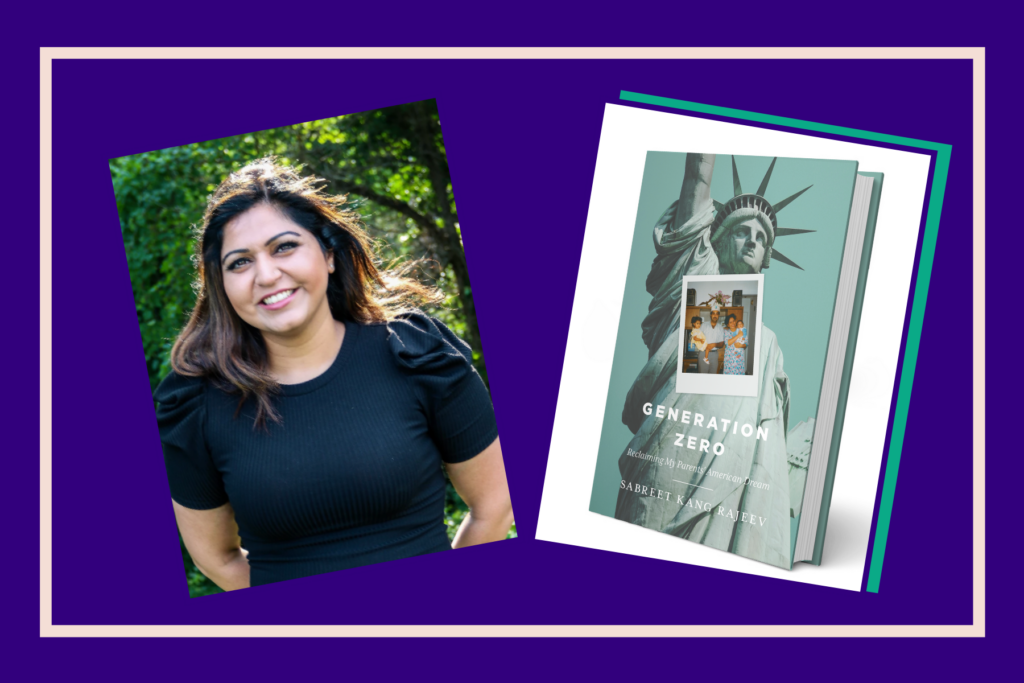 "Generation Zero" is a memoir that chronicles the interwoven journeys of author Sabreet Kang Rajeev and her family as Indian immigrants living in the United States. Set in both Queens and Baltimore, "Generation Zero" recounts the Kang family saga from their misfortuned beginning as landowners in Punjab, to their clandestine, seafaring odyssey into Louisiana, and eventually to their suburban life in Baltimore that is jumbled with arithmetic, alcohol bottles, secret lovers and a quest of discovering courage. Mixing both familiar immigrant struggles of voicelessness and invisibility, with a unique perspective of desi working-class life, "Generation Zero" succeeds in showing the spectrum of trials and triumphs that come with surviving and continuously rebuilding life in a foreign, dream-promising land. 
View this post on Instagram
Parts of this book read like an epic Hollywood film. The beginning of the book starts with the adventurous thriller romance starring Kang Rajeev's father, a free-spirited and world-traveling Indian man who escapes India to steer a steamship to America across treacherous seas. Just like Jack from "Titanic," Sabreet's father beguiles the ship crew, convincing the group of Indian seafarers to slip away and follow him through alligator-filled waters, and, despite not knowing how to swim, enter the United States illegally. Her mother, back in Punjab pining for her fiance, pens a series of romantic letters expressing her yearning for when they can reunite and chase their American dreams together. Parts of "Generation Zero" also read like a nostalgic Myspace rom-com filled with internet love, secret mall meetings and teenage rebellion. I definitely took a few walks down memory lane myself, jogging my memories of Top 8 Friends List, Profile Music Pages and informant family members inspecting our teenage whereabouts.
That being said, "Generation Zero" also explores serious issues. Kang Rajeev tackles the laundry list of issues that are typical in dysfunctional Indian home life such as sexism, the unwantedness of female babies, the voicelessness of South Asian women and the cumulative stresses of unprocessed trauma. I found myself nodding at many of the anecdotes she shared including, but not limited to, strained marriages, internalized racism, being overworked, leading double lives, post 9/11 life, and hiding our adolescent pains to protect our parents. I think we've all been there to witness our fathers slump into bed after working double shifts, shivering in their cars and asking God why they came to a forsaken land that lured them with dreams to steal their spirit instead. This journey is not without the burdens we carry, and Kang Rajeev does not shy away from confronting the hard truths and obstacles that occur. 
As I get older, I settle into the idea that the American Dream is actually the American Mystery. You arrive from a foreign land dreaming of riches and money falling from trees, and you don't realize that the actual magic of this country is in pushing you to a deeper truth: that no matter who we are and where we come from, we are all interconnected. If you work hard enough and open your heart, the possibilities of letting love in are endless. Kang Rajeev's journey of fighting for inter-caste, inter-ethnic love in the book reminds me that you really don't know where this American story will take you. You may never understand why your father had to leave home and suffer for decades, or why your mom had to endure hungry nights. But what you do know is that when you look into that special person's eyes and hold them tight in your arms, that all of this – the pain, the isolation, the sacrifice, the struggle – all had to mean something. What's in front of you is real, and maybe your pain was pushing you to something bigger. I think that's the real beauty of "Generation Zero" — to remind us that one day our struggles will be worth it if we remember to persevere and use the gift of American possibility to shape our destinies. 
Be sure to pick up a copy of "Generation Zero" available on December 8th at Amazon or Barnes & Noble. You can learn more about Sabreet Kang Rajeev by visiting her website.