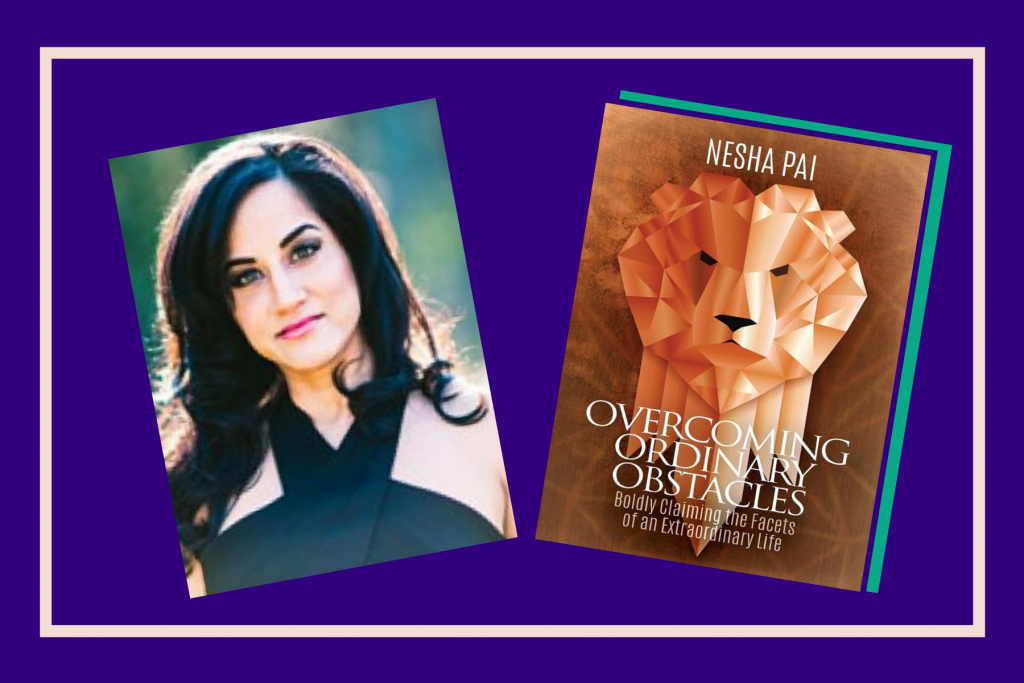 Upon reading Nesha Pai's "Overcoming Ordinary Obstacles: Boldly Claiming the Facets of an Extraordinary Life," I instantly felt like she was my older sister. She explores many obstacles including being a first-generation American, facing racism to dealing with a divorce, which is taboo in many cultures. On a personal level, I continuously dip my toes into non-fiction books that explore the lives of individuals and their viewpoints about their experiences. It helps me reflect on own life and how to navigate a variety of nuances.
Within this book, Nesha does not sugar coat any of the obstacles she discusses. She faces them head-on and even helps the reader explore further with follow-up questions at the end of each chapter. I am an advocate for reflection, especially when dealing with hardship and how to overcome challenges.
View this post on Instagram
The entirety of Nesha's book is anecdotal, which is my preference. In many instances, authors who write non-fiction books about their personal experiences tend to throw in plenty of scientific facts, which can be beneficial, but it may defeat the purpose of exploring their raw, vulnerable human experiences. 
For instance, Nesha admits that she felt out of place when she went to school, which was in a white, upper-middle-class neighborhood—something that I could relate to as well. She also speaks candidly about saving herself for marriage, which takes plenty of courage to even mention in today's society. She even talks about rebuilding her life in more than one way and creating "a new normal" after unforeseen circumstances. She states the following:
Sometimes the universe inexplicably forces you to head in one direction over another, so you have no choice but to take a leap of faith. I've learned to lead emphatically without hesitation in those moments. We have one life here, and being debilitated by fear is a waste of time (p. 69). 
I wrote this quote down and put it up on my bulletin board since it emulates human life. Nesha reiterates that sometimes life throws you a curveball and in many instances, it is best to let go of expectations. For example, she talks about her experience working at a Fortune 500 company in 1995. At the time, the organization was the largest international shipping company in the United States and many people wanted a job there.
When she landed a position, her confidence was through the roof, and during that time, she met the man who would eventually become her husband. In the beginning, she figured that her parents would not approve of him, being that he was a white man, a Christian, and 10 years older. However, once she let go of her expectations, the relationship blossomed and flourished. She saw the risks and took the plunge anyway, highlighting that "being debilitated by fear is really a waste of time" (p. 81). 
Nesha has a sense of honesty and directness with her writing, which is something that is not seen very often. From her stories, there is a genuine warmth that is felt by the reader, regardless of their background. Additionally, instead of focusing on the obstacles and problematic occurrences that take place in life, she discusses how to overcome them and provides suggestions on how to focus on factors that help us thrive. 
As do many children of first-generation immigrants, I have learned that freedom is not free. The actions that my mom and data took and the way they reacted to their experiences taught me that hard work and sacrifice are necessary elements to freedom. The work ethic they both displayed is deeply ingrained within me. But I didn't truly understand their journey and how it shaped their lives and therefore my life until very recently. That lack of understanding was a giant, invisible obstacle I kept bumping into even as I leapt over other obstacles to grow unto the extraordinary life I am creating for myself (p. 7).
View this post on Instagram
This book helps us to understand that we all have the ability to create an extraordinary life, but we have to learn how to manage some blimps along the way instead of running from them. Sometimes, we need a glimpse into the life of another person to get some inspiration or a spark of motivation. There is no doubt that Nesha's voice will continue to resonate for many years to come! 
Keep up with Nesha Pai on Instagram and buy "Overcoming Ordinary Obstacles: Boldly Claiming the Facets of an Extraordinary Life" here! 
---
The opinions expressed by the writer of this piece, and those providing comments thereon (collectively, the "Writers"), are theirs alone and do not necessarily reflect the opinions of Brown Girl Magazine, Inc., or any of its employees, directors, officers, affiliates, or assigns (collectively, "BGM"). BGM is not responsible for the accuracy of any of the information supplied by the Writers. It is not the intention of Brown Girl Magazine to malign any religion, ethnic group, club, organization, company, or individual. If you have a complaint about this content, please email us at Staff@0mq.349.myftpupload.com. This post is subject to our Terms of Use and Privacy Policy. If you'd like to submit a guest post, please follow the guidelines we've set forth here.