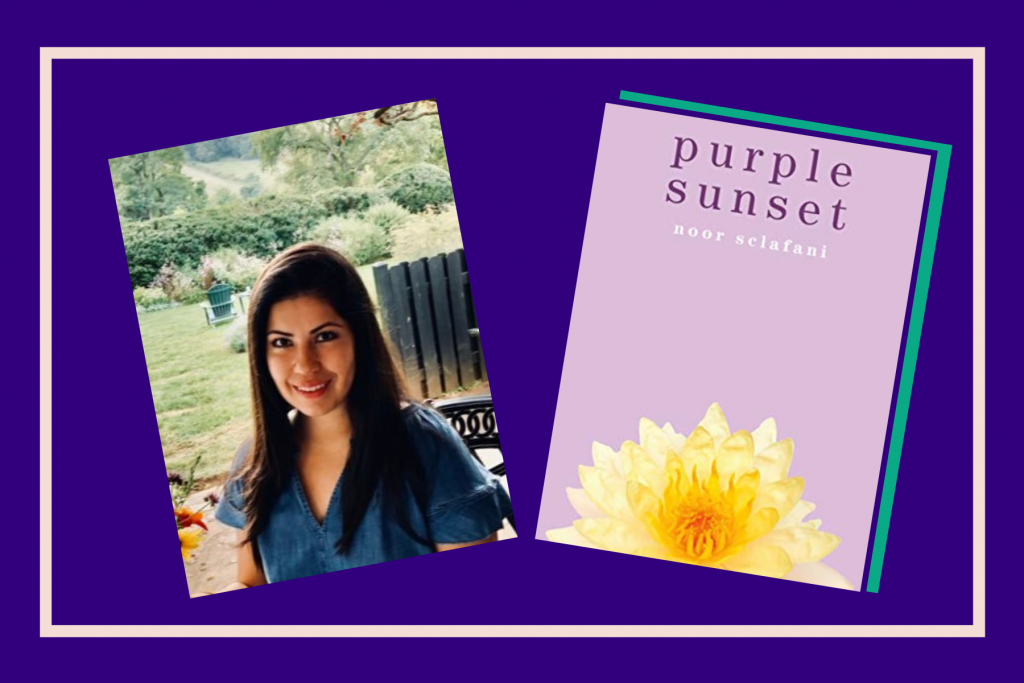 Before diving into "Purple Sunset," a self-published compilation of 74 poems discussing love, life, and loss, I was struck by the irony of the author's name, Noor, because she was a poet who also happened to have a poetic name. 
Like many names of Arabic and Urdu origin, Noor carries a beautiful meaning. It denotes 'light,' 'illumination' and 'radiance.' Unlike light coming from burning wood, Noor is a soothing light, one that emerges from a divine and cosmic source; the kind of light to illuminate a path. 
If Noor's name was any indication of what I was about to read, I had a feeling this book was about to shed light on the obscured wisdom lodged within me, and help me see the world, and myself, in a different way. 
I was absolutely right. 
View this post on Instagram
A 15-year labor of love, "Purple Sunset" is an elegant collection of poems that puts fresh spins on familiar themes like relationships, survival, nature, and hope. In this book, you will read about protecting your heart, finding answers within yourself, and celebrating the world's unappreciated miracles. One thing you will glean from Noor's book is that love is hard-earned. You will also follow a female narrator reckoning with her own creation, asking "Why, life? Why did you give me this pain? What was it I am supposed to learn?" Sclafani uses every word and line break to give a satisfactory taste of insight and reminds us to embrace pain as understanding.
There is something in "Purple Sunset" for everyone, whether you are the woman warrior, the sensitive soul, the nomad, or the recovering lover. My absolute favorite poems include "A Thousand," "I Said," "Dirt," "Change" and "Shattered," where the triumphs in survival and the strength of a woman are celebrated. Noor's strengths are her love poems ("I'll Admit"), but her empowerment poems also hold their own ("Slingshot'" and "Let Go"). 
View this post on Instagram
Existential dread is a common sentiment among today's generation. With the deluge of COVID-19, racism, economic uncertainty, I often hear people our age ask, "Where is all this headed?" For first-generation Americans, a people caught in limbo between two worlds, this question is doubly resonant. Noor's poems speak to this internal crisis. Like many good writers, Sclafani finds a way to reframe the world's hopelessness into a world worth living for, one that is constantly talking to you, teaching you lessons, and asking you to pay attention. Her style is uplifting and in our times, necessary. I encourage all interested readers to purchase Sclafani's self-published book. As someone who gambled on herself and pursued the non-traditional route, Noor deserves the Brown Girl community's support. I sincerely believe she worked hard to shine a light on transcendent truisms in a soothing and joyful manner, and I encourage all readers to check out her work and support her artistic journey. 
You can purchase Purple Sunset from Amazon. Keep up with Noor Sclafani's work on Twitter and Instagram!