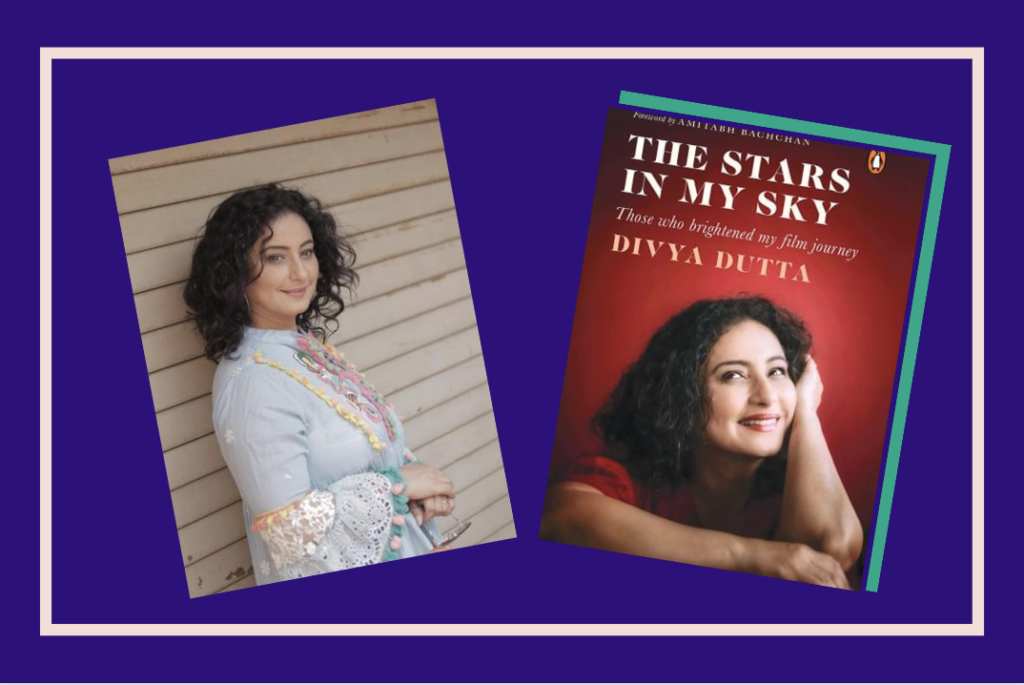 Award-winning actress, Divya Dutta, is back with her second book titled "The Stars in My Sky." When a person of Divya Dutta's ilk decides to author another book, we can't help but expect something just perfect. In her prolific career, Divya Dutta has shared the silver screen with the leading names in the Bollywood and Punjabi industries. However, it's through her book that we get to live her life through those shared moments behind the camera. 
It's amazing to see that Divya chose writing as the means to express gratitude to the people who changed the trajectory of her film journey, for that's something she's best at. Through this story, she recounts her experiences with the stars of Bollywood like Amitabh Bachchan, Shabana Azmi, Irfan Khan, and more. The book takes us through the struggles and learnings of Divya Dutta as she tries to navigate her family's socioeconomic circumstances to seek greater adventures in the film world; it was tough for her to have aspirations to be an actress. But, she had the drive to change her situation and chase her desire for fame. 
Divya narrated each of these incidents separately in the book with rare candor and kindness. Her penchant for acting and writing is quite apparent in her stories. The book gives us tidbits about the life of an actor behind the camera that includes day-to-day stories like cute lunch table conversations with Irfan Khan or sharing a vanity van with Juhi Chawla. The style of writing is fun and easy to read. We literally can run through the entire book easily stepping into the shoes of a small-town girl with big dreams. 
Some chapters make us laugh our hearts out when we see the naïve Divya trying to observe and learn for the first time. It was amazing to read about her vigilant efforts to closely observe legendary actors and directors like Irfan Khan and Yash Chopra act out in a scene to match their wavelength. While the others like Irfan Khan and Rishi Kapoor make us emotional. It's sad to know that these beloved stars will no longer grace the screens with their presence, but it's heartwarming to see a part of Divya in them all. Her story clearly showed us her undying passion for acting since she chose to never give up on her dreams. As an actress with wit and quick observation, she learned acting by observing her senior actors meticulously who kept her boat afloat. 
Through her story, we get a sneak peek into those BTS moments of film-making that are fun to read. As viewers, we fathom the stars of the film industry as the ones very flamboyant or un-attached. However, Divya's story breaks the bubble for us. Her ever-lasting friendship with Sonu Nigam and Sonali Bendre proves that we can witness meaningful relationships in the shining film industry. 
The biggest takeaway from the book is that if we gather the guts to chase our dreams and continue doing it against all odds, then the life we pray for won't be far off. Even though we don't know Divya as a mainstream actress, she finds solace in being a refined artist who never wishes to get enough of her breathtaking acting career. 
Follow Divya Dutta on Instagram and buy a copy of her book "Stars in My Sky" here!