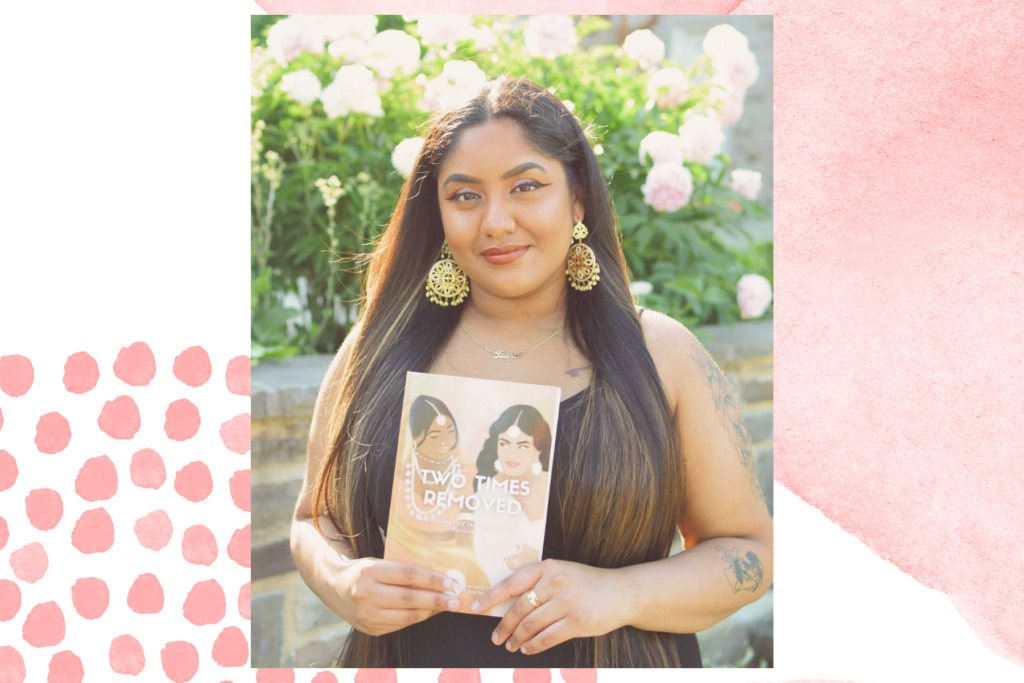 "Two Times Removed" lays bare a myriad of the issues first-generation Indo Caribbeans grapple with on an everyday basis. The book's title references the double migration from South Asia to the West Indies, and subsequently from the West Indies to the United States and Canada. Edited and curated by Canadian-based book blogger, writer and editor Tiara Jade Chutkhan, "Two Times Removed" begins with an ode to the ancestors and an introduction to the unique identity crisis many Indo Caribbean people encounter, particularly when experiencing a coming of age. The book also functions as a testament to why storytelling is critical for people who must rely almost solely on oral history to trace their genealogical roots.
Featuring the work of 16 Indo Caribbean women, the carefully curated collection of short stories, chronicles the experiences from the Indo Caribbean women of today's generation. While the anthology is fictional, the stories weave together a narrative shared by Indo Caribbeans across the globe.
View this post on Instagram
With an ancestry from South Asia fused with a more recent migration to the predominantly English-speaking, then-colonized Caribbean, to the culture shock and assimilation that can come with residing in North America, the book effectively conveys the nuance of the Indo Caribbean identity, particularly as it pertains to Indo Caribbean women.
[Read Related: Book Review: Exploring the Indo-Caribbean Identity in 'We Used to Waitress' by Jihan Ramroop]
From the challenges of the dating scene, to the hierarchies that come with not being "Indian enough," to the traumas stemming from intimate partner abuse and alcoholism, "Two Times Removed," addresses onerous issues in engaging, relatable and sometimes comical ways.
"At that moment, Anjali saw him. He had brown skin, light brown eyes, plump lips and spiked hair. He had a line up around his chin connecting to his mustache. He wore baggy pants and a baggy white t-shirt. He rocked a Jansport backpack, fresh, white Air Force Ones and a Guyana flag hung from his back pocket. He had his earbuds around his neck with a soca mix blaring from it. He. Was. So. Hot."

— Saira Batasar-Johnie, "Two Times Removed"
Although their appearances are fleeting, the characters introduced in the book, each distinct to their respective short story, can easily be related back to one's own family. The overly-critical mother who lives vicariously through you, the grandmother who had to accept her fate instead of chasing her dreams, the dad who eagerly shares his detailed migration story with pride and you who, no matter how hard you try, can never come close to making a traditional Indo Caribbean meal with the ease and grace of your elders. 
"She didn't have time to talk about her problems when there were mouths to feed and lives to live. This woman is the actual life of the party. An aura that outshines the Phagwah parade in Smokey Park. My Tassa queen is betta than a plate ah Cook Up and has a heart as pure as Guyana gold. But we didn't talk. Talking prevents, talking helps and talking heals."

— Kamala Chan, "Two Times Removed"
"Two Times Removed" hones in on all the precious things that hold more weight to Indo Caribbeans than anything ancestry.com could glean: the photographs, the foods, the music — heck, even the rum. The book simultaneously addresses the harsh realities of living with an Indo Caribbean identity, not knowing where to begin to find yourself.
View this post on Instagram
"We used Bollywood movies as a life jacket, keeping ourselves afloat so we could swim back to our roots. Between twirling like the heroines in the long, vibrantly colored movies, to dressing up in a lehenga accompanied by a silky glittering dupatta draped over my shoulder with a colorful bindi to match on my forehead, I yearned to connect to my ancestors. India is a huge country with global acknowledgment. Pride used to flow through my blood knowing I am of Indian descent. I claimed the country and the accomplishments of its people as my own. Trivial facts such as India winning the pageant titles Miss Universe, Miss World, and Miss Asia Pacific in the year 2000 made me feel like I won and was just as beautiful as the Indian women who won. Wisecracks about the stereotypical Indian careers in medicine, engineering, and technology made me feel like I was capable and smart. When someone made the incorrect assumption that I was Indian, I went along with it because it made me feel worthy."

—  Savita Prasad, Excerpt from "Neither Here Nor There" in "Two Times Removed"
The book also spotlights issues that are often glossed over by Indo Caribbeans, including caste discrimination and the rise of Hindu nationalism in India. As well as its deleterious effect on the Indian diaspora, including countless Muslims whose histories are often erased and replaced with a Hindu-centric brahminical narrative.
Like Gauitra Bahadur's "Coolie Woman," which Chutkhan herself drew inspiration from, "Two Times Removed," is a book worth gifting to every Indo Caribbean woman in your life. It's cerebral, unadulterated, and at times, reads like a love offering. Each featured author brings a unique Indo Caribbean flavor to the pages of "Two Times Removed," every word worth your attention. The book is proof enough of why it rests on us to document the narratives of our people.