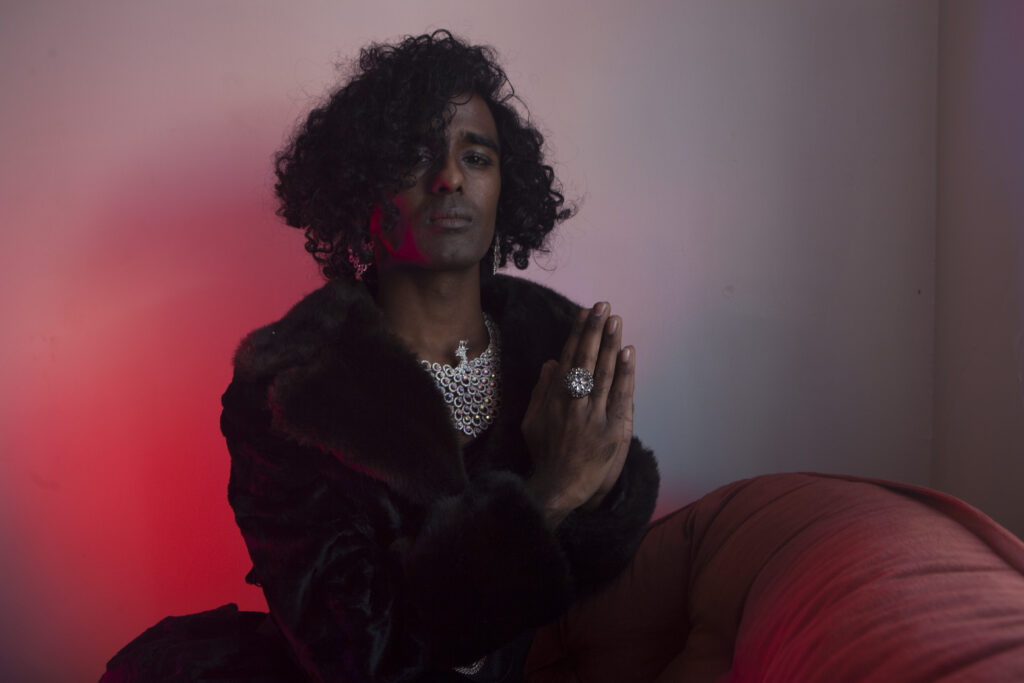 I recently grabbed a drink and conversed with a poet whose poetry I deeply enjoy. Mid-sip, he exclaimed to me that he's "over" poetry. I found that confusingly contradictory—how can a poet be over poetry?—but then, I thought for a second and decided that I agreed with him. I'm also over poetry at the moment, to be honest.
These past couple of years have felt like one very long, very sad poem, written by a pre-pubescent teenager (who we hoped was firmly on the path to developing strong socioemotional self-regulation skills, but sadly—was not). While I'm over the pandemic poem of life—as we know it, I'm not over poetics. I'm not over-meaning. I'm not overhealing.
And I'm certainly not over Kama La Mackerel's way with words—and with space.
View this post on Instagram
Poetics gives room for aesthetics, movement, transitions. And that's exactly what Kama La Mackerel's "ZOM-FAM" is: a collection of poetics rather than sheer poems. It's a work of art, it's experimental, it's daring. And it's also their memoir, rooted in the performance of authenticity and the authenticity of the performance.
Transporting us to the island of Mauritius, Kama La Mackerel takes us home—to their home. But home can sometimes (often) be a place of pain. The word "ZOM-FAM" translates to "man-woman" or rather, "transgender" in Mauritian Kreol. And Mackerel's home is also one founded in the depths of "kala pani" and plantation servitude. Necessarily, this book of lyric poetry touches on themes of bordering, displacement, and belonging. And because space plays a role in all this, Mackerel masterfully manipulates the initial emptiness that blank pages offer by organizing the words in a way that they dance. Each page becomes a stage, a performance.
The goal of "ZOM-FAM" appears in the book itself:
i tried to unwrite the crossing of our lineage
except i could not escape
the remembrance of my own body
Tracing La Mackerel's lineages through disputed territory, memory and the body politic, Mackerel effectively pluralizes all these seemingly separate concepts, critiques them, blurs them, and then deems them obsolete under their timeless femme identity.
And "ZOM-FAM" also serves as a prayer. The words join hands page-by-page and evoke something truly ethereal. I suggest reading this work aloud. Sway while you read. Do what your body allows. Take breaks. Become the vessel of your authentic movement.
There is reverence in this writing which is seen (and heard) in the arc and crescendo of the contents, which are divided into eight sections. Although I loved each section and thought each part fulfilled a well-thought-out purpose, the first section—the invocation—could have served better as a stand-alone, a prologue. The invocation does just that, invoking all the feminine powers from which Mackerel originates from.
From there, we begin. The section that follows tells the story of Mackerel's bodily birth—that is immediately inflicted by gender-based violence. And so, we traverse through the next seven sections: mofinn, 20 years of brick, existence as gender survivance, gran-dimounn, your body is the ocean, zom-fam, and finally, towards the femme divine. Mackerel takes us through time, their naming, their anatomy, island life, hiding, prayers, smallness, grandioseness, painfulness, dismissal…until we reach "re-belonging."
We learn that nothing in existence ever disappears. It cannot. Which means queerness will never go away. It will reincarnate. It will always reappear. Shame and fear are fragile containers that simply cannot contain everything. Our karmic duty is to rise.
And thus, we have rage. And a lot of it. Femmes of Color have a lot to be angry about. But it's the beauty we write that saves us. The beauty we notice around us saves us. Our dance. Saves us.
And the letters we organize into words. And the words we organize within the seeming confines of space.
To purchase "ZOM-FAM," please visit Metonymy Press.