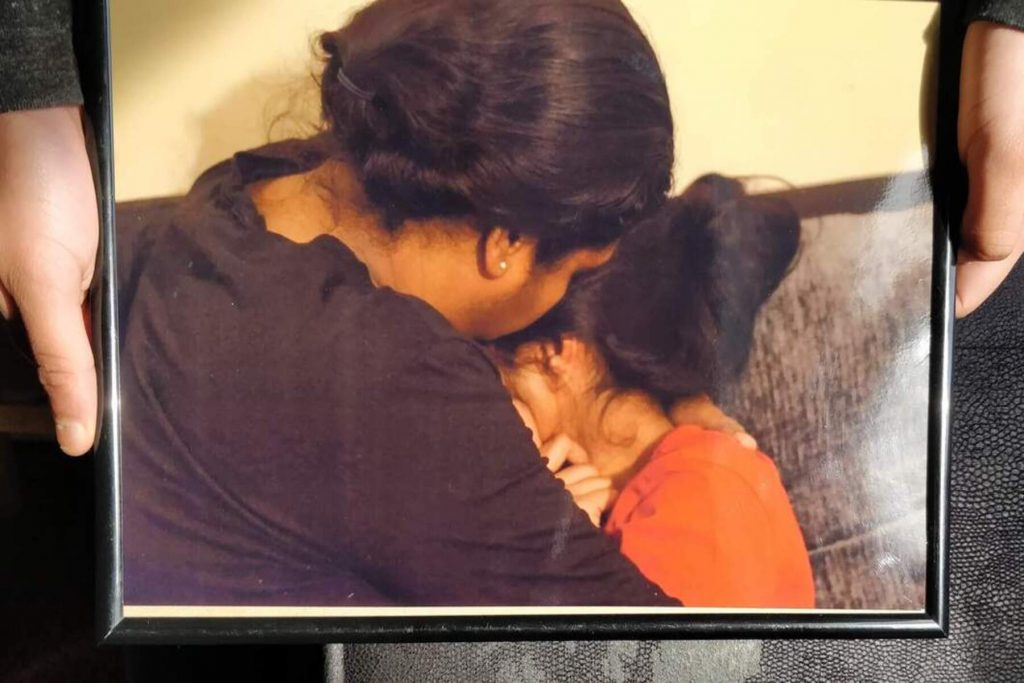 Content Note: mention of war, loss, abuse, sexual crimes, death
*Names have been changed. 
The ticking of a bomb, the whirring of an electric kettle, the smell of kerosene in the family shop, the aroma of chicken roasting in her kitchen, the slap of the father on her mother's face, the filth coming out of her husband's mouth, the laughter of children playing outside the refugee camp and the giggle of her youngest daughter. The cold February wind of London reminds Linah* of waves sweeping over her feet in Sri Lanka.
Some jarring memories eventually fade into the mundane, yet never really leaving the brain. Linah says,
It's these memories that have become an innate part of me, the story that reveals itself in between the lines of the fiction I write.
An author in the making, there are far too many adjectives that can describe this 47-year-old woman. The obvious ones disguise themselves as statistics on paper. A Sri Lankan in the UK, a migrant domestic worker, a survivor of the civil war, a person of colour, a single mother, a minority—the marginalized. But there's more to this monolithic representation that I am given to understand when Linah invites me over for lunch.
I've come to know only a little about her through our week-long correspondence over Whatsapp. In between trying to set up a meeting, she has already informed me that she may be of a little help in my research on migrant domestic workers in London. I still insist. Our mutual contact had spoken fondly of her courage and charisma, her experience with war and her ongoing process of writing a book. Agreeing, she messages me with a smiley, "Do you eat meat?" 
On a warm, sunny afternoon, I am welcomed inside her modest North London apartment by Amna, Linah's 13-year-old daughter. As I take in the aroma of spices, Linah walks out of the kitchen. Hugging me, she apologetically informs that lunch is a little behind schedule. "Perhaps we can begin with the interview," she adds, instructing Amna to prepare a salad for the meal. As the chicken grills in the kitchen, a story from the past unfolds and I am temporarily whisked away to Sri Lanka of the '80s.
It was July of 1983—or Black July as it came to be known because of the anti-Tamil pogrom that killed nearly 3000 people and destroyed 18,000 establishments. Linah's house was one of them. "I was 10 at the time, perhaps old enough to remember what happened. But all I have are vivid flashbacks from the refugee camp where my parents and I found ourselves at the end of that month," Linah recalls. She is seated on a sofa across me, wearing a long maxi dress that loosely falls over her stout structure.
Her hair is tied up in a bun and her dark eyes glisten as she talks about her family:
My mother was a housewife and my father was a mechanic. His shop was destroyed during the riots. Living in a predominantly Sinhalese area, we only spoke Sinhala and never learned Tamil. So it was harder for us to fit in the refugee camps.
"It was almost ironically comical," she adds while chuckling. Although Linah taught herself Tamil through the camp, her formal education came to a halt. "My mother would teach and read all the kids, including myself, stories from books that donors gave to us," Linah recalls fondly.
These fond childhood memories have translated into a defining identity trait for Linah, who is an avid reader. The ceiling-to-floor cabinet in her living room is stacked with books—from heavy encyclopedias to memoirs and journals from South Asia alongside the classics of Roald Dahl and Wodehouse. It was her habit of reading that led her to write in a language that was neither her first, nor one she had been formally trained in. 
"I believe one only achieves the true purpose of language when they can express themselves through it. My mother was a well-learned, English educated person but our society looked down upon working women. Still, she found a way to fulfill her purpose by teaching in the camp," explains Linah who stayed there for two years until her father saved up some money to move them further east in the country. 
At Batticaloa, Linah's father built a house with a small garden and she resumed school. It may seem like conditions were peaceful in this Tamil dominant region but the experience of peace is relative, especially for minorities marginalized in their own countries. Even away from the camp, Linah grew up in a full-blown civil war that continued raging throughout the '90s.
Skirmishes continued and casualties increased. "The army came to our town when I was 16. We fled back to Colombo in the middle of the night and found ourselves in the same camp that we had escaped six years ago," Linah narrates as she continues to describe the conditions in the camp. No proper sanitation, breeding mosquitoes, unavailability of clean water, and no safety for women.
"Some girls I knew in the camp had been raped or harassed. I've seen them bleed, heard them cry and there's little I have been able to do for them," Linah says trying to hold back her tears. She excuses herself to go into the kitchen and check on Amna. 
This is not the first time Linah was reliving the memory. She has done it several times as is evident from the number of notes she has pinned on to a bulletin board in the room, laid out in almost a perfect timeline. Some of them are graphic, some of them just dates and numbers all coming together to form the story that Linah has been writing for a few years now. She says,
Sometimes expressing incidents through art is the only closure you get. 
Linah first desired to write a book when they became her only solace. After losing her parents to paralysis within the camp, Linah was adopted by distant relatives, both of them who were progressive social writers. Pointing to her collection on the shelf, she recalls:
Losing my family pushed me into a dark hole. I would cry inconsolably and wouldn't be able to sleep due to recurring nightmares. I was thankful to my adoptive parents who gave me my space and resources to heal. I would spend hours every day, just reading. My favourite was Roald Dahl.
With the help of her adoptive parents, Linah pursued a degree in political science. By this time she was fluent in English, Tamil, and Sinhala. Multilinguality was a desired skill for humanitarian organisations that had now flocked into this post-conflict country.
Thus, Linah started working as a translator with UNDP, aiding several of those who, like her, had lost families and livelihoods in not just the civil war but also the Tsunami that severely affected the island nation in 2004. Soon Linah had a stable income, drastically improving the quality of her life. She could buy more books, meet interesting people and also work for their welfare. Things seemed to be looking up for her, until, as Linah puts it, another problem hit her:
I fell in love. 
I look at the wall behind her that's covered with photographs of herself and her children. There's not a single photograph of a male I could peg to be Linah's husband. She senses curiosity and states, "I met him in my swimming class. He was a Muslim, and his family was unhappy with the marriage. But soon, he too turned abusive and started hitting me every day, even when I was pregnant," Linah states adding how she had to leave her job for she no longer could turn up to the office with the bruise marks:
I would have divorced him if it weren't for my kids, whose custody would have gone to him. This is why I decided to take a longer and a more difficult route.
With the help of her boss, Linah left for Dubai to work as a nanny in an English expat's house and thereafter migrated to the UK with them on an Overseas Domestic Workers Visa. "My eldest son was in a boarding school, whereas my daughter was with a relative. I sent my husband money every month so that he wouldn't trouble my children. Once I settled in the UK, I called them here. My husband stayed with me for a month and then wandered off. I neither know nor care where he is," Linah reveals in disarming candour.
Linah believes she is finally in a happy place, and rightfully credits her will power to be able to get here. On an indefinite leave to remain in the UK, Linah now feels secure enough to relive her past. Working in the afternoons and evenings, Linah dedicates her day time to writing. Every morning she wakes up recalling a memory, an incident that would make it into the next chapter of her novel—a fictionalized story set in the Sri Lankan civil war, drawing from the experiences of her life and that of many others she encountered during the time:
I would be lying if I say that it's not triggering. So many times I find myself in tears, unable to write. But then I recall that I survived it. Perhaps this story can help inspire those who still live in conflict zones and abusive households. 
There's a little desk in the corner with a PC and a bunch of notebooks. The big window on the right gives a view of a quiet London street shining under the sun. As I look around, my thoughts are interrupted by the buzzing of a printer. Linah hands me a few sheets, printed on them is one of the chapters of her book. Her writing is emotive.
There's a nostalgia for a time of the past as well as urgency about the tragedy unfolding. In one of the scenes, a few Tamil men are chatting about the ease of living in the pre-war times. They're on a beach, having toddy and hearing the gushing sound of the waves. The air's heavy with the aroma of Chicken curry and yellow rice. Linah has walked in with lunch and I am again back in Sri Lanka—this time, one of the happier times. 
Linah plans to publish her book by the end of next year.
---
The opinions expressed by the writer of this piece, and those providing comments thereon (collectively, the "Writers"), are theirs alone and do not necessarily reflect the opinions of Brown Girl Magazine, Inc., or any of its employees, directors, officers, affiliates, or assigns (collectively, "BGM"). BGM is not responsible for the accuracy of any of the information supplied by the Writers. It is not the intention of Brown Girl Magazine to malign any religion, ethnic group, club, organization, company, or individual. If you have a complaint about this content, please email us at Staff@0mq.349.myftpupload.com. This post is subject to our Terms of Use and Privacy Policy. If you'd like to submit a guest post, please follow the guidelines we've set forth here.