by Samira Ahmed
The following post is part of an ongoing series by writers/authors in celebration of the 15th anniversary of the publication of Tanuja Desai Hidier's landmark novel Born Confused, which is considered to the first ever South Asian American young adult novel (and in part inspired the creation of Brown Girl Magazine!)… as well as the 15th real-time birthday of Born Confused and award-winning sequel Bombay Blues heroine Dimple Lala. #BornConfused15
I remember the first moment I saw her—thoughtful brown eyes staring into my own. Question mark hovering. Dimple Lala drew me in and didn't let go until I swooped her off a bookshelf, brought her home, and devoured every one line of Tanuja Desai Hidier's delicious prose.
And Dimple is with me still, all these years later.
To be clear, I was not a teen when I first encountered Dimple. I was an adult, living in New York City, and still utterly gobsmacked to find a 17-year-old Desi protagonist on a book cover, telling her story—individual and universal. Dimple's own teenage turmoil and angst—the questions she posed, the confusion, the search for herself—mirrored, in many ways, my own experience as the only Indian-American growing up in my small town in the Midwest. And yet, a reader need not be Desi to understand Dimple's struggles because they are known to teenagers everywhere: the quest to be the person you want to be or were meant to be. That is the power of Dimple's story, a mirror, and a window.
Born Confused opened my eyes to the world of the possible. At the time, I was leaning into my own desire to write and find my voice on the page. My poetry was rooted in my own experience and often occupied the same vague boundaries of life where Dimple lived. I'd begun to write short stories that veered toward young adult fiction, planting the seeds for what would become my debut novel.
But without Hidier blazing the path forward, I may never have taken that first step on my journey to publication. There simply were no Desi girls in young adult novels. If Jhumpa Lahiri allowed me to see myself, for the first time on the page, Hidier compelled me to find my own voice and make that page my own.
I can only imagine how thrilled I would've been as a teenager to have Dimple on my nightstand, urging me on, assuring me I wasn't alone. And it brings me such joy, knowing this trailblazing novel, this lovely, quiet revolution of a book that touched the lives of tens of thousands of kids like the one I once was. It reminded me of the power of the word, of the power of story to speak the truth and to change lives.
These are the words I come back to again and again, uttered by the incomparably wonderful Born Confused character Zara:
"I am just a regular person who has decided to be who I am in life. That's all. That's how you make your life magical—you take yourself into your own hands and rub a little. You activate your identity. And that's the only way to make, as they say, the world a better place; after all, what good are you to anyone without yourself?" (p. 442)
When Zara declares this to Dimple, gently guiding her, reminding her of her duty to herself, she/he is speaking to all of us, teenager or not. This is where Tanuja excels. Her writing is not merely engaging and exuberant, but enlightening. I want my own writing to live in the realm of the possible, to be hopeful yet challenging For that, Tanuja's work is a master class in inspiration. Also, she reminded me to have a hell of a lot of fun while doing it.
Born Confused is a vivid exploration of youth and coming of age and part of what makes it so relatable, so au courant, even 15 years after publication is that Tanuja presents the tragedies and joys of young adulthood as they are—sometimes occupying nearly the same moment, as they do in that rough, beautiful boundary between childhood and adulthood.
And it's why I can come back to this novel again and again and find it fresh, because of Dimple's journey, where she meets so many vibrantly realized characters, is ultimately a path back to herself—an exploration inward so she can go outward and the meet the world on her own terms.
Happy birthday, Dimple. Many happy returns.
[su_divider]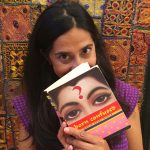 Samira Ahmed was born in Bombay, India, and grew up in Batavia, Illinois, in a house that smelled like fried onions, spices, and potpourri. She currently resides in Chicago. She's lived in New York City and Kauai, where she spent a year searching for the perfect mango.
A graduate of the University of Chicago, she taught high school English for seven years, worked to create over 70 small high schools in New York City, and fought to secure billions of additional dollars to fairly fund public schools throughout New York State. She's appeared in the New York Times, New York Daily News, Fox News, NBC, NY1, NPR, and on BBC Radio. Her creative non-fiction and poetry have appeared in Jaggery Lit, Entropy, the Fem, Claudius Speaks and the Spine Out novelists series. Her debut novel, LOVE, HATE & OTHER FILTERS is out January 16, 2018, from SoHo Teen. Find her on twitter @sam_aye_ahm or at www.samiraahmed.com.