by SJ Sindu
The following post is part of an ongoing series by writers/authors in celebration of the 15th anniversary of the publication of Tanuja Desai Hidier's landmark novel Born Confused, which is considered to the first ever South Asian American young adult novel (and in part inspired the creation of Brown Girl Magazine!)… as well as the 15th real-time birthday of Born Confused and award-winning sequel Bombay Blues heroine Dimple Lala. #BornConfused15
Imagine yourself in my place: You're a Sri Lankan-American tenth grader living in the greater Boston area. Your parents live in a tiny, dilapidated house on the cheapest block in one of the richest towns, just so you can go to a good school. These are your friends: a Muslim-American girl who explains to you why she and her single mother don't wear hijabs, and who will later run away to New York to become a poet; a small red-haired boy you have a crush on, who will later turn out to be an out gay lawyer; a Greek-American girl whose family treats you like their own; a polyamorous triad composed of a butch bisexual woman, a pansexual femme, and a fay straight guy; a young, composed person who always makes it a point to talk to you at lunch, and who will later become a lighting designer and kinky trans woman glamazon; your own Sri Lankan Regina George, who is your greatest obsession because you can't decide whether you want to be her or fuck her, who by turns is your best friend and best manipulator, who teaches you how to rebel, who will later be sent away to India for her own rebellion, and who will agree to an arranged marriage with an Indian boy who renders her silent in front of company.
Imagine that. And now imagine that your parents move you to South Dakota in 2002, where waiters in restaurants shout slowly to you because they think you don't understand English, where a traveling coupon salesman stops to explain to you what a pizza is with large gestures and simple words, where the kids in your school only make friends with other kids who are in their church youth groups and Bible studies, where the only teacher who likes you also yells at you for wearing a ring on your left hand because it's the "sacred finger," even though South Asian Hindus like you don't associate rings with marriage.
You're in tenth grade and you just moved to South Dakota and you're so lonely it hurts. Every day, you scarf down your food at lunch and go to the library because you don't want to sit alone in the cafeteria. There, amongst the books, you can breathe. You browse until the bell rings, and sometimes you even come after school just to read.
One day, in the New Releases display, you see a curious book. The eyes of a young brown woman look out at you. On her forehead, she has a bindi in the shape of a question mark.
You pick it up, this little novel, and devour it in two days.
That was how I first read Born Confused, Tanuja Desai Hidier's first novel. I met the protagonist Dimple Lala, a young Indian [American] woman growing up in a white world, and I saw myself mirrored in a fictional character for the first time. It's hard to explain to people who've always seen themselves echoed in literary heroes just what it feels like to have no media representation…and then to get some.
For me, it was a sea change.
In Boston, I was immersed in queer and immigrant communities that nourished and sustained me. There was a feeling among my friends that we were in it together. In South Dakota, all I had was this book. Dimple Lala gave me the lifeline I needed in the absence of community.
It's been fifteen years since I first read Born Confused. I'm writing this now on the heels of the publication of my first novel, Marriage of a Thousand Lies, about a Sri Lankan American lesbian named Lucky and her coming out story. Lucky wouldn't exist without Dimple. But though I related to Dimple's coming of age story, to me the truly revolutionary part of Born Confused was the subplot for Dimple's cousin, Kavita.
Kavita is one of the first queer South Asian women to appear in an Anglophone novel. When we meet her, she's dating another South Asian woman named Sabina. Kavita and Sabina often serve as Dimple's older sisters, introducing her to the New York desi scene and rewriting the gendered rules Dimple has internalized from white American culture.
I remember one scene vividly, an interaction between Sabina and Dimple's friend Gwyn (who, by the way, after fifteen years, still fills me with blind rage…she is the personification of every bindi-wearing, festival-going white girl who revels in being edgy and weird while pillaging your culture, and simultaneously makes you feel ashamed of the curviness of your brown body). Gwyn points out that Sabina has forgotten to shave her armpits, only to have Sabina reveal she grows them out on purpose. I don't know why it's this scene that sticks so clearly in my mind. I think it's because this was the first time I'd seen a desi woman take ownership of her body against the strictures of American gendered culture.
The novel shows Kavita and Sabina in bed. It shows Kavita's heart being broken. It shows her repeatedly coming out to her family members. It shows a young desi drag queen. Even though the narrative revolves around Dimple's straight crush, queer subplots and queer characters surround and support her. And it was these queer characters that were world-shattering to me. I needed to see them.
Born Confused created a space for writers like me and characters like mine and showed me just how powerful a story can be. How it can save someone. And for that, Tanuja, I cannot thank you enough.
[su_divider]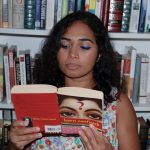 SJ Sindu was born in Sri Lanka and raised in Massachusetts. Her hybrid fiction and nonfiction chapbook, I Once Met You But You Were Dead, won the 2016 Turnbuckle Chapbook Contest and was published by Split Lip Press. She was a 2013 Lambda Literary Fellow and holds a PhD in Creative Writing from Florida State University. Marriage of a Thousand Lies is her first novel.