The following post is part of an ongoing series by writers/authors in celebration of the 15th anniversary of the publication of Tanuja Desai Hidier's landmark novel Born Confused, which is considered to the first ever South Asian American young adult novel (and in part inspired the creation of Brown Girl Magazine!)… as well as the 15th real-time birthday of Born Confused and award-winning sequel Bombay Blues heroine Dimple Lala. #BornConfused15
When I was six years old, my mother and I—both American citizens—traveled to Mexico. On the way back home, the United States border security stopped us. We were separated, my mother was dragged away, told she wasn't allowed to speak. A stern-faced guard was asking me, "Is that your mother? Where do you live? Can you tell us your address? Are you sure that's your mother?" I had blonde hair and fair skin; my mother, brown skin and black hair. And yes, I was sure that my mom was, in fact, my mom. I told the guards so (although my voice wouldn't stop quivering, my neck red with worry-splotches). It was eight minutes before they let us go; in eight minutes, the America I thought I knew vanished.
Seventeen years later, in 2014, I'm telling this to Tanuja Desai Hidier, the author of Born Confused and Bombay Blues. We are speaking about how that moment latched onto me—and how people can be so ignorant about "others." She tells me of a time that she wore a bindi into a convenience store, and the clerk remarked that she had a smudge on her face. I tell her about how, in high school, people would approach my mom and me in the grocery store, furiously glancing between us, demanding to know: "What are you?"
I tell Tanuja that I wish I'd found Born Confused sooner—when I was younger when I was newly struggling with this image of America. There's a line in her book that reads:
"But you have to realize, there is no such thing as this tidy little box you think you have to fold up and fit into; it simply does not exist."
Families can look different, be different. Her book understands and expresses that in the most beautiful of ways.
In 2014, as an aspiring writer, I had a lot of novels pushed into my hands: Read this; I promise that it will change your life! I'll admit, most of them didn't. So when my neighbor in North Carolina remarked that her cousin had written a young adult novel and that I should read it, I balked slightly. But Born Confused, I soon realized after purchasing a love-worn copy at my local bookshop, was exceptional. I absolutely devoured it, first for the honeyed writing (so stunning, it practically sings), and secondly for protagonist Dimple Lala and her family. Up until that point, I'd found few mainstream young adult novels with diverse families. That representation would've meant so much to me as a teen. That representation still means so much to me—not because my Swedish-meets-African-American family directly mirrors Dimple's South Asian American narrative, but because all good diverse representation equals an expansion of empathy and understanding.
I think America could've used that as I stood there crying at border security. I certainly think America could use that now. Luckily, some publishing houses have begun to rise to this call—and the world now has powerful societal critiques like Angie Thomas's The Hate U Give and adorable diverse romances like Sandhya Menon's When Dimple Met Rishi. But we need more. Oh yes, do we need more.
There are other things from Born Confused that float back to me at odd times, when I'm doing the laundry or walking in London: Karsh kissing Dimple on the forehead (a tender image that's stuck with me all these years); the descriptions of music so vibrant, I felt like I was there; the complicated dynamics of Gwyn and Dimple's friendship (I am all about female friendships in YA); and also the scene in the changing room at the mall, where nothing quite fits Dimple.
Especially the changing room scene. I remember reading it three times—and bursting out crying. I hadn't cried over a book since Where the Red Fern Grows in sixth grade! But no one had gotten this so right. No one had gotten me so right: how it felt to squish myself into clothes that would never truly fit, that dreaded feeling when jeans couldn't make it past my thighs. And all my friends, these stick-figure girls. Me: hips and butt for days (or so I thought). At fifteen, it didn't truly occur to me that others might experience the same things: "I could barely move," Dimple thinks, "let along breathe, by the time I'd squeezed, squinched, and prodded myself into the Style Child ensemble." But there it was! In a book! There it was, narrated by a character I adored. And that solidarity would've meant the world to me.
I say again: I wish I'd found this book as a teen.
As I grew as a writer, Born Confused was by my side, and when I read the sequel Bombay Blues, it was like greeting an old friend—matured, but just as lovable. I often find myself flipping through both novels as a reminder: Ah, this is what gorgeous language looks like. There are so many poetic lines that continually bowl me over: "Slowly swimming mermaid percussions . . . mirror slake deep diving . . . bubble drunk . . . wishing pennies by the lake." They keep me striving for something.
Dimple would be in her thirties now; I'm not quite there yet—but I know that when I do get there, I'll still be sifting through these pages. My relationship with this book will only continue to grow. How could it not, with language like that, with messages that are—arguably—more relevant now than ever?
If I have a daughter, I'll give her my copy of Born Confused. It's earmarked. It's underlined. And it's deeply loved.
[su_divider]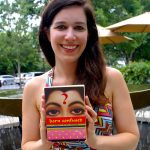 Carlie Sorosiak grew up in North Carolina and holds two master's degrees: one in English from Oxford University and another in creative writing and publishing from City University London. Her life goals include traveling to all seven continents and fostering many polydactyl cats. She currently splits her time between the United States and the United Kingdom, hoping to gain an accent like Madonna's. Her first YA novel, If Birds Fly Back, is out from HarperTeen US and Macmillan UK.