by Nisha Sharma
The following post is part of an ongoing series by writers/authors in celebration of the 15th anniversary of the publication of Tanuja Desai Hidier's landmark novel Born Confused, which is considered to the first ever South Asian American young adult novel (and in part inspired the creation of Brown Girl Magazine!)… as well as the 15th real-time birthday of Born Confused and award-winning sequel Bombay Blues heroine Dimple Lala. #BornConfused15

I am American.
I am Desi.
And a lot of people assume that I struggle with my identity.
I think the assumption comes from a belief that all first generation Indian-Americans had to struggle with identity if they were raised in small-town-America where the Indian population was minuscule. Yes, there is a fair amount of bi-cultural confusion that exists in our world, but that's not the same story for everyone. Just because I didn't have frequent encounters with other first-generation Indian Americans didn't mean that growing up, I was an American Born Confused Desi.
Confused as a teenage girl? Abso-freaking-lutely.
But as an Indian-American? Nope.
I grew up in a home where Hindi, Punjabi, and English were all spoken like the hodgepodge mix of flavors in my mother's silver spice tin. I lived in northeast Pennsylvania where I could count the brown kids in my elementary, middle and high school on two hands. Despite that, I loved and respected both of my cultures and was confident in my desi-ness. Maybe it was because my mother and father used to tell me bedtime stories about Hindu gods and warrior princesses right after I finished a Nancy Drew mystery I'd gotten from the library. Maybe it was because I started training as a Kathak dancer when I was seven, which was also right around the time I started soccer. Regardless of the reason, I was incredibly blessed to deftly straddle a cross-cultural line that I loved.
Knowing and loving my identity didn't change the fact that I couldn't always relate to the characters in the books that I read. Similar to being bi-cultural, I accepted at a very young age that publishing was white-washed, and commercial young adult romance and adult romance would never accept the richness diversity brought to the page. Publishing rarely if ever recognized first generation Indians as heroes and heroines of their own stories. Which meant, unfortunately, that my desi-ness could never be encapsulated in a book.
This horrible truth shaped my writing career for years. I used to write these 'passion projects' about dating and love which featured diverse characters, but I slipped them under the bed where I thought they belonged. The stories I did share with the world were my white American cowboy romances, which I sent off to agents and editors. I even sold a couple to a few small-time presses. The downside? The small presses highly recommended that I change my name because not only did first-generation Indian characters not sell but the first generation Indian authors were also a turn-off. The publishing industry gave my readers the outward appearance that I, an Indian-American author, was confused about my bi-cultural identity when in reality, publishing was confused about the world.
Until I met Dimple Lala.
Like many other Indian-Americans, I met Dimple through a recommendation from another reader.
"Nisha, have you read about Dimple Lala? She's like us."
I doubted the positive reviews at first. I figured this was going to be another stereotypical arranged marriage, Gwen-Stefani-bindi-wearing, chai tea latte, yoga, nama-stay cultural appropriation nightmare.
I can't even begin to tell you how wrong my assumptions were.
Dimple Lala's story was like celebrating Holi after a snowfall. She was a Jersey girl who loved photography and had a white best friend. She was a quirky confused mess who went to Basement Bhangra club nights in NYC—based on DJ Rekha's Basement Bhangra—explored her sexuality and fell in love with someone who was unsuitably perfect. Dimple's mom had dreams and aspirations that resonated with Dimple's personal aspirations, and Dimple connected on a level deeper than language with a grandparent.
Reading about a character who has similar emotions and bi-cultural conflicts that can exist in a personal journey is one of the most powerful experiences I've ever had. I wasn't confused about navigating through two cultures like Dimple, but I lived in a world where I encountered American ideologies every day, and then went home to a place where my parents talked about traditions and values. Dimple's life wasn't identical to mine, but the texture of her existence felt the same as my own.
I knew there was a lack of diversity in fiction, but I didn't hunger for change because I accepted the status quo from a defeatist's position. I wanted to be a writer, so I'd play by the rules and write within non-diverse boundaries. But after Dimple's story, every part of me that had lost faith in publishing was suddenly awash with power and hope and light. If this was what diversity could do for my heart, wouldn't writing diverse books be just as restorative for my soul?
Dimple Lala's story and Tanuja Desai Hidier changed the course of my career. I wanted my 'passion projects' to become the books that I sold and I shared with the world more than anything. From that moment onwards, I joined forces with other advocates in the industry to write and read diverse stories only to discover that believing in change is only the beginning.
Dimple's story is part of the early diversity movement. Today, there is arguably less white-washing, but now we face the unfortunate battle of proving that all voices are not the same. We are not all stereotypes. We are not all clichés and catch phrases. Just because I want to write Indian-American heroines, doesn't mean my heroine will be like Dimple Lala in Born Confused.
Which is why my first young adult novel, My So-Called Bollywood Life, is about Jersey girl Winnie Mehta who loves Bollywood movies, her parents, and her white best friend. She's not struggling with navigating through both cultures, but like Dimple, she has the same textured bi-cultural life. I wrote it as a sort of homage to my upbringing, and also because I knew that if people believed that voices like Dimple Lala's could exist in the world, then they'd see other Indian American voices and points of view like mine could exist, too.
Because of Hidier's Born Confused, I am no longer a defeatist, I am no longer accepting of the status quo, and yeah, okay, I am no longer confused about writing diverse stories.
So thanks, Dimple Lala, for the career advice, and happy fifteenth birthday!
[su_divider]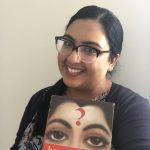 Nisha Sharma grew up on a steady diet of Bollywood movies, eighties classics, and romance novels, so it comes as no surprise that her first novel My So-Called Bollywood Life, features all three. Nisha credits her father for her multiple graduate degrees and her mother for her love of Shah Rukh Khan and Jane Austen. She lives in Pennsylvania with her cat Lizzie Bennett and her dog Nancey Drew. You can find her online at nisha-sharma.com or on Twitter and Instagram at @nishawrites.