Indian Arrival Day is celebrated throughout the Indo Caribbean Diaspora every year during the month of May. It is a day to reflect upon the hardships of our ancestors: Indentured Laborers who left India, journeyed across the Indian Ocean and Caribbean Sea, then dispersed throughout the islands. The history of indentureship is sad and complicated; it birthed this complex identity and fusion of culture, which many Indo Caribbeans are still trying to find balance within.
My great-great-grandparents came to Trinidad via sea voyage, I believe from Uttar Pradesh. However, like most West Indians, I am not entirely sure where my ancestors once called home.  My great-grandfather, my Par-aaja, was an ox cart driver on a sugar cane plantation. He didn't cut cane, but was responsible for driving the vehicle that the cane was loaded onto, then transported to sugar mills and factories. One day, he died in an accident, when that same ox cart fell over and killed him. It was dangerous, arduous, harrowing work, but they did what they had to, in order to build their lives in a new world.
"Sugar, sugar" was the first poem I ever wrote about my Indo-Caribbean heritage. At the time, I was taking a poetry class at my university, where we studied how writers have channeled the histories and struggles of their people and turned it into art. I wanted to create a piece that detailed the history of indentureship, to teach my classmates about my people's legacy. I've always wanted to teach others about my identity, and the complexities of being both South Asian and Caribbean. Ours is a history and a people often overlooked, with little documentation or representation. Thus, "Sugar, Sugar" was born out of the need to share my history and to educate others.
Baking rum and black cake is a Christmas tradition in most Caribbean households, one that my mother and I make a point to upkeep. In the poem, I reflect on our heritage through the ingredients used to make black cake — sugar in particular, because of our connection to sugar cane plantations.
Throughout "Sugar, Sugar," we see the movement of sugar throughout time, culminating into a black cake and the speaker's reflection on a bittersweet past. On Indian Arrival Day, may we all reflect upon our history, and the connection we share to India and the Caribbean — bound by sugar.
Sugar, Sugar
Small white crystals stream through cracks in my hand,
rushing towards the basin below.
As mother sifts flour,
with little grains shining in cake batter,
she tells me our story.
She turns ingredients as she speaks,
churning sugar and butter to white-sand beaches:
the shores of Port of Spain…
where a crowded ship, vexed and malnourished
released the runaway Indians.
Over the hilltops a generous horizon gleamed,
the promise of progress peaking through palm trees.
"Coolie" they were named, the replacement for the slave.
The penny-paid paupers of a paradise bought and sold
set to work on plantations of tall, thick stalks,
a grove of sugar gold.
My grandmother weaved through a jungle with no trees,
only long brown rods whose jutting leaves
swayed in island breeze.
An abundant field for foreigners to harvest,
cultivating, cutting, pulling from the ground
the longest batons in the lush heat of the sun.
"What is this?"
Hidden behind bark but with cutlass lashes,
pure sweet sugar cane, freed.
The 'crunch' it cries as she bites
into sacred, saccharine, honeyed juice
slippery, syrupy and sweet as it drips
running past her lips like sweetened drool,
cooling her skin, falling onto fingertips
she licks long after the yield is sold.
The taste stays on her tongue,
the one that carried ancient colloquies across the sea.
Coloniza, you cut my grandmother's tongue,
severing the sounds that should've been passed onto me.
But sucrose crystallizes and soothes the sore,
and soon enough she forgets the land of spice.
Turns from Sanskrit to Bible hymns,
from lassi to rum,
and with broken tongue,
through broken lips,
speaks a broken English.
Assimilation reigns when you can't remember how to say your name.
…the radio in the back plays Calypso and Chutney,
a blended heritage from our blended past.
My mother sings, her tongue intact,
while she tells me that rum is just fermented sugar
and pours the elixir into the mixture.
While it bakes, I contemplate —
she used to call me "sugar babe."
Am I the child of sugar?
If so, then I guess —
This cake is my inheritance.
When it's cooled, mother cuts me a slice.
These bittersweet bites echo with the beats
of a sad steel pan blues,
and the soft shaking of ghungroos.
However, one chooses to remember the day we must highlight its existence. With poor record-keeping and harsh treatment, we must remember the plight of our South Asian ancestors that is now fused with West Indian culture's Indo Caribbean.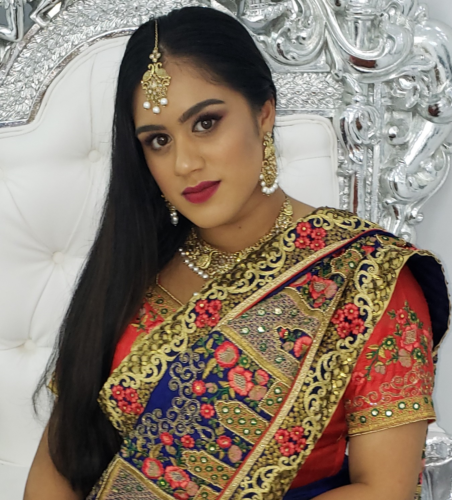 For more poems on Indo Caribbean culture including a reading of "Sugar, sugar," find Suhana K. R. on Instagram.
The opinions expressed by the guest writer/blogger and those providing comments are theirs alone and do not necessarily reflect the opinions of Brown Girl Magazine, Inc., or any employee thereof. Brown Girl Magazine is not responsible for the accuracy of any of the information supplied by the guest writer/bloggers. This work is the opinion of the blogger. It is not the intention of Brown Girl Magazine to malign any religion, ethnic group, club, organization, company, or individual. If you'd like to submit a guest post, please follow the guidelines we've set forth here.