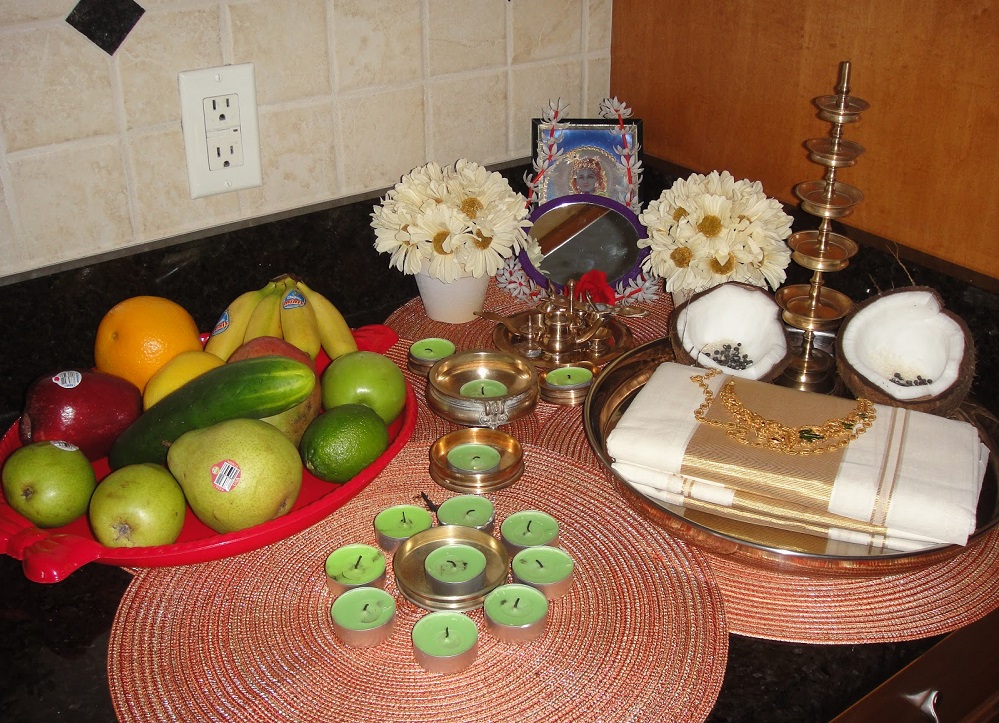 Anybody who knows me knows that waking me up at an ungodly hour is like asking for a death sentence – but once a year, on Vishu, I allow it.
What is Vishu?
Vishu, a Hindu festival, is essentially Kerala New Year; it's the start of our astrological calendar. For farmers in Kerala, it also signifies the start of the harvest. A good harvest means a happy community, so Vishu is filled with prayers for a prosperous year to follow. Religiously, it is the day celebrating the victory of Lord Krishna when he killed the demon Naraksura.
How is Vishu celebrated?
Rather than throw vocabulary terms at you and expand on mythology that—let's be honest—is fuzzy to even my parents, I want to take a different approach. Here's one of the first Vishus I remember in 2002.
4:30 am:
I am awakened by my mother's ice cold hands covering my eyes. I curse her to the extent that an 8-year-old's vocabulary permits but then ultimately let her guide me out of my bed and to a corner of the kitchen. She uncovers my eyes to reveal this year's Vishukkani; a beautiful arrangement of mirrors, fruits, vegetables, a vilakku, gold, coconuts, and various Gods.
Vishukkani (which is derived from the Malayalam word "kani" which means "to see") is the first thing one must see when they wake up on Vishu and is set up the night before by the woman of the house (shout out to my mom). The idea of waking up to Vishukkani is the tradition that seeing good things at the start of a New Year will inevitably lead to prosperity and I mean what's better than gold and coconuts am I right?
4:35 am:
I get back into bed and thank God I still have two hours until I have to wake up again for the school bus.
6:30 am:
I patiently stand outside my parent's bathroom, waiting for my dad to finish getting ready for work so I can ask for my Vishukkaineetam.
Vishukkaineetam is when the elders of the family give money to the younger ones of the family out of the belief that it will bless them with prosperity for the year. I think my dad feels pretty blessed now that I no longer qualify for Vishukkaineetam (though Achan, you can feel free to transfer money into my bank account whenever you want). Not limited to the family, Vishukkaineetam is also an opportunity to distribute wealth throughout the community whether that be through charity, sponsoring meals, etc.  
12:00 pm:
I stare at my naked hot dog and twinkie as I begin to daydream about the feast that awaits me when I get home. I wonder what payasam my mom is going to make for dessert (maybe the only time I'll say that white is superior to brown).
Payasam (essentially kheer) is a rice pudding made with milk and sugar and flavored with raisins, nuts, cardamom, or saffron and is always on the menu on Kerala holidays.
5:30 pm:
I'm finally home from school and put on an outfit that I will later complain is "too scratchy." The women of the house usually wear sarees while the children (aka me) wear a pavada (a long skirt) and a blouse. Men will wear a mundu and button down shirt. What makes traditional Kerala clothing unique is the kasavu border that borders the entire outfit.
6 pm:
The most wonderful part of being from Kerala commences the sadhya. An array of traditional foods that is only served on special occasions. Eaten on a banana leaf, the feast starts with rice, sambar, papadam, and various smaller dishes. My favorite is chakka upperi, which is sautéed jackfruit in coconut oil, mustard seeds, curry leaves and probably a bunch of other stuff. The meal ends with sweet payasam eaten on the same banana leaf.
8 pm:
**cue food coma**
At the end of the day, Vishu is about spending time with your family. And although this year, I won't get to be physically with mine, I take today to reflect on the decisions I've made thus far in my life and how to look towards a bigger and brighter future. I hope you all will too!
Happy Vishu, everyone! And for those who aren't from Kerala but may need a Jan 1 do-over: You're welcome to join us!