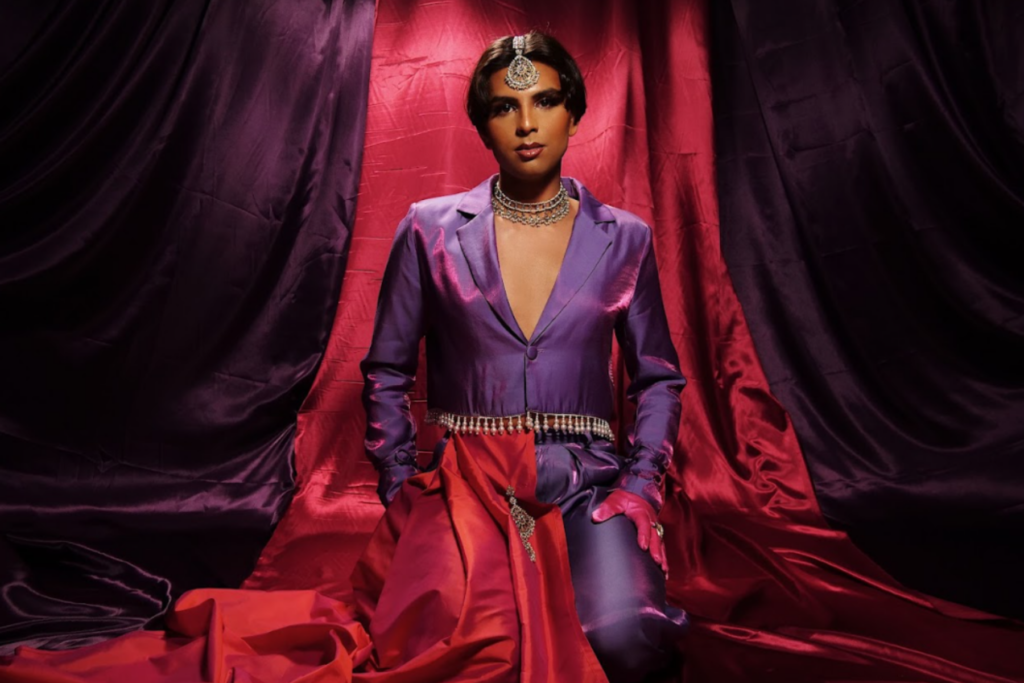 Manchester-based singer and songwriter Jason Patel grew up around Bhajans, Bollywood and '90s and 2000s American pop music. His musical influences range from hearing instruments like the harmonium, tabla and sitar, to guitars and drums. Patel's story relates to so many of us as we have all gone through periods of feeling like we did not fit into the mainstream to having glimpses and hopes of reclaiming our cultures. I had the privilege of interviewing him this past weekend over a Zoom call. His energy and raw honesty were infectious during the interview as he expressed tales of exploring his musical journey and queer identity. 
While initially reading through Patel's press release, I saw the words raga, romanticism of Indian Bollywood cinema, representation and more. I wanted to jump into his musical influences first in terms of Indian classical music, whether that was Hindustani or Carnatic, second in terms of Bollywood and who were some of his favorite playback singers, and lastly if he plans to incorporate all of these into his music.
I was really juxtaposed with a lot of sounds I was around growing up. This was especially true with my grandma and parents going to the mundir. They would be singing songs and hymns with harmoniums and tablas at the temple. I inherently learned music as languages like Hindi and Gujrati are so musical.

On the other end I was also watching Brittany Spears perform on television and immersing myself in Bollywood. Some of the biggest blockbuster franchises were K3G and Dhoom.

I was sitting at one of the top drama schools in the world and I was one of only two brown people. I've worked by myself to get here and actually what makes me stand out are all the things that people used to shame me for in terms of my culture. That's what I need to own. I'm taking this time to find myself and reclaim my culture for who I am.
We moved on to talking about Jason's plans for the future and types of music he wants to create exploring and fusing all of his favorite genres and ideas. He elaborated on the themes that are inspiring the current big project he is working on.
We always talk about how our cultures are really spicy and flavorful, but what about the sugary goodness in who we are and where we come from?  Our sweets are literally just sugar, and dairy so people love this indulgence. 
Jason hopes his future project creates an indulgent and rich experience for his listeners working toward the pattern of food. 
We continued our conversation around South Asian cultures accepting identities. Patel talked in detail about his personal feelings.
I never felt shunned from the Hindu community or the Indian community. Especially someone that's very unapologetic about who he is. Being South Asian is a very adaptive lifestyle and it has been for generations. That's why our cultures have survived for so long.

For me, coming out to my family was fine. There were ups and downs, and I think that's mainly not due to the fact that they were ashamed; it was just a lack of education and exposure. They knew I was gay from when I was three.
We moved on to talking about Patel's music and specifically the meaning behind his track "One Last Dance."
The meaning behind this track is about who you want to be with if the world is gonna end. Have I been the person I wanted to be? Or have I? Am I with the person I was meant to be? Have I achieved everything I wanted to achieve?

It's kind of an internal monolog where I'm reaching for something, but what are you reaching for?
We moved on to talking about the track "In My Heart," and the lyrics "Don't forget who you are inside." Patel expressed the thoughts, feelings and emotions he was trying to convey. 
That song was a really big turning point in my life. I wrote invisible first and that was me exploring the whole recording scene.

It's best listened to while you're in the bath with candles or with your partner, and you just want to relax. I wrote this, that song for me to just chill out. You don't need to go 100 miles an hour because you burn yourself out. It's a time to think about what's important for you and just enjoy the time with yourself, and everything that you need is in your heart.
We moved on to talking about how Patel's dream collaboration would be Lady Gaga and explored other dream collaborators.  
She just kind of was the first person that made me realize who I am and to own it — don't apologize for it.
Jason's dream person, if they were alive, would be Freddie Mercury. He is just such a showman and has so much passion. It really resonated with Patel on how he came to be and his migration. In terms of the ultimate set collaboration, Patel would like to have Nicki Minahaj, Rhianna, SZA and Priya Raghu on the same track as him. 
We concluded the interview with what readers should take away from the Jason Patel Story.
Jason tells stories. Be who you want to be and own exactly who you are. Wherever I am, you'll feel welcomed. I always say I am a walking Asian household. I will love you for you and to look after you. This is a place for everyone where everyone feels welcomed and inspired.
Photo courtesy of AmorosoFilms