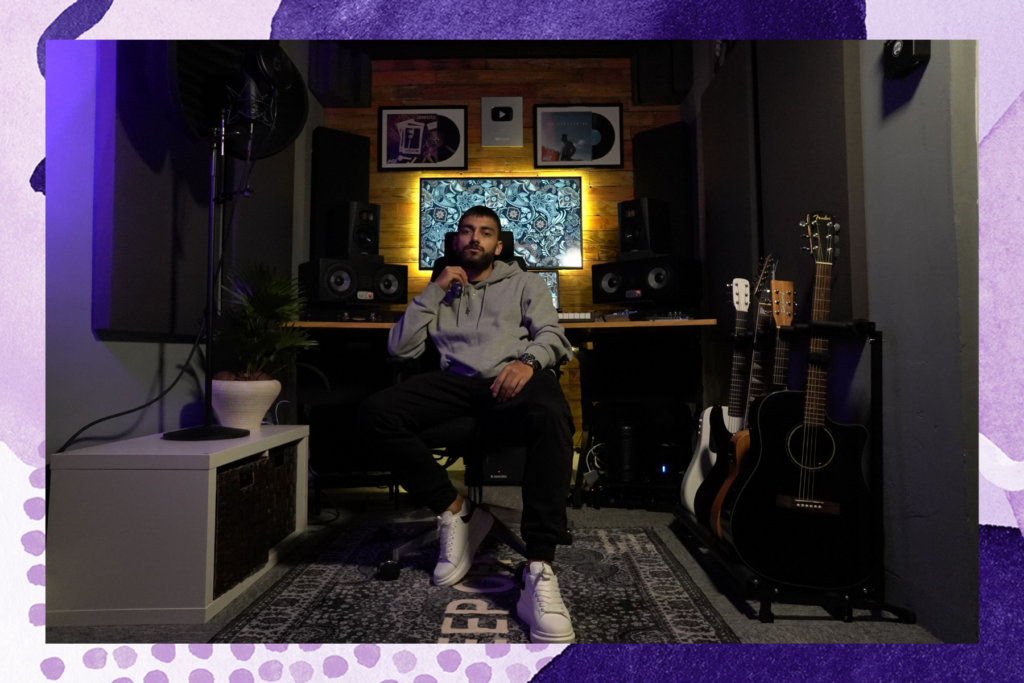 London-based rapper, singer and songwriter Nish fuses Bangla, English, Hindi, Punjabi, and other languages to carve out his own lane in the music industry. He is of a Bangladeshi, Sylheti Muslim background and brings his culture to the forefront of his music through projects like Bangla Medley, Identity, and The Homecoming.
At the start of any musician's career, the most important concept is finding your unique sound. Nish was trained in Bengali classical music and Indian classical music but was also influenced by United Kingdom's Grime and American hip-hop music through the media he absorbed. We talked at length about the combination of his eastern training and western influences and how they shaped his music.
Nish started his career by dropping Bangla-fusion covers of popular songs like "All of Me by John Legend."
In Nish's own words, "I had a funny formula of liking a particular song and adding my own Bangla verse to it."

Nish's strategy was to "Drip feed the language Bangla rather than slapping it into the music."
He talks about having a love for Bollywood as well as Punjabi music but also wanting to express himself in a holistic way through Bengali culture. He hopes his music will bring awareness to Bengali culture and literature in the South Asian diaspora and beyond.
Nish was born and raised in Leyton in the eastern inner boroughs, in a mixed community upbringing. He studied university in the London Borough of Tower Hamlets, which has a large Bangladeshi community, and the street signs are posted in Bangla as well as English. Nish pays respects to his roots and background by dropping the iconic Bangla Medley, which was shot at Bangla Town Cash and Carry. He talks about showing his fans who he is in terms of his identity, filming on the streets of Brick Lane. In a sense, Nish explains that "Bangla Medley is performing classic Bangla songs in a 21st-century medley."
The first album is a true test for any artist. Nish's album Identity hit #1 on iTunes and was one of the first albums to include the language Bangla. He self-produced the album, and his goal was to "connect individuals who are a part of the South Asian diaspora regardless of community." The album showcases his Hip Hop influences as well as features other South Asian artists such as Raxstar, H Dhami, Mumzy Stranger and more.
In Nish's own words, he hopes to "Be the guy to push the door open" for other artists and holds this sentiment true to his heart.
"We're shinning, you're shining."
He believes that many South Asian artists deserve to be in the limelight and that the last six years have been a fun and rewarding experience full of growth.
Nish's EP "The Homecoming" was inspired by his trip to Bangladesh for the first time as an artist. He describes the trip as "an incredible experience with the best energy" at the three shows he performed at.
It was during this time that helped him recognize he was the odd sheep in the family, who went with more of an unconventional career path regardless of his education.
"Not everyone knows that I have a master's in computer science," Nish shares.
His parents and family understood his creative passions and his success during the trip to Bangladesh as Nish's fans were lined up outside of the family village house just to meet him. Five songs and a culmination of Nish's experiences during the trip, production began before the start of the 2020 global pandemic, and it now serves as a way for Nish to relive the beautiful memories of Bangladesh through his music while the world was shut down.
View this post on Instagram
Nish tapped into his U.K. Grime roots on a collaboration called "Man Down" with the New York-based artist Anik Khan. He talked about the similarities in the South Asian experience in the states and in the U.K. and how these common themes led to the track "Man Down." Both Khan and Nish grew up in areas surrounded by immigrant communities. There are many parallels between Khans' New York experiences as well as Nish's U.K. experiences. A common experience both artists experience at airports is being selected for additional screening. This led to the main line in the song, "Brown Man Airport Pat Down."
I had an incredible experience talking to Nish about his personal life and professional music career. Nish was diagnosed with CLM (Chronic myelogenous leukemia) and continues to undergo chemotherapy treatments. Nish continues to make outstanding music and clearly showcases that not even cancer can stop him.
He filled me in on some of the best advice he received in the music industry from the iconic artist Mumzy Stranger:
"Whatever mistakes I made, you need to learn from them."
Nish has connected with many different artists on a personal level through studio sessions and songwriting sessions. He credits his upbringing and his influences around the black and brown community in East London as his inspirations for his success. He also openly spoke about the importance of the fine line between appropriating culture and taking inspiration and influence and paying it forward respectfully.
"It is our duty to pay respects to the culture and keep in mind that we are not overstepping the mark," Nish said.
Nish hopes to see a rise of Bengalis in creative spaces and a higher awareness of the community.