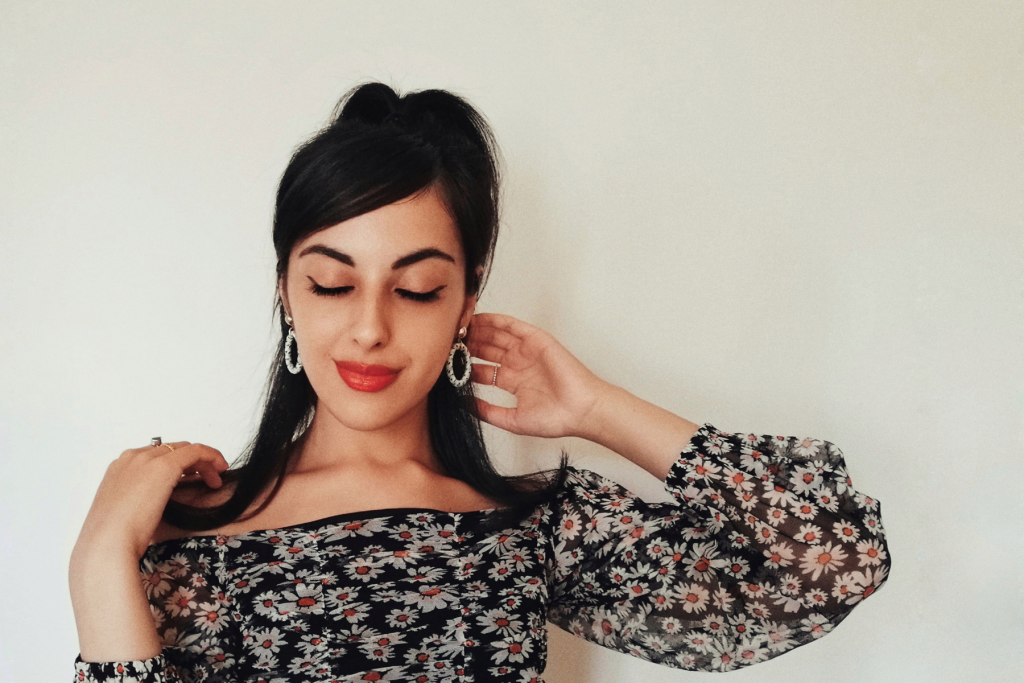 For many of us, the COVID-19 lockdown turned out to be an unexpectedly productive and inspiring period. This was certainly the case for 22-year-old Hana Irene, a London-based music artist of part Kashmiri descent, who could probably show the rest of us with up with how she used her time — to finally sit down, plan and create her own music.
Like for everyone else, the arrival of the pandemic came as a huge shock to the system but it also provided a fresh opportunity to experiment with new sounds and genres. Writing an EP from her bedroom using just an iPad and a microphone, Hana has done it all — independently producing, writing and self-funding her own music.
View this post on Instagram
Fusing storytelling is "part of her DNA" and Hana cites how her mixed heritage and upbringing have made her appreciate how cultures can blend and universal themes like love, sadness, longing, nostalgia and hope are expressed in both to tell a story. The lifelong influence of Bollywood has also shaped her creative output. She tells me:
When I was little, my grandma used to have on all the classic Indian films like "Hero" and "Laila Majnu," which were all dramatic love stories that also placed a heavy weighting on music and dance to push the narrative along and emphasise a character's love, pain or anger.
The "A False Story of Love" track, from her first EP "for the night drive," which was essentially a club-style song, with sitar sounds included, that pays homage to the Indian cinema influence and is inspired by one particular iconic singer:
One artist I couldn't get out of my head was Lata Mangeshkar — I just fell in love with her voice. When I was a little older, my mum showed me the 1960 film "Mughal-E-Azam," which features a song called "Mohabbat Ki Jhooti Kahani Pe Roy" which explores the idea of a false story of love.
Beyond childhood inspirations passed down by her Nani, Hana's Western musical cues are taken from summer lockdown evenings listening to The Beatles, Lana Del Ray and Hozier. The EP strives to capture the mood of a summer romance amongst the flowers, accompanied by portable vintage radios on picnic blankets.
Yet her music also pays homage to the more addictive habits that emerged in lockdown life; referencing her music artists Benee, girl in red and Surf Mesa, all of whom gained huge popularity via social media app TikTok:
If it wasn't for lockdown, I wouldn't have downloaded TikTok or had all this time to get inspired and want to try something new musically.
Social media is of course becoming an increasingly important aspect of our lives, particularly for an independent artist who relies on people sharing her work. Hana says she is lucky to have hugely supportive followers who lift her and her music up, as did the Twitter music community:
The pandemic did help in a weird way — more people were online every day and had the time to listen to things.
On the process of making music in her bedroom, on her iPad, Hana explains that she creates the music and base before writing the lyrics; trialing out drum kits, guitar and a range of new sounds to capture the indie mood of her work:
Once the music is done, I then have the timing sorted and the song-writing comes naturally. It will perhaps take me an hour or two to write the song.
Hana grew up writing poetry, so flow and rhyme feel second nature to her. She sends her final draft to a musician friend for the final polishes (all currently conducted virtually). Constantly experimenting with sound and genre, her musical mood changes according to the season and weather.
Before "Days In The Sun" in December 2019, Hana released "for the night drive" alongside two singles (all available on Spotify). This earlier music was inspired by artists like The Weeknd and Alina Baraz, taking on a more alternative R&B soundscape that is more melancholic to suit winter days, compared to the upbeat, lighter tones of her summer lockdown tunes. Hana has big aspirations for her music yet:
I would love to have my music featured on a Spotify Editorial Playlist or on BBC [Music] Introducing because I want to grow my audience and connect with people. I am also looking to do a few collaborations with other artists in my circle (a lot are from my time at university or friends of friends who are on the same path as me in that respect). Ultimately, I would love to be able to earn a living from making music and to perform live someday — just to grow more confident with this — and to understand how that side of things works logistically.
After graduating, Hana began working for an investment management company, combining her business acumen and creativity by doing marketing and SEO. But she also loves blogging and writing about music on her website (when she's not exploring London or watching Netflix) and dreams of writing a novel or screenplay one day.
View this post on Instagram
Hana feels lucky to have been supported and encouraged by her family to follow a creative path and wants other brown girls to experience the same:
My mum is probably my biggest fan (how cliché!). She would always tell me to pursue my dreams and keep going no matter what and would take us to see live concerts and introduce us to classic films and cult films, so that we grew up constantly inspired by new forms of creativity; be it with art, music, film or theatre.

My family are all incredibly supportive as well. My grandparents request to have my music played to them on the speakers and my cousins always share my music on their social media and get their friends on board too which is wonderful. Overall, it has been very positive and I am so grateful to all my friends and family who have kind words to say about my projects.
Hana appreciates that not all South Asian households are as supportive as her own and is open to fellow artists reaching out for discussion and support (DM her on Twitter, Instagram or Facebook):
I can only imagine how much potential talent is out there and yet, we are never allowed to witness it. My own household was unconventional for a brown girl I suppose. My sister and I did grow up in a single-parent household, so there was also a massive emphasis on female energy and being independent as a woman, which I think has shaped me as a person considerably.
For now, Hana is working on a full album, which she hopes to release next year, with a new song to drop very soon. Her advice for other brown girls wanting to follow a creative path is fearlessness, learning from your mistakes, networking and being smart with your money.
Not everyone will support you, like your work or help you but there will also be people who love it and give you the best feedback, which will encourage you to keep going.