5
min read
A.K. (Anand Kuchibotla) is a 23-year old rapper, musician, and entertainer with roots in Hyderabad, Fremont, and New York City. His soundscapes are gritty, bass-heavy, and catchy but are still fortified with a deeper meaning if you look for it. His latest EP "Model Minority" is a personal look at the intersectionality of South Asian and American culture in today's polarized political climate. Stream A.K.'s music on your favorite platform here.
"Music is everywhere in India. It's the very essence of life. The hustle of the city might sound like noise, but there's beauty in the chaos. From the rhythmic early morning prayers to the erratic honks of auto rickshaws, the key to moving through the commotion of life is to find the art in it – that's what India taught me.
­­
My parents brought this culture of music with them when we moved to California in 1997. Like many immigrant children, I grew up on Bollywood and I can thank the likes of Yash Chopra and Karan Johar for my unrealistic expectations of love today as a single 23-year-old. Despite being in America, Bollywood was all I knew for most of my early childhood.
I was introduced to hip-hop in second grade by Eminem's 'Lose Yourself' and it was love at first listen. I wish I could hear that song again for the first time. I didn't even know music could make me feel that way. To my mother's chagrin, I grew a liking to the infamously explicit genre and, fearing that my young mind would be corrupted, she proclaimed a formal ban of hip-hop in the Kuchibotla household. Unfortunately for her, the Internet existed and I was pretty good at using it.
I recorded my first song on my dad's work headset about 10 years ago and it was terrible. It was a parody song called 'Crank That Masterchief'—an homage to the classic Halo video game franchise featuring my pre-pubescent voice. It's still on YouTube somewhere. If you end up hearing it, just remember that everyone starts somewhere!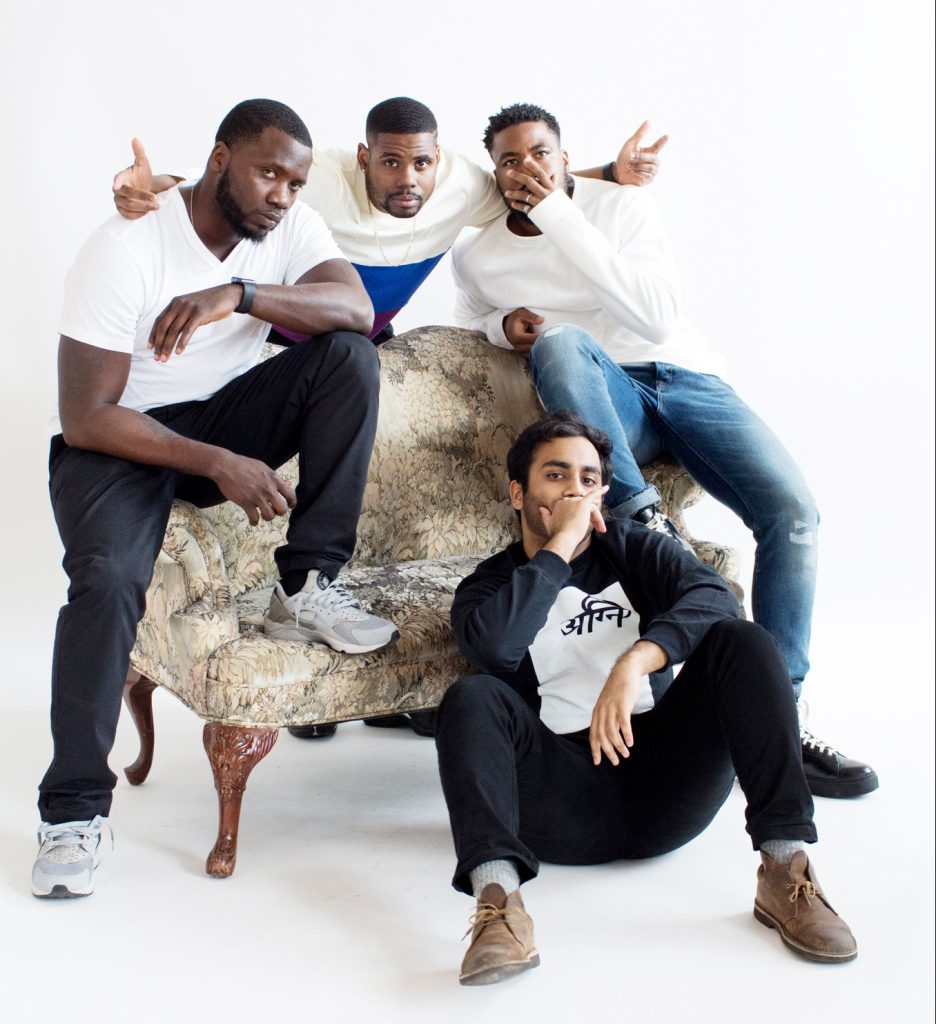 [Left to Right: Stu, Chase, No Name, A.K. Photo Credit: | Photographer: Sharayu Mahale.]
I eventually started getting better and began publishing songs weekly on YouTube. My frequent uneducated use of the n-word and the fierce online backlash I earned taught me early on that I wasn't exactly like all the rappers I listened to. Hip-hop is, and always will be, a black art form and I am just a visitor in its house. I learned that there is a fine line between appropriating a culture and participating in it. I had to learn the roots and respect the culture.
I continued to make music throughout high school and college. After graduating from UC Berkeley with a degree in Computer Science, I had a choice to make. I could either live out the San Francisco tech life with all my friends and family or I could move to New York City where I knew nobody but I'd have the opportunity to pursue music seriously alongside my career.
It was a gamble either way. But if you don't sacrifice something to get what you want in life, then what you want in life becomes the thing you end up sacrificing. So, I moved to New York.
I remember looking outside on my first night in my new city to see several young professionals like me hitting the town with their friends. I checked Snapchat and saw my friends in San Francisco grabbing drinks. Meanwhile, I was alone in my dark apartment with just a mattress and my clothes. It was then I realized how real everything was. This was my life now. Everyone that loves me lives 3,000 miles away and I knew nobody in this city. I cried that night.
[SocietyBKLN group and affiliates. Left to Right: Jake, Bangallure, Stu, No Name, Chase, A.K., Ashton Martin. | Photo Credit: A1 Productions.]
But things got better. A few months after I moved, I attended an event held by a production group called MOMA (Men of Modern Art, not to be confused with the museum) at the legendary Premier Studios in Times Square. I was intimidated by the amount of sheer talent in the room and I let my doubts cloud my confidence.
My voice cracked when I asked No Name, a former producer for P Diddy if I could play my music. I was expecting him to fall to his knees in uncontrollable laughter. But instead, he looked at me for a second, scrunched his eyebrows, smiled slightly, and said, 'Hell yeah you can play your music.' And so I did. And they loved it.
I began hanging out with the MOMA family a lot in the studio. I was childishly excited to be in the 'kitchen.' Grammy-nominated music engineers sat a few feet away from me. I met folks who had credits with P Diddy, Pusha T, Busta Rhymes, Fat Joe, Beyoncé, Travis Scott, etc. I shook the hands of people who shook the hands of Kanye West. For the first time, this pipe dream of mine felt achievable. I wasn't just in my room in Fremont making music anymore—I was in the music industry.
This year, I dropped my debut EP 'Model Minority,' which addresses my experiences as a South Asian in today's political climate. I released three music videos for it and held a release party at the AVA DoBro in Brooklyn.
I also joined forces with No Name (the producer I was afraid to approach at Premier Studios) and Chase to create our brand societyBKLN. Our mission is to revitalize hip-hop in New York. We work with artists of all disciplines around the city whether it's photography, videography, vocals, production, web design, or fashion. We aim to be a beacon of culture and I promise you're going to be hearing from us very soon. We've been working hard on an album and it's going to make major waves for the Big Apple.
I can't tell you where this journey is going to take me but I'm excited about the ride. I want to feel how Aziz Ansari feels when he sees the people who made fun of his dreams attend his shows. I want to feel how Yao Ming feels for being the reason all of China is interested in basketball. I want to feel how Drake feels for making Toronto cool. I'm chasing that feeling."
-Anand Kuchibotla
Follow Anand Kuchibotla on Instagram, Twitter, Facebook, Soundcloud, and YouTube. Find SocietyBKLN on Instagram.
---
Do you know a Brown Boy who is awesome at what he does? Send an email telling us why at Trisha.Sakhuja@0mq.349.myftpupload.com.