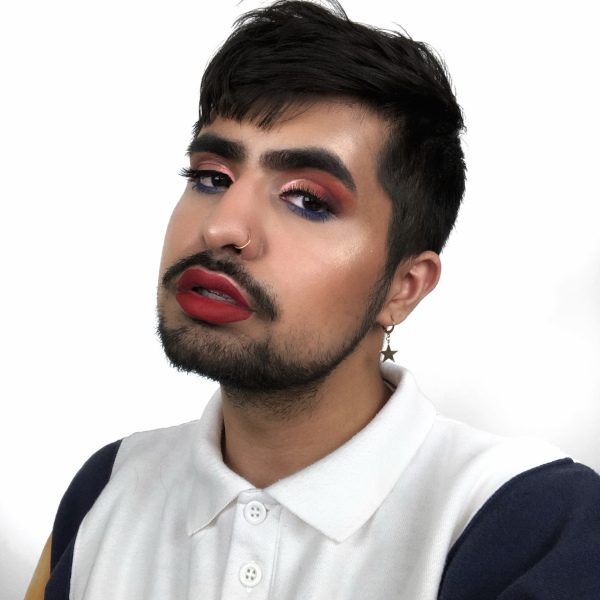 AMAAL is a singer, songwriter, and rapper. Along with their musical talents, AMAAL is also a makeup enthusiast. Based on the east coast, they live and breathe style through music and makeup. They are the complete pop package, with an elevated sound and a daringly modern look to match.
"Growing up, I always felt like the odd one out. It's not that people singled me out (initially, at least) I just knew that I was different. It never really became a problem for me until I hit fourth grade in which I started getting made fun of for being hairy, being overweight, and 'not normal.' It only got worse as years went on and 'not normal' became a plethora of homophobic, transphobic, and racist slurs. I never quite understood what I had done to warrant such hatred from people. I took their comments and turned them into critiques. I tried to change myself in every possible way that I could to no avail. I finally got frustrated and just tried to be as authentically myself as I possibly could but, unsurprisingly, that didn't really help either. No matter what I did it was like I could not escape the hatred.
View this post on Instagram
The day I graduated high school felt like I was finally being freed from everything horrible in my life. Walking out with my diploma in my hand I felt like I was breathing for the first time in years. I had come out to my mom about seven months ago so she knew about my identity of being genderqueer and bisexual. The only things that really got me through school were my mom, music, and art.
Whenever I felt really down I would listen to Lady Gaga, Beyoncé, Rihanna, Prince, David Bowie, and Madonna. I would paint listening to Born This Way telling myself that I am in fact meant to be who I am. I would think to myself 'if they found the light at the end of the tunnel then so will I.'
View this post on Instagram
I started making Youtube videos in middle school where I would do covers and make sketch comedy videos. I ended up sticking with it as a hobby. In 2017, I went to Playlist Live DC, and I was trying to go to a panel for vloggers when I accidentally ended up in a room for a Beauty/Lifestyle panel. At the end of the panel, I spoke with Miles Jai (MilesJaiProductions on Youtube) and Natalie's Outlet (Natalie's Outlet on YouTube). They both were the most amazing people and had such inspiring words to say on the panel.
When I spoke to them, I told them I make Youtube videos too and I love watching them on a regular basis. They complimented my outfit and said that they actually thought I was doing fashion videos, not comedy based on my appearance. The panel discussion—paired with their amazing words—awaked something in me that made me think, 'what if I started doing makeup online?'
View this post on Instagram
It wasn't until three months after I graduated I got the courage to take the first steps to start my career in music. That August, I started writing my first single 'Need it too.' I had never tried to record music professionally before and I truly didn't realize how involved the process is until my first single. It was pretty easy and fun to write but, but it took me three months fully finish it and have it ready to release. Now, I can have a fully finished song in a week (sometimes even faster if I'm working with a producer in person versus online). I still have the piece of paper that I wrote the first draft of 'Need It Too' on.
Currently, I'm super excited about the launch of my website and of the release of my new single "Late Nights (Vibes)" — which is about the early stages of falling in love and how confusing yet enchanting it can be. I'm going to be dropping the music video for my new single very soon and it will be available on my Youtube channel. It's my very first music video, so I'm excited yet terrified to put it out in the world."
–Amaal