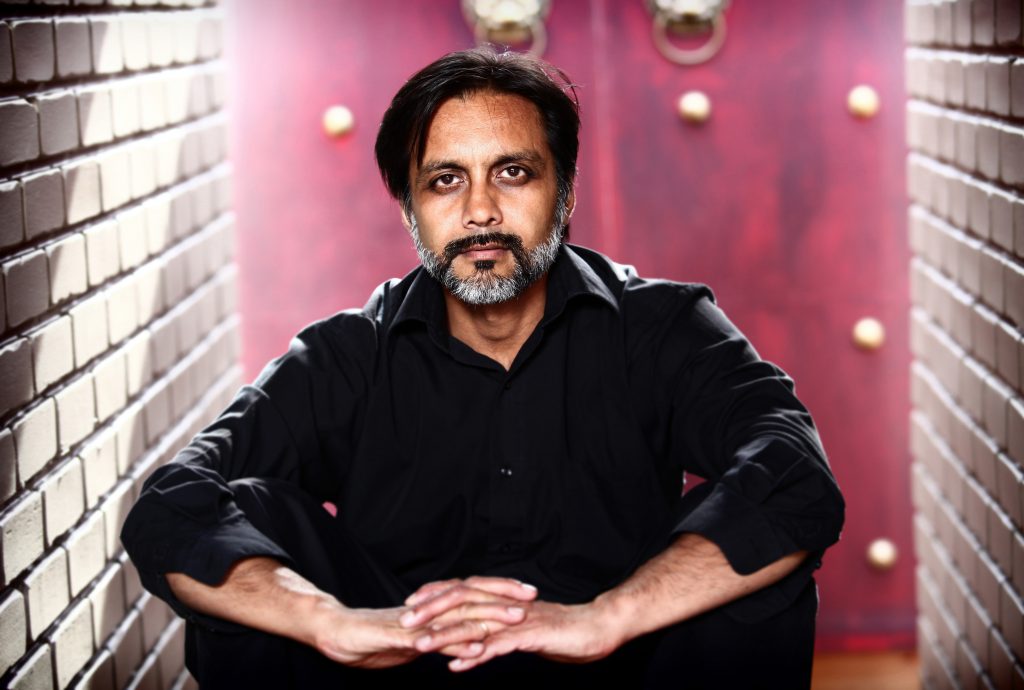 Anjul Nigam is a 25+ year veteran of the entertainment industry. He is a producer, writer, and actor on "Growing Up Smith," which was released in U.S. theaters on February 3rd.  The film is a production of Nigam's Brittany House Pictures which has an unspoken mantra of "no explosions, no profanity, no violence."  As an actor, he is known for Focus Films' "Bad Words," directed by Jason Bateman, a recurring role on "True Detective," four seasons on "Grey's Anatomy," a six-year stint as the Call Center Guy on "Jimmy Kimmel Live!" and more than 50 guest starring roles on primetime television shows, ranging from the recent "Battle Creek" to the classic comedy "Murphy Brown."  He is a graduate of New York University/Tisch School of the Arts with a degree in Drama. Nigam lives in Los Angeles, California with his wife Anjalika and two sons, Nikaash and Shivaan.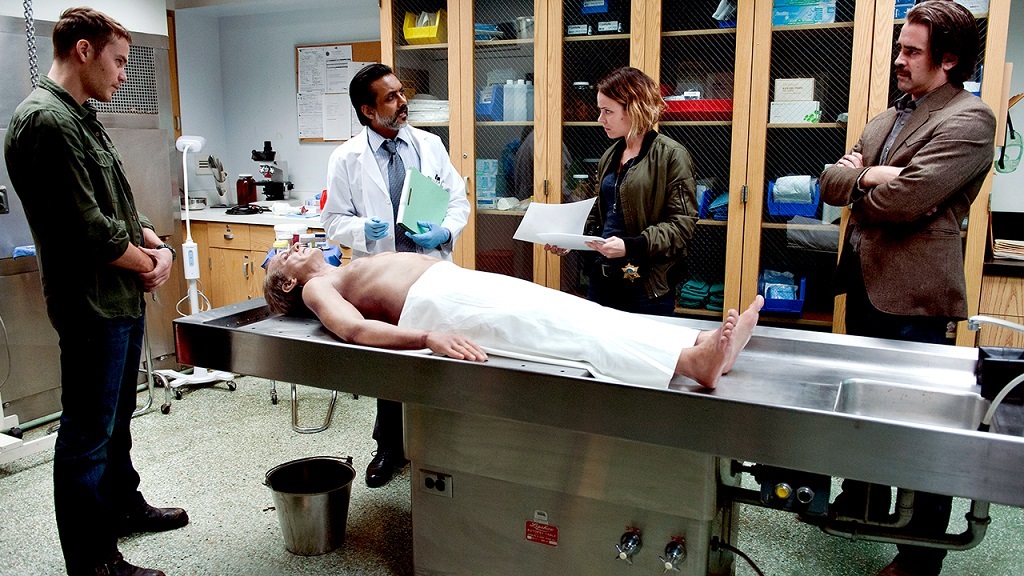 [Anjul Nigam in HBO's "True Detective" with (L-R) Taylor Kitsch, Rachel McAdams, and Colin Farrell. Photo Credit: HBO]
"Where the journey began:
On Easter Sunday, 1974, I was barely nine when my family and I settled down in front of the black and white Sony television set in our living room in Cheshire, Connecticut. Picture a traditional-Hindu, immigrant family from India cozying up with samosas to watch a film called 'The Ten Commandments.'
The next day, I came back from school and found a stick about a yard-and-a-half in length in my backyard.  It became solid, dry, and smooth as I peeled off remnants of bark.  I then climbed up the front door stoop of our home. I extended my right arm out to the side holding the stick upright as I shouted, 'Four times you have seen the power of God, and still you doubt His mighty hand!' Using the stick as my staff, I parted the front yard of our New England home, making believe it was the 'Red Sea' and I was Moses!  That spring afternoon I had opened, and as some would say, fallen into, a Red Sea of Acting.
From that day on, whenever I was asked what I would like to be when I grow up, my answer was quick and clear:
'I'm going to be an actor.'
The year I turned sixteen and got my driver's license, I auditioned for a summer residence program for the arts at Wesleyan University.  My parents agreed to let me use their car so long as I paid for my insurance, so I knew my true independence would come by holding down a summer job.  With that, I set out to find one by applying all over town.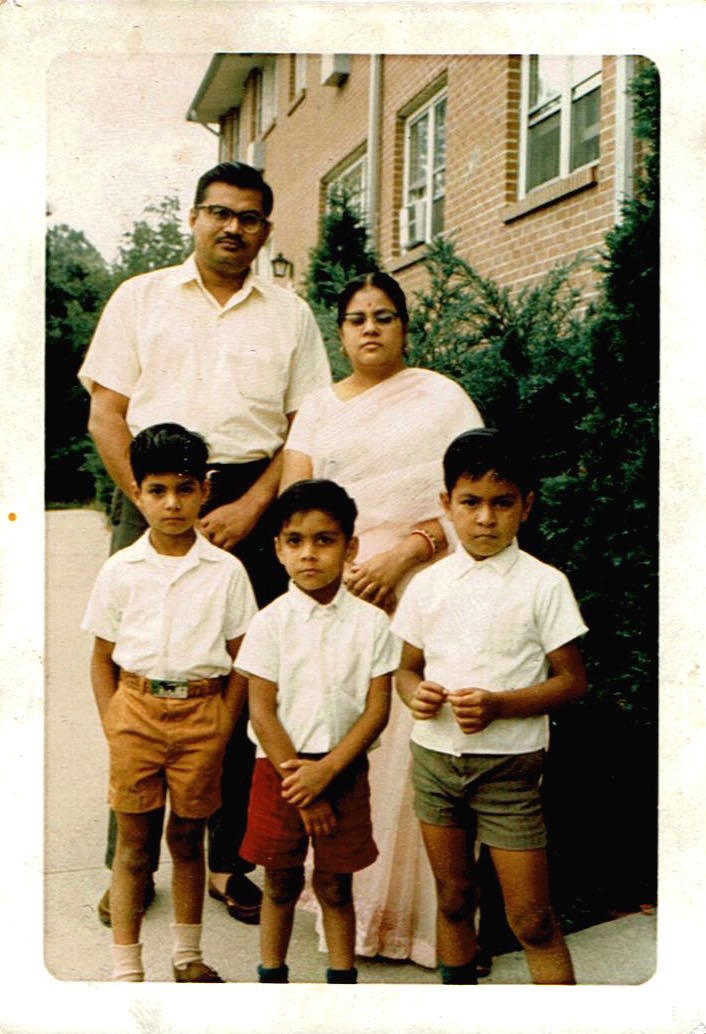 [Nigam Family in 1970.  Anjul (center) with brothers Hemanshu and Ankesh, parents Lakshmi and Sushila.]
As luck would have it, my undeniable talent had earned me three job offers: stock-boy at Marshalls, a bagger at the local grocery chain Stop & Shop, and ice cream scooper at Dairy Queen.  But a thick envelope that arrived that May from Wesleyan University was going to throw me for a loop:
'We are pleased to announce you have been accepted with full scholarship to Wesleyan University's Center for Creative Youth in the discipline of Acting.'
I had to decide between proving how serious I was about acting or gaining my independence.  At sixteen, independence had the upper hand over proving how serious I was.  But my parents put me to task:
'If you're so serious about becoming an actor, go to Wesleyan and find out how much you truly like it.'  'But what about these jobs?' I argued.  'There will be plenty of time to get a job later,' they said.
So I packed my bags and off I went to study the craft of acting.  My parents had no idea what they had done!
Wesleyan University's Center for Creative Youth was a pivotal point in my life from saying 'I want to be an actor' to doing it. Ted Guhl, the acting program's director, was a tremendous influence.  From him, I learned the basics: Stanislavsky, objectives, sense memory, scene breakdown, and above all, commitment.
Five years later, while enrolled as a drama major at New York University's Tisch School of the Arts, I entered the professional world of acting by earning my highly coveted SAG card— I became a proud member of the Screen Actors Guild!  The joy of getting my first paid gig as an actor was immeasurable.  I played a young, naïve middle-eastern terrorist who is bullied into taking over a military base camp. The role was for the U.S. Army Training film, called 'Hostage and Terrorist Crisis Management.' I was on my way. The rest is history!
Immigrant Experience:
In the summer of 1974 and a light green Buick LeSabre, my parents and two older brothers took a cross-country trip from our home in Connecticut to the West.
We covered 36 states in six weeks, and every night was spent pitching a family tent in Koa Kampgrounds. The smell of my mother's rotis being cooked on a Coleman gas burner is something I'll never forget. Back then, however, I was embarrassed that in our little corner of the campground we emitted scents of turmeric and basmati rice while the other campers around us had hot dogs and hamburgers on their grills.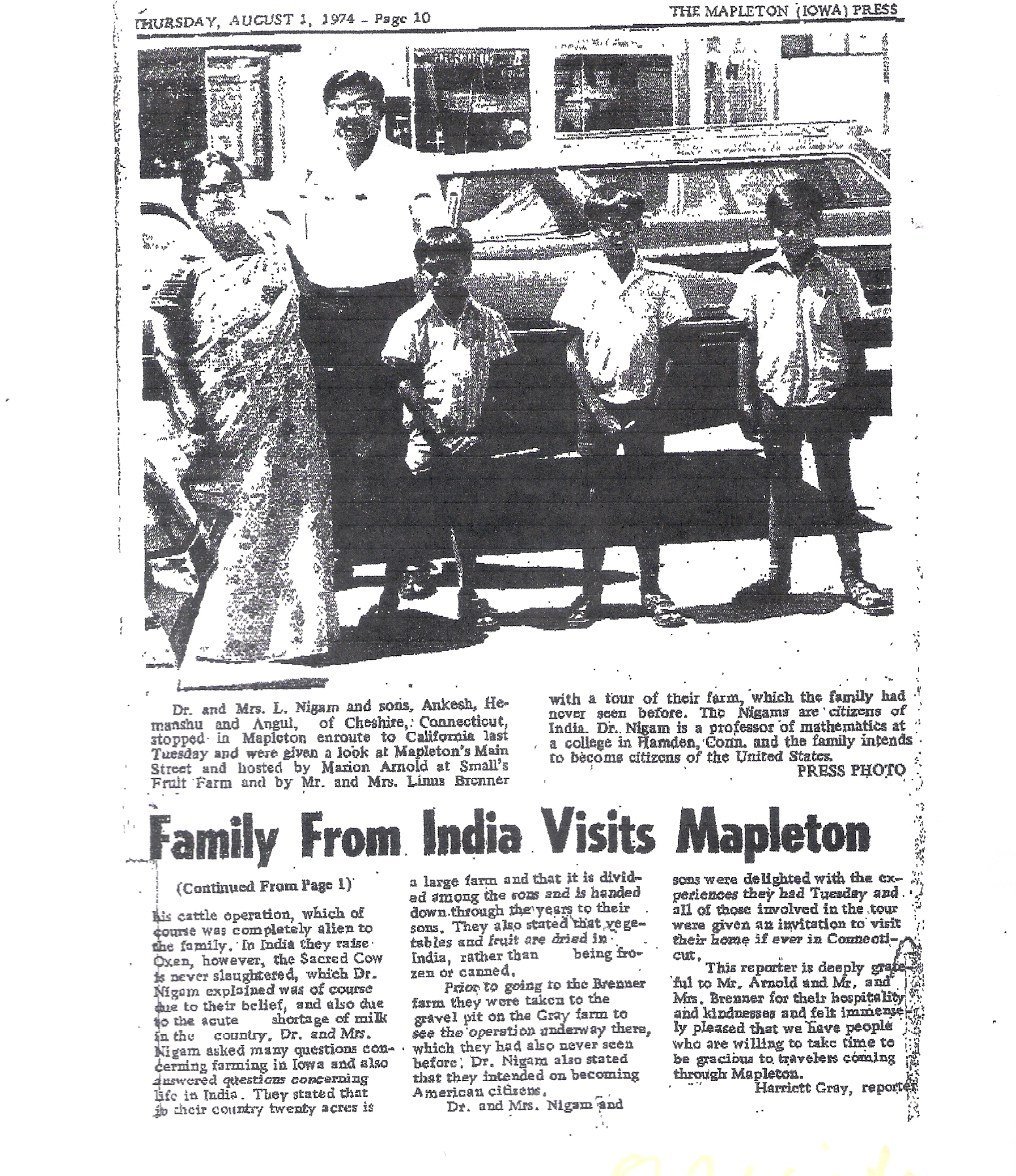 [Mapleton Press Article featuring the Nigam Family in 1974. Photo Credit: Mapleton Press]
But when we got to Mapleton, Iowa and stopped for some gasoline at a rural gas station, we became an item of interest to a local journalist who asked if she could do a feature piece on us. We obliged, and she took us on a fun-filled day to the local Brenner Farm. My brothers and I posed for photos with newborn piglets and were invited to ride shotgun on a tractor with Mr. Brenner. This was capped off with orange creamsicles at the Brenner's home.
Several weeks later, when we returned to our home in Connecticut, we received a copy of the article the journalist wrote for her local newspaper. There we were, on the front page of The Mapleton Press under the headline "Family from India Visits Mapleton"!  But above all, in my first experience in the limelight, my name was misspelled as 'Angul!' I remember the flub to this day but it was only the first time.
The Color of My Skin:
Brown…the color of chocolate, one of my favorite food groups!  It also happens to be the color of my skin, a color consistently associated with South Asians, which also happens to be my ethnicity. And strangely, it's the one thing that evidently confuses so many when they learn I'm an actor, as it's frequently followed by the question: 'As an actor, do you always play Indian?' Call it smug, but my response is:
'Well, would you prefer it if I was playing an Irish fellow.  Would that make you feel we, as a South Asian community, have made progress?'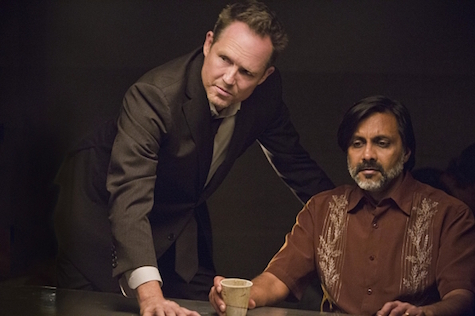 [Anjul Nigam in CBS's "Battle Creek" with Dean Winters. Photo Credit: Getty Images.]
The issue of ethnicity, and by extension diversity, is complex and can be hard to answer to.  For me, I like to consider my ethnicity a wardrobe. It may not be relevant to some, but to others, the color of my shirt may matter. I may not be able to change everybody's taste, but when I put on my favorite pair of jeans, I always feel good about who I am: comfortable in my own skin.
Growing Up Smith:
So often in the entertainment industry, we become defined by a project.  For me, I would be honored if that one project turns out to be 'Growing Up Smith.'  It is a movie about first love, childhood heroes, and growing up in Small Town, America in the 1970s through the lens of an immigrant family from India.  As a writer, producer, and actor in the film, I borrowed my upbringing as an Indian immigrant in 1970s America.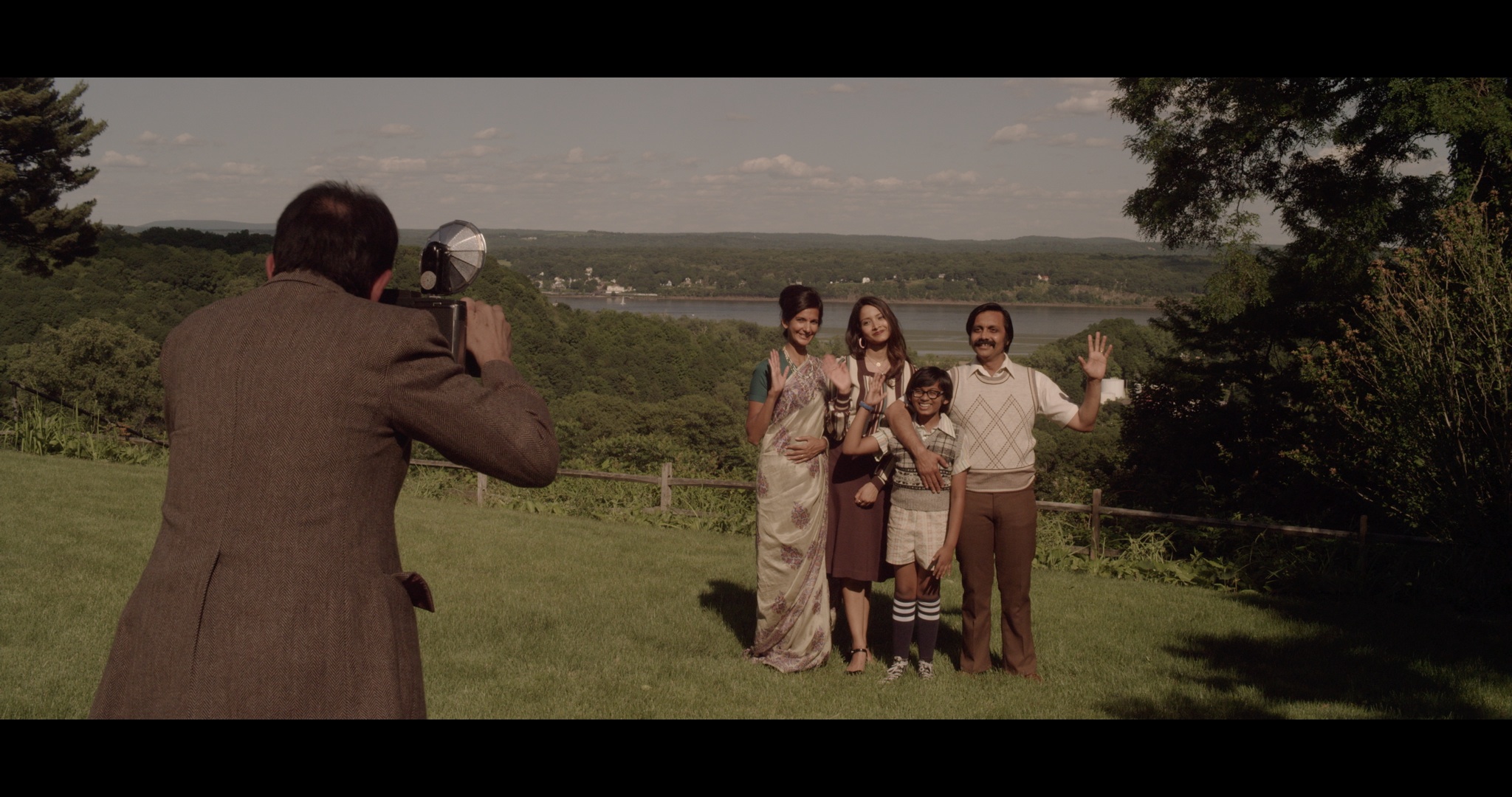 [Anjul Nigam in "Growing Up Smith" with (L-R) Poorna Jagannathan, Shoba Narayan and Roni Akurati. Photo Credit: Brittany House Pictures.]
The movie is a tribute to my childhood in Cheshire, Connecticut.  A great amount of my character,  Bhaaskar (Smith's father), is based on my own father.  Like so many immigrant parents, mine raised us with a need to preserve the traditions of our homeland, while still dealing with the duality of allowing us to assimilate.  Meanwhile, my father's goal was never to be here permanently, but rather to become professionally established and then return to our homeland. There is a line from Bhaaskar that is directly from my father: Be patient, Mummi.  When we go back, we will live like rajas and ranis.  We will live the American Dream… in India. That's the common thread about the immigrant experience: we are trying to find a home away from home.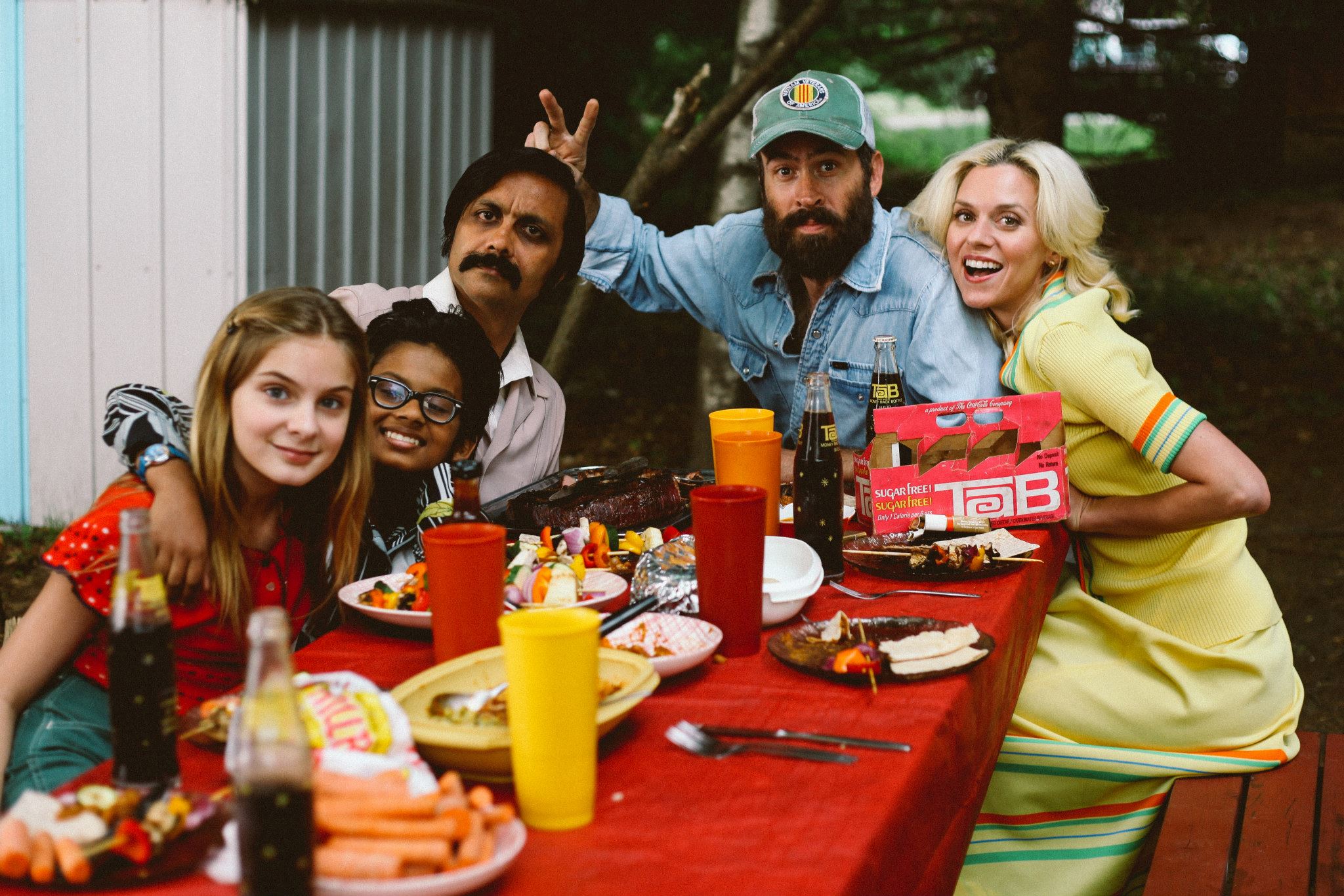 [Anjul Nigam in GROWING UP SMITH with (L-R) Brighton Sharbino, Roni Akurati, Jason Lee and Hilarie Burton. Photo Credit: Brittany House Pictures.]
Advice:
Early in my career, I bought a book about the life of a professional actor.  But I didn't read the last chapter, 'Coping With Success.' I was just starting off, so I didn't think there a point in reading it.  I wondered who, after becoming successful, would actually turn to the book for guidance. I thought that when I became successful, I wouldn't need a book to help cope with such a predicament.  But as I have built a career in entertainment for nearly three decades, I still have not read the 'Coping With Success' chapter.  I have decided that once we bask in the laurels of any level of success, we stop striving for what lies beyond the stars.  We must never do that."
-Anjul Nigam
You can follow Anjul Nigam on Facebook, Twitter, and Instagram. You can also check out the "Growing Up Smith" website and trailer. For tickets to the film in your city, please visit amctheatres.com.
---
Do you know a Brown Boy who is awesome at what he does? Send an email telling us why at Trisha.Sakhuja@0mq.349.myftpupload.com.