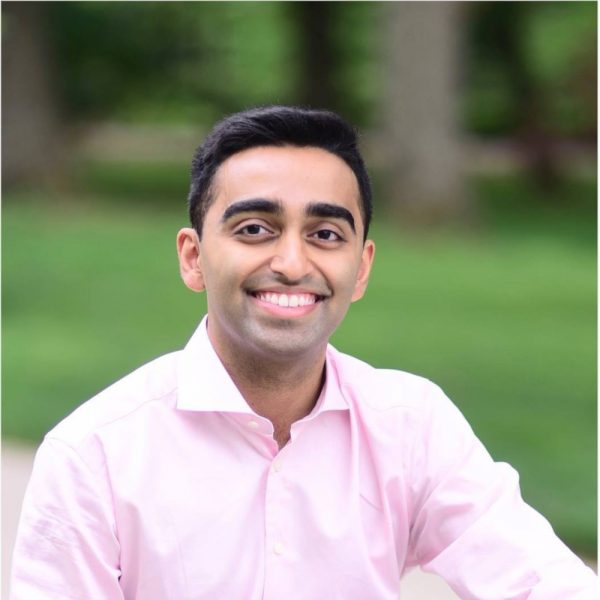 *Content warning: Brief, vague mentions of mental illness and sexual assault. 
*Note: the name "Aadhil" has been chosen at random, to protect my friend's (and his family's) privacy.
Archit Bharathwaj Baskaran is an activist, musician, and orator now in medical school at Northwestern University. In his work as an activist, Archit travelled to Nepal in 2016 to begin a qualitative project called In Extremis, in which he interviewed and catalogued the life stories and illness narratives of 30 Nepali LGBTQ+ people and human rights advocates, some of whom were at the end of their lives. He aims to have the follow-up study and short story compilation done by this year. In 2017, Archit wrote and published a story on Medium.com detailing his experience living with and being a survivor of post-traumatic stress disorder (PTSD). His narrative of prejudice and recovery launched a social movement and nonprofit organization called "I AM SHAKTI" ("I AM POWER(FUL)") in the South Asian/American community to de-stigmatize mental illness and shift the narrative around South Asian mental health.
In his work as the President of the Medical School Class of 2021, he works extensively with marginalized students, advocating the deans for changes in policy, infrastructure, and programming for students with disabilities, mental illnesses, students of color, low-income students, and more. As an orator and musician, Archit is a self-taught Western and Indian Classical Keyboardist, having performed over one hundred concerts in India and America. From the age of six, after a brief set of classes in Western Classical Piano, Archit modified the Yamaha MO6, and the Kong X50 with help from artists from India, to replicate the nuances of Carnatic Classical Music on a traditionally Western instrument. He gave a TEDx talk in 2014 entitled, "A Tale of Two Melodies," documenting his work and journey.
Archit dreams of a career in disaster medicine, humanitarian relief and rescue, and politics. During his work as a political activist in 2014, Archit was invited to personally meet President Barack Obama in his hometown of Chicago, IL. He credits 100 percent of his life's successes and ambitions to his predecessors, mentors, family, and friends, without whom he would never have been afforded the opportunities in life to flourish.
"The day my friend and mentor *Aadhil departed this world, I discovered the meaning of guilt. It is a time I am not proud of, yet a beginning I am most proud of. Aadhil was part of the LGBTQ+ community at a time my worldview was rooted in prejudice and phobia. Into my and my family's life, he brought unconditional love and tolerance – and with his influence, I gave up a former life in search of a better one. In his last days, when he showed signs of weakness, I was unfortunately not there for him. And though I have had years since to process and make peace within myself, who I am today draws inspiration from who I once was, and who I will never again become. Around the time of Aadhil's passing, I learned a proverb in my native tongue, Tamil, which says, 'uppin arumai uppilladhu samaiyalil theriyum' (roughly meaning: 'you will know the importance of salt only when you taste food without it' — or 'you never miss the water till the well goes dry').
My name is Archit Baskaran – my pronouns are he/him/his, and I go by Archie. I am a healer, activist, orator, writer, and musician. But to those I love, I am a grandson, a child, a friend, an ally, a mentor, and a student. My name and identity derive from the ancient Indian Sanskrit word, 'Archana, symbolizing "offering," and I am a South Asian American, a duality I navigate daily in search of acceptance.
When I say 'duality,' I speak not only to the obvious duality of identity, but also a duality of conscience. On one end, I belong to a community in which rich, vibrant nations enmesh in a matrix of culture and history, unified under freedom from European colonization. And on another side — I come from a community of privilege and hierarchy, intolerance, within-groups and out-groups, ridden with inter-group exclusion, infighting, and hate.
Regardless of how broadly one sees the South Asian diaspora in the United States or abroad, there is no denying the problems we face, ranging from common to severe. In my own network of friends and family, I have seen it all, as I'm sure so many of you have too. I have seen guys who objectify women they find "hot," rank them by their attractiveness, compare hookups, and speak of bossy and confident women they dislike as b****, c***, and another similar language.
I have seen my friends, multiple survivors of sexual assault, many women, some men, some gender non-conforming, traumatized years later.   
I have seen their families, uncles sitting down at the table when aunties serve them and their kids food prior to eating themselves.
I have seen aunties abstaining from places of worship when on their periods, domestic violence and brutal fighting between parents, beating of kids.
I have seen the ways in which we joke about religious conflict between Hindu, Muslim, and Christian, among others, in the way we define what is right versus wrong for marriage, which community is moral and which amoral, who is 'fanatic' and who is not, and how we interpret one another's history, statehood, or claims to land.
I have seen colorism and fat-shaming in the way we describe dark bodies, Bollywood movies which portray fair, able-bodied, thin, upper-income background leads, even when the subject of a film is about individuals with disability or love between gay people. I see suicide joked about, patients with mental illnesses otherized, and LGBTQ+ identities denied, defaced, and disgraced as scum.
I see some of the biggest financial donors to Donald Trump coming from our community.
But what's most disheartening, is when I see complacency among people who have the ability to act, to say something, to challenge their families or friends, yet they sit idle, maybe even participating or laughing along. This could be you. It has certainly been me.
Growing up in America as a South Asian American child, this is not the legacy I envisioned for our communities. I dreamt of the fables I read about in children's books — of ancient India and Nepal; the art I saw from renowned South Asian painters, sculptors, architects, dancers, and musicians; ancient philosophies my parents would talk to me about as a child; and the stories of unification, independence, freedom, and liberty from the Western world I watched in movies or heard from my grandparents.
But all this said I envision only hope for our future and healing. I choose to see this face of a broken South Asia/South Asian America, so that I may contribute to a world that my successors may enjoy, in the very same way my grandparents and parents did for me. That's why, in this phase of my life, my goal is to improve and really to build my skills as a listener. For the past 1.5 years, for example, I have been trying to understand my friends' religions in a more empathetic way — so I've accompanied them to the gurudwara, to the mosque some of them attend for Jumma, and to Friday evening Christian dialogue circles among many of my Asian-American peers.
I wanted to write this piece not to keep talking about myself, but because I want to share a message — one of hope, healing, and power, using this platform to strengthen the voices and narratives from our communities which have been historically disadvantaged. I dream for our communities to be able to use narrative as a tool of dismantling our biases and our hate, very much like James did for me and my family – and in this process, make South Asian America more socially conscious overall.
I quote myself from my story, published on Medium last year, to drive this point home:
Being an activist does not require you to raise a microphone and lead thousands of people. If just one voice can shake empires and inspire millions, imagine what all our voices can engineer together. So, let us send shockwaves through this universe, and become, at this very second, indomitable.
My purpose and vision for life are to clean and retire from a world with less inequity than the world I inherited. And to that end, I am embarking on a career in humanitarian medicine and disaster relief, oratory and human rights activist, using my privilege as a middle-class, able-bodied, upper caste Hindu background man to awaken people to think and act differently, like how I once did.
And hopefully, one day, as Aadhil once said to all of us, I will be remembered as someone who loved radically."