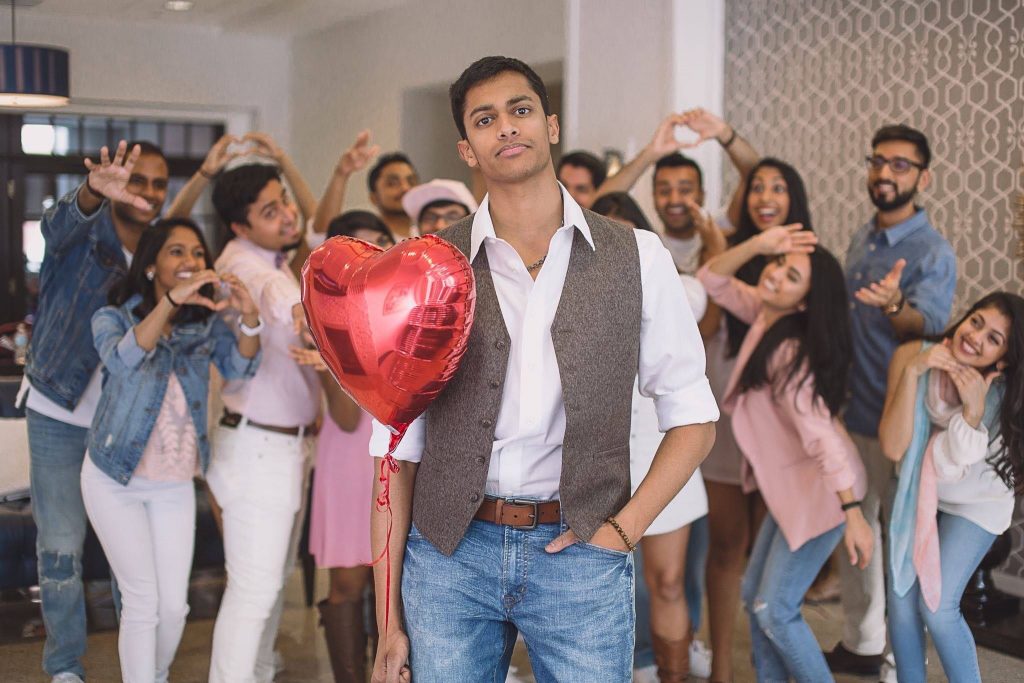 Sri, also known as Dr. Srimix, is a neuro-engineering PhD by day and a DJ/music producer by night. Hailing from Philadelphia, his music mixes originate from the competitive college Desi Dance Circuit, blending popular American songs with music from all over South Asia. In addition to creating mixes for over 50 dance teams, his collaborations with singers Jai Matt, Aditya Rao, and Mugdha Hasabnis, as well as with bhangra DJ Klasikhz and renowned Tamil composer Karthik Raja, have gathered widespread attention across the internet and showcase the variety in his productions. His recent visual album, "The Method," brought together over 100 dancers, producers, artists and videographers. Working constantly to explore new ideas and projects, stay on the lookout for what Dr. Srimix will bring next.
https://www.instagram.com/p/Bi57CWcBOk0/
"A conversation I repeatedly have with my friends goes something like,
Man, I wish I had started dancing/singing/producing/etc. earlier in life.
Contrary to what many people assume, I entered the world of performing arts much later than the stereotyped New Jersey pre-med Indian kid (and I am none of these things) and wish I realized how much I loved it earlier.
My dad works for the military as a professor, and while not enlisted in service, his jobs kept us moving from city to city, resulting in me living in about nine different places to date (including school). I was a dedicated baseball pitcher for my entire life and spent a considerable number of years living in Wyoming, a state with a very sparse minority population. As such, my love for Indian music was restricted to car rides with my parents – old Mohammad Rafi music if in my dad's car, and 90s Tamil music if in my mom's car.
Once I came to college at Brown University, I left baseball behind and tried out for the dance team Brown Badmaash. I was terrible (understandably) and didn't make it onto the team. To my luck and benefit, however, weekend parties at Brown centered more on going out for dancing than other colleges I had visited. When I tried out for the dance team again the next semester, I somehow made it, which I could only attribute to the accidental dance practice I was getting every weekend.
https://www.instagram.com/p/Bn4Hm_ZByDi/
But deep inside I knew that what drew me to dance was my love for the music we danced to. The next year when we competed at Phillyfest, my captain told me,
Listen, we're not a well-known team, I need you to find songs and make a mix to help us stand out.
From there I made my first full-length competitive team mix, which took me an ungodly number of hours, but the fact that I was willing to throw myself at the project was emblematic of the years that followed. From there, one team mix became two, became fifteen and then fifty. I remember a quote from a friend long ago: "The first thing to do when you join leadership is to train the next leader," which I what I plan to focus my time on now.
https://www.instagram.com/p/BqKzsjCg3jk/
There is an entire generation of new DJs/producers, especially girls, who were sadly scarce in previous generations of DJs, that I want to provide all my resources and knowledge to so they can surpass us and hit even higher highs than before. As an artist that continually fuses Indian and Western popular music, a question I get asked often is if I had formal musical training in either discipline. I only wish I could have – given my volatile living situation, I never had the chance to learn from a teacher and probably would have wasted less time trying to reinvent the wheel through internet articles and forums. At least this way, I provide one source of mentorship for younger DJs that was generally lacking for me."
With hard work come achievements…
There's a handful of people who inspire me, and in what I believe to be a series of unbelievable events, I've been fortunate enough to hear that they've used my work. This ranges from Wanted Ashiqz telling me back in 2010 that my first mix ever was amazing, to Klasikhz one of my former idols using my mix at his wedding, to Karthik Raja a Tamil composer working with my mix for a commercial, to Hrithik Roshan using a mix of mine on his own official Instagram page. An even bigger compliment, however, is hearing from a number of my friends that listening to my work inspired them to become DJs and producers themselves, and that to me is an unforgettable feeling of appreciation.

The second accomplishment is very different but I think just as important – the dance and music scene used to be heavily dominated by Bollywood and Bhangra with almost no room for other languages. Thankfully with a combination of my stubbornness and reach, I played a big role in expanding the South Indian dance and music scene in the country for the first time, for which I am eternally proud and would not give that up for anything.
But doubts run rampant even in the best
I think I hate almost everything I've made. I don't say that lightly – I toil over mashups for countless hours being a perfectionist until I finally release it and don't want to hear it ever again. This hilarious but honest sense of resentment makes me feel that many of the things I've made in the past are subpar and makes me shy away from playing it in public, but it keeps me pushing harder. In contrast, my other friends tell me my older work is still great, so who knows.
Maintaining the line between human and superhuman 101
Phenomenal question. A constant intake of coffee helps. For better or worse, I think my time in Wyoming made me very independent and focused since there was literally nothing to do there. As much as I try to be as social as possible on weekends, I counter it by disappearing completely on weekdays. I also explicitly split my time from 9 to 5 for science and 5 pm onwards for dance and music and try to not let those blend, else I'd get scatterbrained and nothing would get done. I've also admittedly given up a lot of other things, like TV and a lot of sleep, but something had to give and I don't regret it.
https://www.instagram.com/p/Bl3jg6Xh0U-/
Here's to infinity and beyond…
Ideally, as many collaborations as possible, I strongly believe the path to the top is through a community that works together, not a single lone artist, and I hope to continue that trajectory for years to come. When the South Asian music bubble finally blows up into the mainstream, I want to make sure all of my friends are there with me so they can continue doing their art as well.
"Love you all, and I hope I can continue to bring your worlds together with the music we create."
-Sri