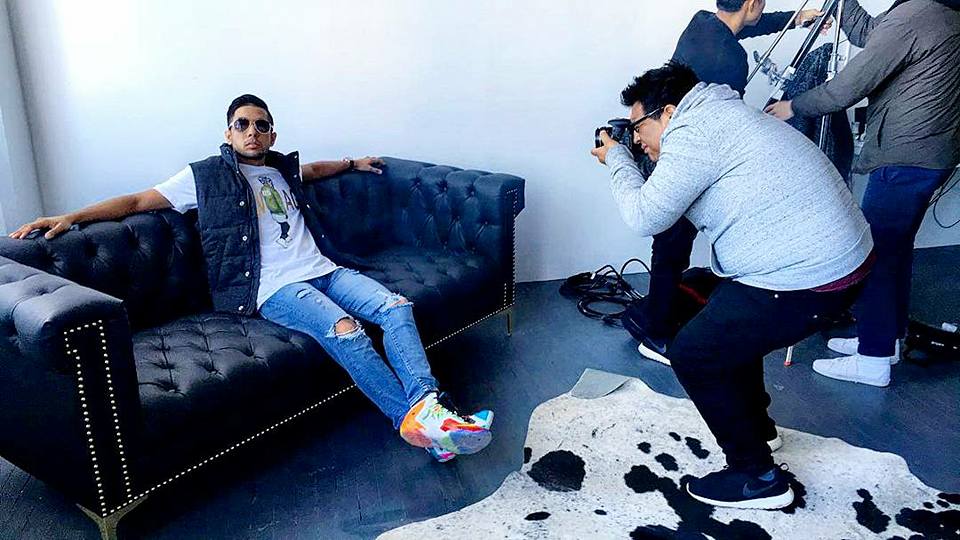 Shiv is a 30-year-old hip-hop artist from New York who currently works as a Clinical Data Specialist at the National Cancer Institute, part of the National Institutes of Health (NIH) in Bethesda, Maryland. Shiv's routine day runs from 8AM-4AM in order to make time for his all-consuming passion for music. His interest in rap and hip-hop was born at the impressionable age of 15 when Eminem and Jay-Z were climbing up the charts. As a lyricist and a performer, Shiv places importance on meaning and melody, and likes to analogize his music to his philosophical MO; a unified message of good intentions and easy living. His other interests include chicken tikka masala ("extra spicy") and Oreos and milk.
https://www.instagram.com/p/Bn7EjpbhgCc/
"Brown boy – I used to really feel the burden of those words. Now I just feel the weight. Let me explain the difference. When I was growing up in suburban Long Island in the '90s, we were one of the handful of South Asian families in our town. "Dot head" (even though I'm a male so that just shows you the level of ignorance) and "Can I come to your 7-11?" were terms that were very familiar to me when they were shouted at me from the privileged youth at school. In addition, I had childhood eczema and asthma which not only affected how people looked at me, but how I saw myself. So this skinny "Brown Boy" with a carefree apathetic facade was what I became. Facade being the keyword. It was then that I discovered what would end up becoming my ultimate saving grace.
One of my favorite lyrics is so simple but so meaningful:
"One thing about music, when it hits, you feel no pain." — Bob Marley & The Wailers
https://www.instagram.com/p/Bny1OhiDcOh/
Music was always my favorite form of escapism because the passion was already innate, and I could always run to music when I needed to clear my head. Bad day? Put on some of that "No Diggity" or "Mo' Money Mo' Problems" that my sister always had jamming back then. Proud-Indian-Instead-Of-Embarrassed-One type of day? My parents' old school Bollywood songs always hit the mark. Pissed off? Give me some Eminem. Needed to chill? Please see the king Bob Marley as mentioned above. Old school hip-hop from the days of Biggie, Tupac, Snoop – these were my aspirations. I started becoming absorbed in all facets of hip-hop music from writing lyrics, to rapping and creating new flows, to singing melodies and allowing myself to express what otherwise may have remained internal angst and eventually morphed into mental health issues. It allowed—and still allows—me to be introspective and push my creative limits while trying to be a louder voice for the bigger issues – both ones I face personally as an individual (and Brown Boy), and ones we face as humanity.
Personally, I come from an incredible family of love, support, and strength. There aren't enough words yet created to ever express the depth of my gratitude for them. That being said, even though my dad and godfather have always had a massive impact on me as male role models, I was basically raised by five women. And I'm the youngest. So imagine that for a moment: five semi-helicopter moms/sisters who just had to make sure no one was bullying me, I was eating, I had manners, I was a part of the Indian dance culture, I went to Kumon, I excelled in school, and as I got older, who also had to vet all girlfriends or threaten their well-being (jokingly, to clarify – before I get them put on some sort of list)! To be candid, many a time the unconditional love became suffocating and I would struggle not only to find my place in the world but within my family as well. How could I prove that I was independent, that I was smart, that I was motivated (and that I knew that food was an integral part of survival so I didn't need to be asked if I ate every half hour)!? As I tried to mentally untangle these threads of thought, over time the forgetful kid grew into an ambitious man both by conscious action and unavoidable catalysts – but always fueled and fortified by rhythm and sound.
https://www.instagram.com/p/BgoxIUbljfM/
I was accepted into Hofstra's 6-year LEAP (Legal Education Accelerated Program) out of high school and the general idea was obvious as a first-generation South Asian American child of immigrants. Study, excel, become a professional, excel again, get married, have children, basically become my least favorite term…settled. Three years of undergrad passed, I began law school at the age of 20, and was promptly dismissed at the end of year one simply due to the fact that I didn't put in the work. It had never been for me, but I pushed myself into being the good Brown Boy because that's just how it was and that's just what we did. The realization and introspection after my failure to thrive in a professional school as an Indian kid was more than just soul-searching, it was gut-wrenching. I worked in 24 different industries after that, including studying audio engineering, working as a car salesman, flipping properties, selling corporate software, etc, but my heart always lay in one place only. As I struggled to regain my footing, however, it was as though someone suddenly reached out and slashed any harness that I had holding me up.
In 2015, the day before Thanksgiving, I received a call that one of my best friends, Sunny, had suddenly passed away at the age of 27. To say it shattered my world would be an overwhelming understatement. It was as though a tsunami of grief passed through my close-knit circle of brothers, and we were fighting to keep our heads above the water. Few things bring life into perspective faster than having to bury your best friend. Sunny had been the biggest supporter of me honing my craft and cultivating my skills when he saw the effect creating music had on me and my overall motivation and ambition. I decided then and there that come what may, I would bring my music to life – in honor of Sunny's.
https://www.instagram.com/p/BoxaqnGBw6s/
On the one year anniversary of his death, I released my first EP, and it was as if someone had uncorked me. In the next year and a half, I released five more musical projects to the public (as lyricist and artist) with more than 100 songs still unreleased. In the past couple of months, I had the unbelievable honor of being commissioned by world-renowned multiple-prestigious award winner A.R. Rahman to write and perform an original rap song for the background score of Tamil movie Chekka Chivantha Vaanam, directed by National Award winner Mani Ratnam. The film's trailer alone garnered more than 11 million views in less than 4 weeks (with the Telugu version Nawab boasting 2.2 million views of its own), and I was so humbled that my 18 seconds of rap was so highly appreciated. By popular demand, the song was released as a full track, garnering 1 million YouTube views in 24 hours and now standing at 4.4 million views in two and a half weeks. But at the end of the day, the fact of the matter remains that these numbers only mean something if you've reached someone's heart. If I can say that any of my music has done for someone else, what other artists' work has done for me, I will have considered myself grateful for that impact.
https://www.instagram.com/p/BpcQZDbBpbi/
And this is where the transformation from 'burden' of being a Brown Boy, to Brown Boy 'weight,' especially in today's sociopolitical and cultural climate, occurred. In my history, the tagline of being a South Asian male was almost like a brown tattoo inked on top of my melanin. I couldn't escape being South Asian as my only identifier. In my present and our collective future, I feel the welcome weight of being a vocal and progressive Brown Boy in a mobilizing society. My movement lies in what I can do because I'm a Brown Boy, not despite it. I feel the power of my pen delivered through the conviction of my beliefs and the strength of my voice. And I feel that now is our time. The time to rise up, to speak up, and to make sure that the revolution is amplified."