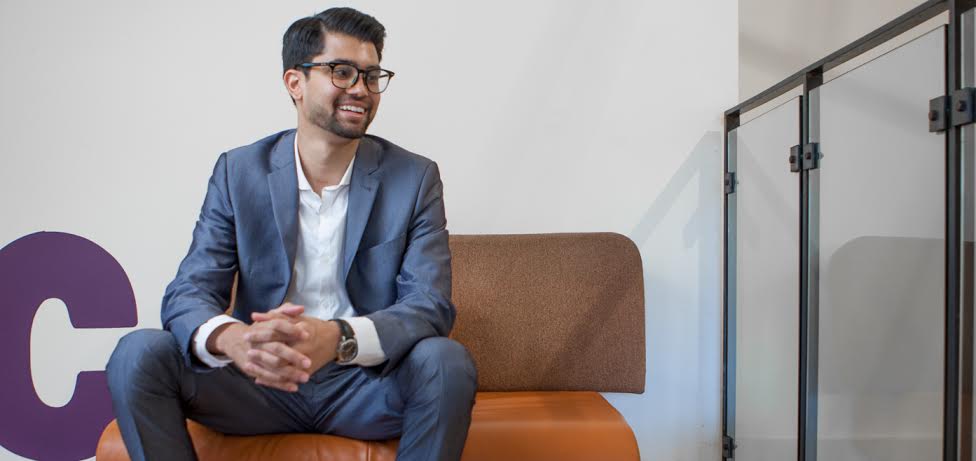 If you see a problem…and you feel that you have the solution to it…fix it.
That is the message Raad Ahmed, founder and CEO of LawTrades.com, brings forth through his work ethic and start-up company. At the young age of 26, he brings a new vision to the worlds of technology and law. It's two worlds he wants to combine, so that it's possible to receive legal aid easier, quicker and cheaper. Ahmed spoke to me in great detail about his start-up company, future goals and shared some motivational thoughts for others looking to make a difference.
Ahmed is a graduate of St. Johns University, NY, with a bachelors in legal studies and philosophy of law. He then earned a Juris Doctorate from the University of Buffalo Law School in 2013. Since then, he's moved back home to Queens, NY, to pursue his start-up company, LawTrades.com, full-time. Prior to his business venture, he worked at many legal related jobs.
What is LawTrades.com?
Lawtrades allows you to get real legal help from real lawyers in real-time. You can find legal help anytime from lawyers with experience across a range of practice areas, including business formation, contract review, criminal charges and more.  Also, its possible to choose which lawyer to seek help from based on their qualifications, availability, price, ratings and reviews.  Then you can choose to speak to a lawyer right away via phone, in person or you can schedule a consultation for later, right from the website.
How did this idea come to your head?
The idea came from my own personal experiences.  I started it because I had that moment where I just needed to speak to a lawyer, but couldn't find the right one.  I had a lot of questions about landlord issues, tax questions and other random legal issues.  Like many people, I would go online to search for a lawyer, but it was difficult to figure out who was actually a good lawyer.  A lot of these directories show lawyers on the top of their search list and you just have to assume that maybe they give the better advice, but that is simply not the truth.  I realized a lot of people face this and many people are afraid to approach a lawyer.
The idea behind this business is also to introduce the concept of virtual law practices.  How much longer do you think it will be until it becomes a reality and how successful do you believe it can become and why?
It's happening now.  For more and more lawyers, they're jobs are getting outsourced.  Big law firms are having layoffs or shutting down completely because they can't pay the salaries or bills it takes to keep a legal office open. I definitely see that in the next five to 10  years, lawyers are going to be doing everything online because it cuts costs and you don't have to worry about buying an office. Instead, you can focus on your clients and in return allow affordable rates to your clients.
What makes your website the one people should choose?
Since you can't tell which lawyer is the best in the area of expertise you are looking for and because marketing tactics can enable one law firm's listing to be on top on various search engines, you never know who you're going to get.  However, on our website, we have real clients and real ratings that are verified.  We verify client reviews only after a client books a consultation with a lawyer and closes the consultation.  In addition to getting all the information you need faster and speaking with a lawyer in real-time, I believe our site is the one people are looking for.
You have become an inspiration for many young people who want to venture off towards the world of entrepreneurship. So how easy or difficult is that to do?
It's definitely not an easy thing to do, but if you really believe in your idea and you really think there is a problem out there and you have a solution to it, then that makes everything worthwhile.  Working in a start-up is like a roller-coaster because you have your highs, which are awesome and then you have really low-lows when things don't go right.  The key is to remain persistent because the road is bumpy, but if you can hold on to your vision, then I think you can get through it.
What other plans for LawTrades.com do you have ?
We have pretty ambitious plans moving forward.  This is our first version of this site, which we have tested out and received a lot of feedback from lawyers and clients.  We are in the process of creating version two. It's going to be pretty awesome because it's going to be like this version, but on steroids!  We want to get a lot of users and establish an even more in-depth streamlining process of finding the perfect lawyer, receiving live help and being able to pay your fees online. We are going to make the three-step process of getting all your legal stuff done in just one step.
Do you have a message for our readers?
I would encourage people to take the chance and start their own business if they have that idea or that drive or if you see a problem that needs to be fixed. I would encourage people to take that leap.  It's fun, it's exciting and I love what I do every minute, every second of the day.  So, whoever is reading this, definitely try to take that chance and while you're at it, check out our website if you need to speak with our lawyers or have any legal questions that you may need help with.
Visit: http://Lawtrades.com
Find LawTrades on Facebook and Twitter.
LawTrades' Team:
Ashish Walia – V.P of Sales
Aman Nagpal – V.P. of Marketing