by Hansini Vyas
Remember the brown boy whose kathak moves went viral for dancing to Beyonce's "7/11?" If you didn't catch the insanely popular video, take a look and then read on for more because that same brown boy is making history, only this time, he's doing it across the world!
Rohit Gijare, a reputable, emerging choreographer and dancer based in the New York/New Jersey, was recently selected to take part in ZEE TV's "Dance India Dance North America" dance competition.
We spoke to Gijare about this once in a lifetime experience to hear how India and DID treated him,  and here's what he had to say:
"Performing on Dance India Dance was unlike any experience that I have had before. I've been watching the show and all the videos that they post on YouTube like most other dance fanatics, but I did not anticipate that I would get to dance on that platform and that too this year."

"Like all of the other contestants, I had no idea what to expect when I got to Mumbai. But when I arrived for the rehearsal for our first shoot and got to stand on the grand stage, I was awestruck."
"During our first rehearsal, the team of choreographers gave us advice and tips on how to use and cover different areas of the stage to enhance each of our routines."

"When the first shoot started the next day, I was on pins and needles and I got extremely nervous after seeing Geeta Ma, Mudassar, and Punit Sirs walk into the studio. But the nerves eventually calmed down after I performed and then I was just excited that I got to dance in front of these three amazing judges. It was very interesting to see and learn how the behind the scenes aspect of the show works."
Gijare goes on to tell us what he loved the most about filming for DID:
"One aspect of DID that I think was a fun and bonding experience for all of us were the 'reality shoots.' This is the part of the show where they highlight each dancers background, or show interactions during rehearsals and more. It was fun to see which parts of the show are scripted and which are ad-lib and impromptu, and it will be even more fun to see how each person is portrayed and what actually makes the final cut."
One can only imagine the amount of hard work Gijare put into perfecting his art of dance. Here's what he had to say about training at DID:
"We would train for 10 plus hours a day and there was constant guidance and encouragement, which really helped me push through and I hope I was able to make them proud."
Gijare's final thoughts about his two-week experience in India:
"There may have been over a hundred people I encountered during my two weeks in Mumbai that were in some way shape or form contributing to the show. I still cannot believe I was selected to dance on 'Dance India Dance' but I'm very glad I was able to share this journey and experience with so many passionate and talented dancers."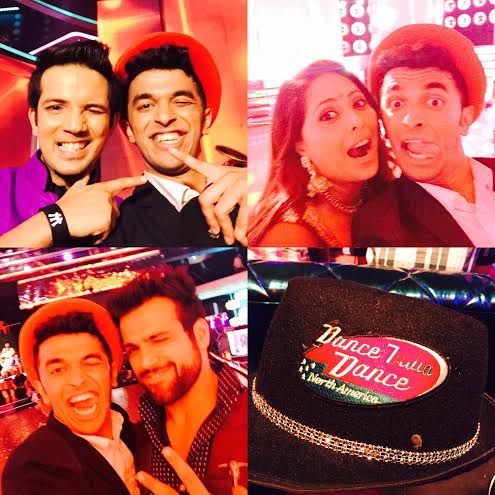 Catch the DID Grand Finale episode on ZEE TV: Sept. 6 at 7 p.m. EST/4 p.m. PST. 
Want more of Gijare? We give you his latest music video: