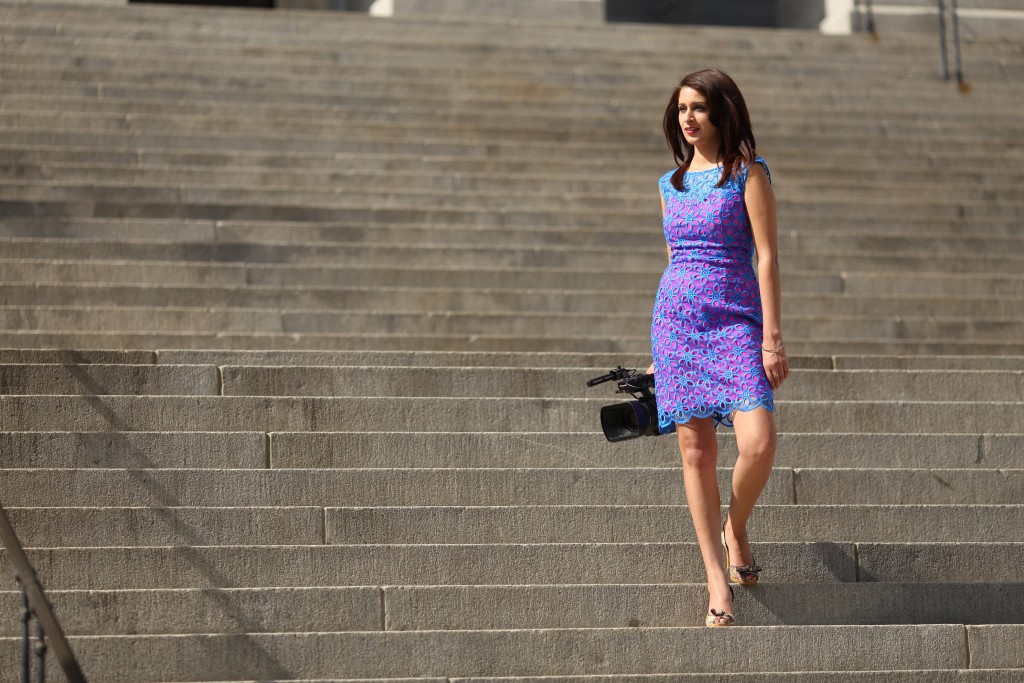 Meet our Brown Girl of the Month of April, 2014!
PJ Randhawa is an award-winning Canadian-Indian television reporter and news anchor based in South Carolina. PJ now works as the Chief Political Correspondent for Raycom Media televisions stations. Although PJ was born and raised in Manitoba, Canada, at the age of 18, PJ left small town Canada for Chicago, Illinois. She pursued her undergraduate and master degrees in Chicago, while working in some of the best newsrooms in the city, for media outlets like The Chicago Tribune, WGN, FOX Chicago and PBS. After graduating with her masters in 2011, PJ moved across the continent once again to Rapid City, South Dakota where she became a Morning News Anchor and Crime Reporter for KOTA TV (ABC). PJ moved to South Carolina's capitol city last April to report on state politics and issues of state-wide relevance- including the 2014 Governor's race, the Affordable Care Act, and corruption in the State House. In November of 2013, PJ was honored with a World Sikh Award in London, England, for her political reporting work.
"I learned the hard, unspoken truth about society from behind the lens of a camera: we are judged by our appearance, our speech, our opinions. Many reading this will have been judged by their skin color or race, just like I have. I wish I could say asking questions for a living, and searching for meaning in opinions and actions has given me a better understanding of people and the prejudices they hold onto. Instead, it often leaves me wondering how society can build so many political and social barriers to deny and challenge change.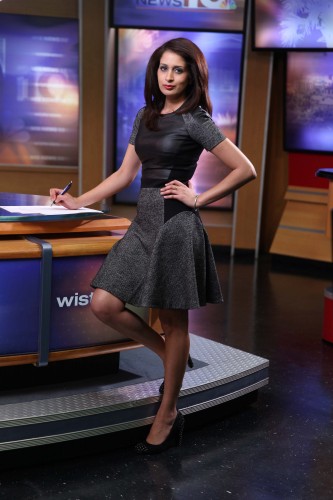 Diversity is easy to take for granted. Growing up in Canada, I had friends of every race, religion, creed. I felt the same as everyone else and I never needed to justify that. While America is called a great "melting pot," Canada was known (by some) as a big "fruitcake." Everyone is an individual, separate but equal and equally respected.
When I moved to the United States, I found that your beliefs will be challenged. Your right to practice your religion peacefully is not guaranteed. One of the hardest stories I've had to watch was the shooting at the Oak Creek Sikh Temple. I couldn't cover it because there was no Sikh population in South Dakota – just me. That's when being "different" felt the worst.
Over the course of my career, I've been mistaken for virtually every nationality. Being light-skinned, I've even been mistaken for a "white person with a tan" in South Dakota, where many times I was the first East Indian person many had ever met!
In the news business, "brown" people are under-represented, and there's a push to put people on television that represent the demographics of the audience. For my part, I never really acknowledged what "color" I was until I got my first job. Before that, I just felt like everyone else. I was and am proud to be a Canadian-Punjabi-Sikh girl, but how do you summarize and explain what that means to people? I haven't yet seen an 'Ethnicity' box on any form that can capture what I am, but there inevitably comes a time when everyone is labeled, measured and classified. In the TV business, that's almost every day. Your speech, clothes, hair, even your hand gestures can garner criticism.
The best thing you can do? Stand for something. Have a message, have a purpose. Whatever field you're in, be more than your apperance. I could be brown, white or black and be on TV with different results, even different levels of popularity (if you care to gauge such things). But the one thing that we as Brown Girl's will always have control over is the ability to stand for our convictions."
– PJ Randhawa
Follow BGOTM PJ Randhawa's Facebook and Twitter.
 Do you know a Brown Girl who is awesome at what she does? Send an email telling us why at atiya.hasan@0mq.349.myftpupload.com.