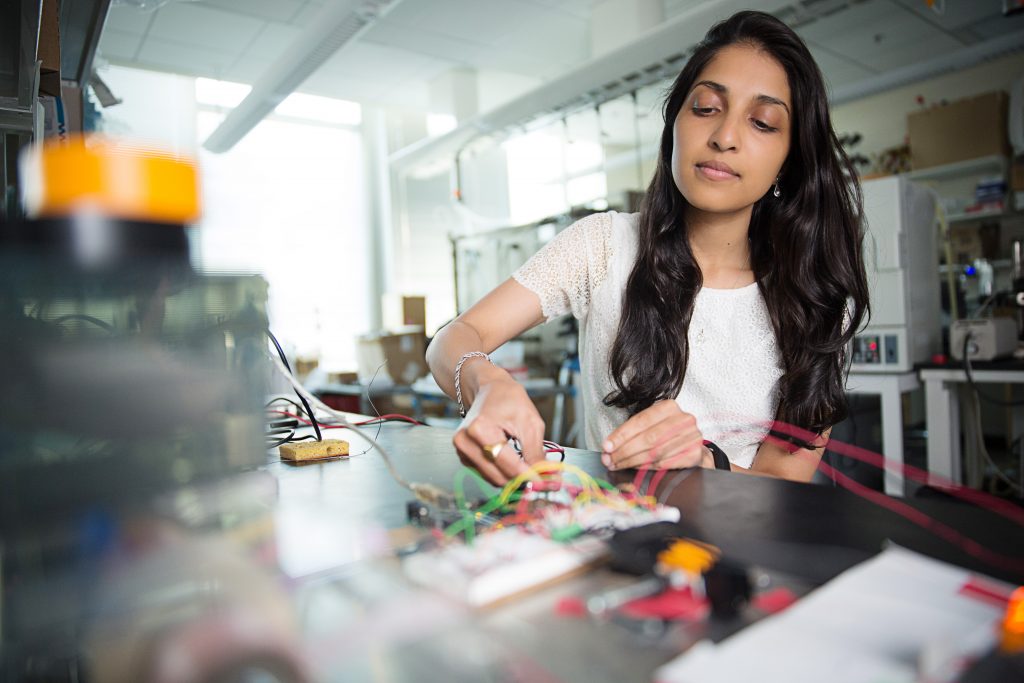 Dr. Ritu Raman is an engineer, writer, educator, and biohybrid designer. As a postdoctoral fellow at MIT, she develops novel materials and devices for applications in translational medicine. Growing up in India, Kenya, and the United States, Ritu has learned to appreciate and thrive in diverse and dynamic environments. She believes innovation can drive positive social change, and this inspires her to democratize and diversify access to education around the world. Ritu's research has been featured in several news outlets, including NPR, Popular Science, TechCrunch, and MIT Technology Review. She was recently named an L'Oreal USA Fellow and Forbes 30 Under 30 for Science.
"I have defined myself as the odd one out for as long as I can remember.
I was born in Chennai, India, to a loving duo of Tamil 'engi-nerds' who soon relocated our family to Nairobi, Kenya. Weekdays were spent learning English, Swahili, math, and science in school and art, music, writing, and everything-in-between at home with my mother. Weekends were spent watching my father put up communication towers in rural villages and playing with the local children. Most of them had never seen a non-Kenyan child before and were fascinated with my 'weird' hair (there was a lot of hair pulling involved).
We moved back to Chennai in the mid-90s. Even in the city that I was born in, I was the kid from Africa ("did you have a pet lion?"). On the plus side, I learned my hair wasn't weird in India! My days were focused on dropping my Kenyan accent, trying to pass my Hindi class, and walking around the city with my grandfather (also an engineer), who seemed to know everyone in Chennai. He was the sort of person who "knew a guy" that could fix every problem and taught me how to draw and build solutions to every issue I faced. I used these newfound engineering skills to pluck mangoes from inaccessible trees but was also frustrated by problems I couldn't solve, like our taps dripping brown sludge instead of water during droughts.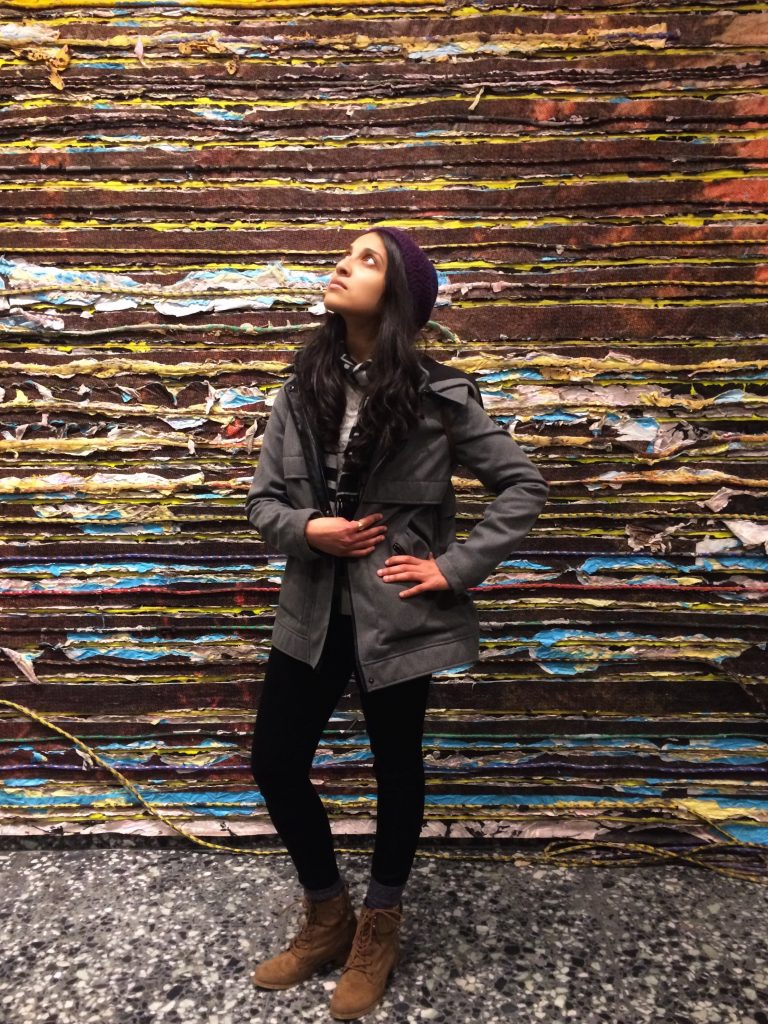 In 2001, my family moved to the United States, and I found out the Indian accent I'd worked so hard to pick up was not doing me any favors in America (there were a lot of "no, I'm not an Afghani spy" conversations during this time). My family hopped around every couple years, and I was lucky enough to experience the range of American diversity that few get to see – from schools in the inner city to Midwestern cornfields to New England suburbia. As a side effect of a three-continent, ten school education, I was often forced to skip grades, repeat grades, and navigate through the K-12 system in a very nonlinear manner.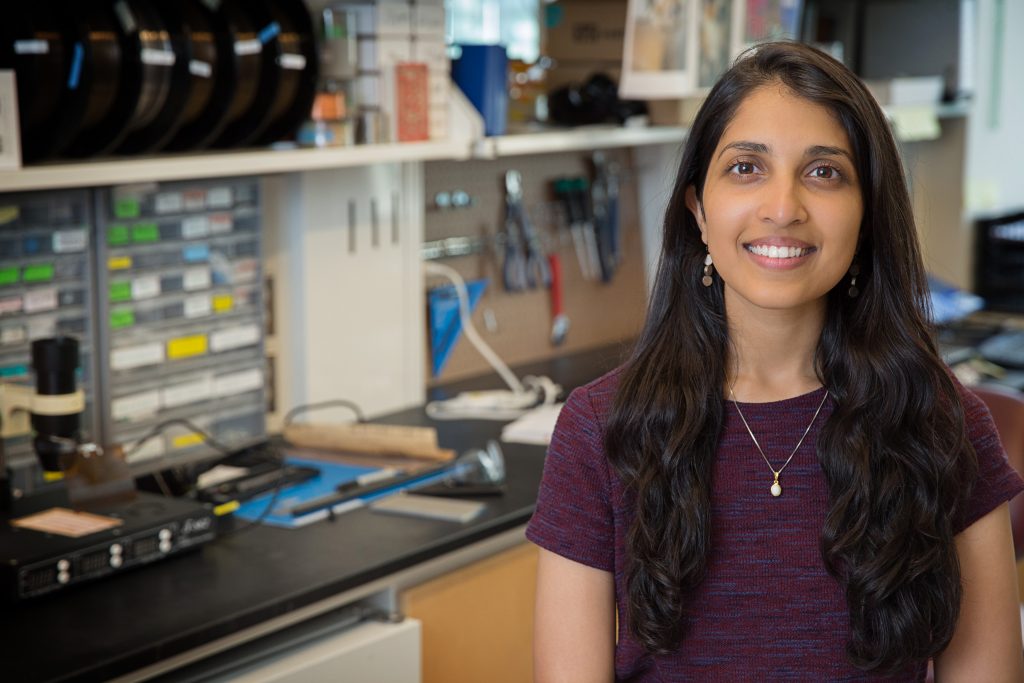 At the age of 16, I found myself a Mechanical Engineering major at Cornell (My chill supportive parents: I thought you liked writing? You sure about this? Me, the tiger-child immigrant stereotype: Be practical! Also, I want to be an astronaut!). Not knowing anyone who had gone to college in the US, Cornell was a lucky break (someone told me Ivy League was a good thing and I applied on a whim). Several lucky breaks later, I navigated my way through a bachelors degree, masters, and Ph.D. in the field and ended up a postdoctoral fellow at MIT in the lab of the most cited engineer in history (#FangirlingSoHard).
My current (evolving) plan for the future is to start my own "biohybrid design" lab at a university – studying how biological materials adapt to their environment and using that knowledge to build robots and machines that dynamically respond to their surroundings. This new field fascinates me intellectually, and also feels like a fitting metaphor for my life – to survive and thrive, you have to adapt.
I was often the only woman in most of my classes and meetings, but a lifetime of being the odd one out had prepared me for the challenge. It did not prepare me for the crushing disappointment of seeing the women around me drop out from STEM majors and careers. As I progress further in my career, this disappointment has fueled my efforts to promote women in STEM, but also fuels my anxiety about being a good role model for the young women in my life. I am still working on finding a balance between needing to be a superhero for everyone around me and learning to love and care for myself.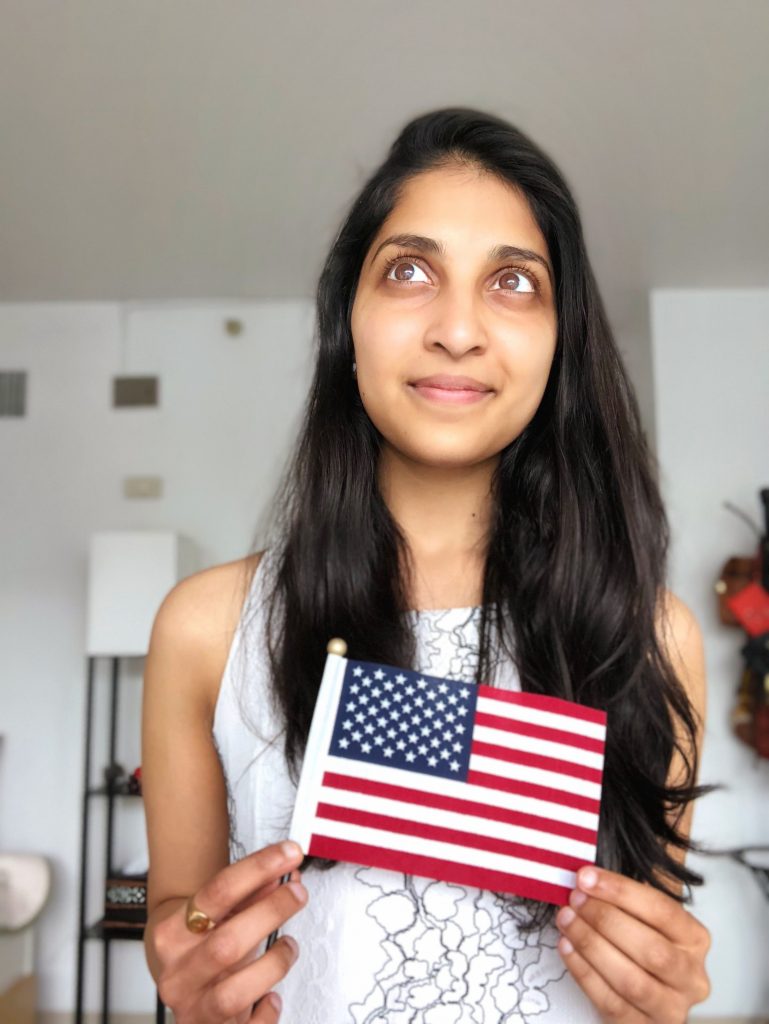 I was sworn in as a US citizen in January, and as I reflect on the trajectory of my life, I remember the people I met along the way who didn't get the lucky breaks I did. Don't take this as false modesty – I know I'm smart, I know I work hard, but I also know that random chance had a lot to do with my American Dream. And that devastates me. There are countless children around the world who are just as smart, work just as hard, and never have access to the opportunities that came my way. Knowing this, I know that my future career can't just be about science – it has to integrate the outreach and policy reform required to ensure every human being has equal access to education and opportunity.
I don't know that I've ever stopped feeling like an outsider, but as a good friend recently told me, "if you can only relate to someone who grew up the way you did, you're in trouble." My story is my own, but it is not unique – we all have our own paths, and in these divisive times, we should each make an effort to surround ourselves with diverse opinions and voices.
My call to action to all brown girls (and beyond) out there: be an active and engaged member of every community to which you belong. Be grateful for what you have. Empower yourself and empower those around you. Every human being has the potential to be a force for positive social change."
– Ritu Raman
You can watch Ritu delve into her biomedical drug delivery research here. You can also keep up with her on Instagram and Twitter.
---
Do you know a Brown Girl who is awesome at what she does? Send an email telling us why at Trisha.Sakhuja@0mq.349.myftpupload.com.