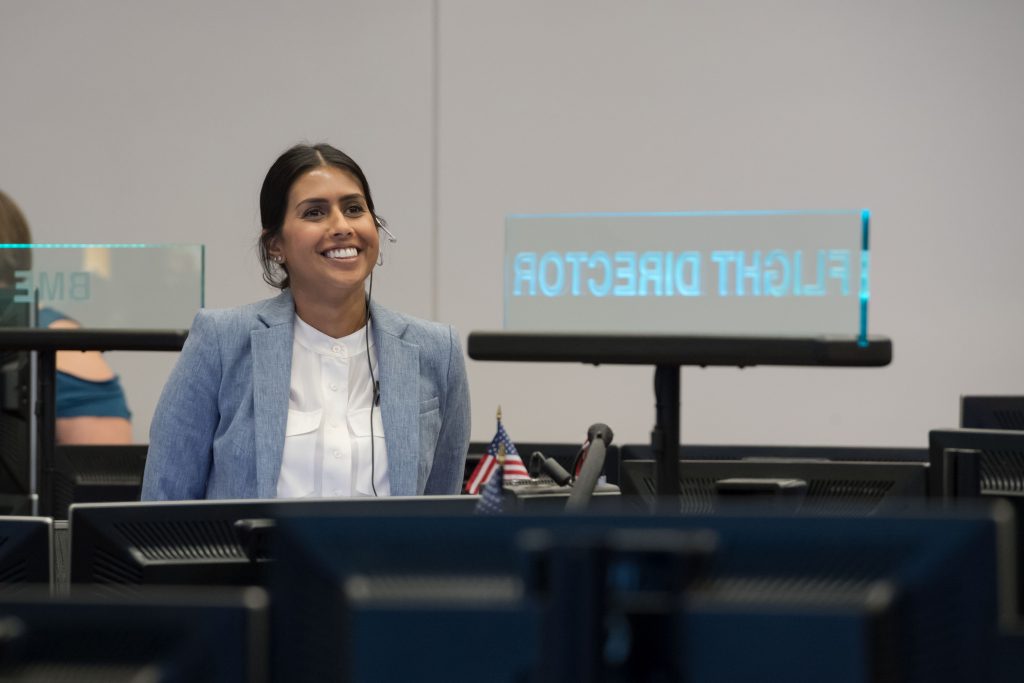 Pooja Joshi Jesrani is NASA's first female South Asian flight director. Flight Directors oversee the Mission Control Center for all of NASA's human spaceflight missions. A life-long Houstonian and lover of all things Texas, Pooja graduated from the University of Texas at Austin with a bachelor's degree in aerospace engineering in 2007. Upon graduation, she began working for United Space Alliance (a contractor for NASA) and later NASA itself, within the International Space Station flight control team. Over time, she has held various positions – from managing the motion control system to speaking directly with the astronauts in space, as a CapCom. Before being selected as Flight Director, Pooja had been working to integrate mission operations for the upcoming commercial crew flights that will begin launching astronauts to the International Space Station next year.
"My name is Pooja, and I'm the first female South Asian Flight Director in NASA's history. I'm also the daughter of two immigrants, wife to an amazing lawyer, mom to the funniest two-year-old, and (hopefully) much more to many others! I've never been defined by any one title. I believe the key to my success has been my broad exposure to the various roles life has handed me, combined with a strong support team. Oh, and a good sense of humor.
http://www.instagram.com/p/BnJ35ttB1Nd/?taken-by=pooja.jesrani
Before we get into the details, let's start with a few fun facts:
1. There have been more than 500 Astronauts who have flown in space, but fewer than 100 Flight Directors since NASA's inception in the 1950s. Flight Directors oversee all of the mission control for spaceflight missions (yes, like Gene Kranz, with the flat top haircut and vest, famously portrayed by Ed Harris in the movie 'Apollo 13').
2. Out of the 100 Flight Directors, only 14 women have held this position—ever.
3. Only 2 of those 100 Flight Directors (including me) have been South Asian.
http://www.instagram.com/p/BlE8q2rBf7B/?taken-by=pooja.jesrani
So, you might be wondering how I ended up here. My family moved to the United States from England when I was young, and I struggled to get acclimated to the school system here. I wasn't a stellar performer in high school, and even though I liked math and science (and loved space!), most people weren't yet convinced that I was steadfast in my desire to work in the aerospace industry. My parents, however, had faith in me from the start. My dad is an orthopaedic surgeon but has an almost comical fascination with space. When he learned that I, too, shared his passion, his unwavering support gave me the courage to apply to the aerospace engineering program at the University of Texas at Austin.
I remember taking the Intro to Aerospace Engineering class at UT and being immediately discouraged; that class was tough. And that was just the intro class! (I later found out it was the engineering school's way to weed out students.) After making it through that class, and with renewed confidence in myself, I worked hard and received an opportunity to work with United Space Alliance (a NASA contractor) while in college. That internship launched my 13-year journey to where I am today.
http://www.instagram.com/p/BVD08InDoiM/?taken-by=pooja.jesrani
When I first joined NASA, I was given an incredible mentor, a woman who showed me the value of both seeking and providing mentorship throughout my career – especially to fellow women in a male-dominated field. Over the years, my support network grew in ways I could not have imagined. Each person helped guide me, providing opportunities and advice through every career turn, promotion and personal milestone. One of my early mentors once told me that every day was an interview at NASA, and I kept that advice close to me. Almost a decade later, when it came time for my final round of interviews for Flight Director, I just felt so grateful that my continual effort in the day-to-day had led me to this moment.
http://www.instagram.com/p/7rUH9bv7Hs/?taken-by=pooja.jesrani
Today, I am honored and humbled to be joining the Flight Director Office and to be tasked with leading human spaceflight through NASA's Mission Control Center. As Flight Directors, we will head teams of flight controllers, research and engineering experts, and support personnel around the world and make the real-time decisions critical to keeping NASA and International Partner astronauts safe in space.
I will have the opportunity to oversee a variety of human spaceflight missions involving the International Space Station. This will include integrating American-made commercial crew spacecraft (think SpaceX Dragon or Boeing Starliner) into the fleet of vehicles servicing the orbiting laboratory and also leading Orion spacecraft missions to the Moon and beyond. I hope that my story inspires those reading this today to never give up – keep on exploring the universe and achieving your dreams!"