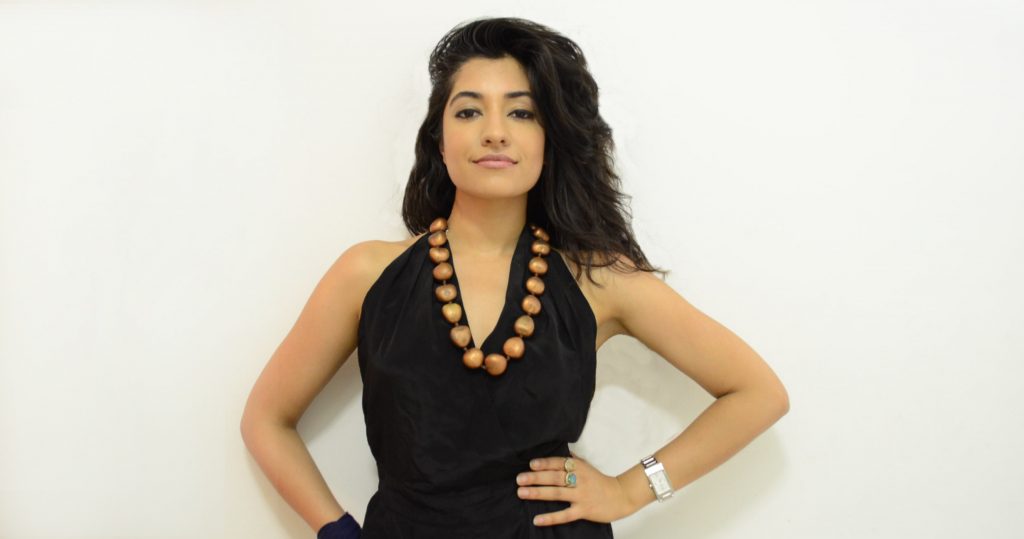 Meet October's Brown Girl of the Month, Shivika Sinha—she is the Director of Digital Marketing at Alex & Ani and is on a mission to promote mindful consumerism and support businesses that have an environmental and social impact.
"During the first decade of my career, I've spanned professional occupations that include the roles of artist, dancer, business consultant and marketer. I've followed my passions in an open-hearted pursuit of living a meaningful life. I've actively sought to use work as a vehicle to reach my highest potential, transcend my consciousness and evolve. Work plays a central role in my life.
In the intricate tapestry of global gender progress, women have more choice over their careers today than ever before. I've never lost sight of the fact that this choice is a great privilege bestowed on those who lucked out in the birth lottery. As those fortunate enough to have the ability to choose their work, we must treat our decisions with gravitas. It is our responsibility to rigorously seek excellence, cultivate our unique talents, find our passions and be of use to our planet and societies.
This esteem and value for work have been the backdrop of my personal and professional choices. I grew up in Nigeria, Zimbabwe, Vietnam, Bangladesh, and India. During my global upbringing, I observed two cultures. One culture was stagnant and ingrained by deep-rooted traditions, religion and family heritage. The other culture was dynamic and ever-changing, transformed by globalization, media, and brands. As I bid farewell to the majestic spirit of southern Africa and celebrated Tet in Vietnam, I decided that I wanted to leverage this ever-changing culture to catalyze productive ideas.
After wholeheartedly exploring my passion for fine arts and dance, I finished my graduate degree in Marketing from Northwestern University. I went on to spend nearly a decade guiding brand strategy and accelerating digital growth at organizations like Oscar de la Renta, Gap Inc., Intermix and Fortune 100 companies such as Pepsi, Kraft Foods, Macy's, HSN and more via Epsilon.
During a trip to New Delhi, I asked my 90-year-old, wise grandfather what advice he would give to others who hoped to live a fulfilling life.
He said: "One should never wait until they're rich enough or have enough time to be of use."
From then on, I've strived to use my education and professional experiences to help solve the problems humanity faces today. The journey to realign my career with my values, assess my views on how to solve large-scale problems like climate change, and find areas where I could help, was not an easy one.

In order to find answers, I needed stillness to think clearly. I needed to investigate how I experience reality. The mind is the object within which reality originates, transcends and passes, and yet I had never ventured inside it. I embarked on the most difficult and rewarding adventure I've ever encountered: 10 days of silent meditation. During Vipassana, I was not allowed to read, write, listen to music, or speak to other meditators. My days consisted of two meals and 10 hours of meditation. Vipassana helped me realize, evaluate and change habit patterns in my brain and continues to be part of my daily life.
One of the many insights that came as a result of Vipassana was the realization that I'm inspired by my family. My father spent 30 years in impact investing with the World Bank. He is a global thought leader in inclusive business and conscious capitalism. My grandfather was a renowned agriculture pioneer in India who dedicated his life to soil conservation and environmental sustainability. My uncle was an economist who fought against poverty and economic divides. He fought  for transparency in governments and to reduce income inequality. Another uncle forged India's first multi-disciplinary university and continues to work on improving the quality of and access to education. I became driven to continue their legacy of purpose and positive change for future generations.
Today, my work lies at the intersection of conscious capitalism, mindful consumerism, marketing, business, and technology. I believe that business must play a role in alleviating humanity's greatest crisis in order for exponential positive impact to occur. I support businesses that have an environmental and social impact.
I'm currently Director of Digital Marketing at Alex & Ani, a brand that creates eco-conscious jewelry and has donated more than $30 million to humanitarian causes. I consult for social and eco-conscious businesses and serve on the Advisory Board of The Pivot Conference, where cross-industry leaders unite to fuel digital transformation. I'm a member of the Shorty Award's Real-Time Academy where I judge the Social Good prize. Finally, alongside women like Chelsea Clinton, I'm an Influencer on the Mogul platform.
My year in transforming my career, defining my values and finding my life's mission wasn't an easy one. However, it firmed my belief that the purpose of our lives is to progress the evolution of our consciousness for the benefit of our collective, and I use my work to serve this purpose. One propels through life, and the breaks for fresh air often become moments of great evolution. The lessons I've learned through that time have become valuable gems to me. Five of these lessons have shaped me forever.
1. Know and be yourself
I learned that knowing one's self is the beginning of wisdom. I searched the world's literature, philosophy, and religions for answers that were inside me all along. Before you can make thoughtful decisions about life, you must strive to understand who you are and who you want to become. Without a grasp of one's values, personality, skills and flaws, one cannot begin identifying or working towards a purpose.
2. Seek inspiration
You'll have to collect inspiration from people and things beyond your comfort zone. Leverage books and the treasure trove of the Internet. Read about trailblazers, independent thinkers and those who don't follow the rules. The joys, struggles, failures and triumphs of others give us hope and inspiration.
3. Keep growing and learning
It's important to cultivate a growth mindset, insatiable curiosity and the intellectual rigor required to seek out first principles. Strive for excellence in the process of work rather than perfection in the outcome. Embrace change as a form of growth. Never lose your sense of wonder.
4. Share your journey
Express your thoughts, struggles, concerns, pressures and successes through the journey of exploration. Share yourself with your loved ones and find creative outlets. For me, these outlets included my blog, Twitter, Facebook, and Instagram. Whether it's in quiet conversation with trusted friends or through social media, keep sharing your journey because you never know when it could be a pivotal point in someone else's life.
5. Give back
It is imperative to volunteer resources, time or both. Efforts applied in a generous, sincere manner help put life into perspective."
-With lots of love,
Shivika Sinha
---
Do you know a Brown Girl who is awesome at what she does? Send an email telling us why at Trisha.Sakhuja@0mq.349.myftpupload.com.