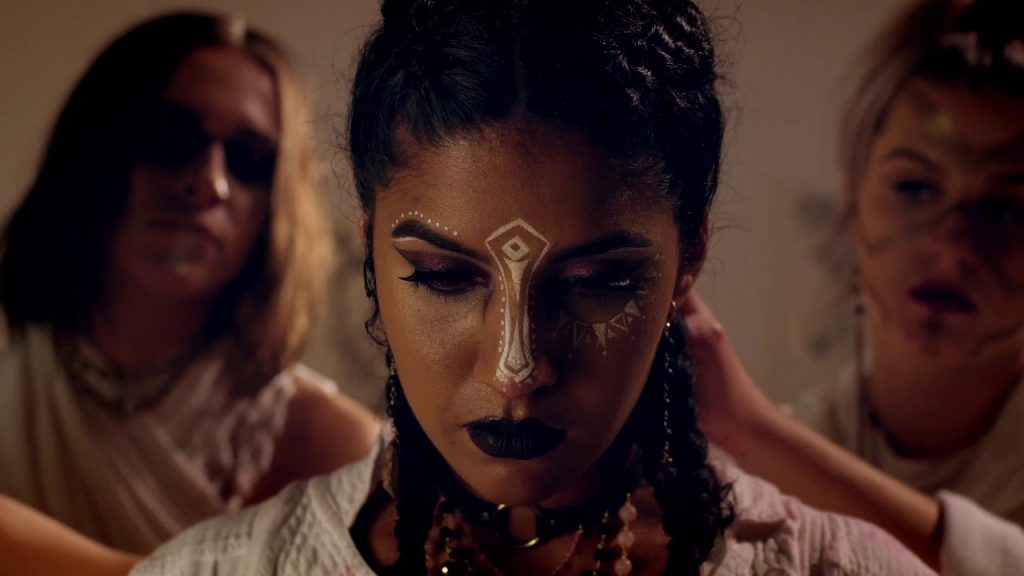 TRISHES is a project by Trinidadian native Trish Hosein, created to express Freud's constructs of self (the primal, conscious and spiritual) through spoken word, live looping and vocal effects. Her undeniably original songwriting fleshed out by hip-hop beats and pop hooks, examines human struggle through an anthropological lens.
Hosein began touring the U.S. and abroad after graduating from the Berklee College of Music, and has had opening acts for artists like Damian Marley, Vic Mensa, K. Flay, Neon Hitch and Gavin Turek. She's played at festivals like Cannabis Cup, SXSW, CMW, Tune In Tel Aviv and Women's Redrock festival, collecting critical acclaim from Knoxville, Tennessee to Bangkok, Thailand. Her dynamic live show awes audiences as Hosein takes them into her museum-like mind and creates a sonic blanket with her unique sound. After seeing Hosein perform Marie Claire, Allure and Cosmopolitan writer Shyema Azam called it "enchanting," continuing, "It wasn't hard to see that this one-woman show was super talented, making her own music and expertly layering her voice over catchy tunes as she went along."
Hosein's upcoming multimedia album "EGO" focuses on the entities that define humanity while addressing the current cultural and political climate. Each focus track on the album will be aided by art collections and personal essays. When not working on music, Hosein helps resettle refugees in the Los Angeles area, volunteers with Rock 'n' Roll Camp for Girls, and is on the board of the Elder Entertainment Organization. She is also a brand ambassador for American Express and Discover LA.
"Hello, my name is Trish but you can call me TRISHES because sometimes I don't feel like myself. Sometimes I feel like three separate selves—like my mind is divided into three separate shelves.
This is how I begin my show. I explain that for the next 30 minutes to an hour, I will be expressing all the parts of myself that don't expose themselves regularly. There's the primal self, the spiritual self, and the conscious self that is caught between them both. Sigmund Freud called them the id, the superego, and the ego. I use vocal effects and live looping to give each of these selves a voice in the world.
This is how I cope with my struggles, and my greatest struggles have been internal, between two often contradicting parts of myself.
I think this is a common theme with brown girls. It is a thread woven through the lives of immigrants, children of immigrants and people of color. We are living in a society that was not created for us. The hues in photographs were calibrated to caucasian skin, leaving us to disappear into the background. Our representation in media has been restricted to sidekicks and stereotypes to the point where it's hard to write ourselves as the lead characters in our own lives. The section for our hair products in CVS is still labeled 'ethnic' – the socially acceptable way to say 'non-white' or 'other,' as if white people don't have ethnicities too.
https://www.instagram.com/p/Bp5ZX9RARxk/
So, we learn to live in two worlds like the greatest men often do (Hercules, Jesus, Edward Cullen). We learn to code switch between our families and our friends. We try to emulate the sounds and shapes around us. We curse the bridge in our nose and the curves of our thighs. Our features and cultures are ridiculed until they are adopted by our white peers.
We feel like a tug of war rope and simultaneously walk on a tightrope.
Maybe this is where it all began for me, my fascination with the struggle between parts of oneself. My family moved from Trinidad when I was six years old. At my new school, a blond boy on the playground told me I was the color of poo. There was one other brown girl in my class and no one liked her, so I kept my distance. I still hate that I sought approval over sisterhood.
On Friday nights I would watch the Disney channel to see the live concerts. One night I cried for hours when I realized that no one on the stage ever looked like me. I wanted to be a singer but thought I couldn't. I actually thought it was not an option because I never saw someone that looked like me do it. After that when a teacher asked what I wanted to be when I grew up, I lied.
https://www.instagram.com/p/BpYDw2NHIhS/
Still, at home, I would go from room to room in my house pretending I was taking classes in music school. I would act like my balcony was a stage and perform for all of my fictional fans down below. I bought a dollar store notebook with my allowance. It had a cover of red roses and was filled with song lyrics a la The Spice Girls and Britney Spears.
In middle school I begged my mother to relax my hair – to comb chemicals through its lively curls, breaking the bonds in its cells. I remember my scalp burning. My locks continued to rebel so I straightened them with a flat iron every morning, and like Tracee Ellis Ross said in a similar narrative, 'beat it into submission.' That year I learned to play the piano. I sang 'Beautiful' by Christina Aguilera at the eighth-grade talent show. I didn't mean the lyrics when I sang them.
In high school, I wrote songs and started performing them for people. I went on a trip to Palm Springs with my friends and stayed in the shade, envying the thin legs of the white girls sunbathing by the pool. I went home and sat at my piano. I wrote more songs.
When I think back to my adolescence I question myself with Malcolm X's words:
Who taught you to hate the color of your skin? Who taught you to hate the texture of your hair? Who taught you to hate the shape of your nose and the shape of your lips?
The answers are buried in my subconscious, but after college, I used TRISHES to start unearthing them. I let the voices of anger and self-doubt and self-hatred surface and one by one, began to address them. My upcoming multimedia EP, 'EGO,' (the name Freud gave to the conscious self) examines the constructs humanity has created to separate ourselves from our primal drives, but that fail us because we have not yet reached our divine selves. These include money, language, government, and creativity. Unsurprisingly a lot of these constructs are defined by 'otherness.'
https://www.instagram.com/p/BnZ4QoSnJ9G/
'Money,' my new single, speaks on corruption and some of its effects on black and brown Americans. It touches on Flint, cash bail and gun reform. Next year I'll release a song called 'Language,' that will highlight the plight of immigrants like my family, coworkers, and friends.
'EGO's' first single and video 'Hydra' explores the role that creativity plays in human existence. Humanity developed creativity out of necessity. Lacking sharp teeth, we created tools. Lacking fur coats, we made fire. Even today the most brilliant art, music, and literature are born out of oppression or in the face of adversity. We see it in African Spirituals and Russian novels. I see it in my journey as an artist.
I'm only now beginning to understand the immense power in embracing my own unique identity and perspective. Belonging to two different worlds can be lonely, but it is also incredibly valuable. I'll never again choose approval over sisterhood. I will never again lie about my dreams. Grappling with internal conflict has allowed me to more easily understand external ones. In a world that feels increasingly divided, I am equipped to be a bridge."