Gagan Gandhi is a Toronto-based aspiring poet, his work is primarily featured on Instagram, where you'll find his insightful words handwritten on a white-lined page. Here's what we found out about the man that "creates magic with words."
1. How did you get into poetry?
"Originally I started off freelancing for various sports websites and blogs," Gandhi said. "I gained a bit of a following, writing the occasional article but I sort of lost interest in that after a while. So, I started dabbling in poetry, writing on my own, for myself."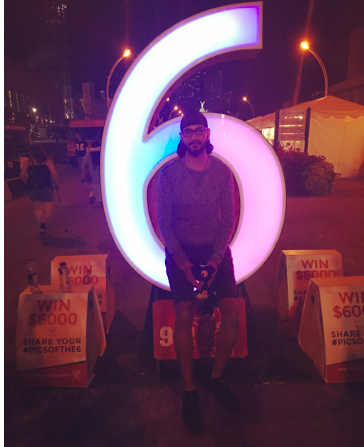 [Photo Courtesy/Gagan Gandhi]
2. What inspires you to write? 
"Everything," he said.

"Inspiration is everywhere, I feel you just have to open your eyes. Mostly, I write about encounters that I've had with people," Gandhi added. "I'm blessed to have many beautiful souls in my life, and that sort of inspires me to continue writing. A lot of people say they enjoy my work so that always pushes you to continue too."
3. Where do you like to write, what does your workspace and process look like?
"This is going to sound funny but I like to write in my closet, don't worry, it's a walk-in. I'm 6'4 and I sit cross-legged in my closet and sort of put something together," he admitted.

"I've never told anyone that, but that's pretty much my space. Whenever I feel like I have an idea or a few lines in my head, I type it out in the notes app on my phone and then go back to it at a later time or date," Gandhi said. "Sometimes I have these random thoughts/ideas first thing in the morning or throughout the day, so it's important for me to not forget them or I get frustrated with myself. There have been times where I don't go back to those thoughts for months at a time.

Generally, I add on to the original couple lines or I look through my notes and put something together," he continued. "I really believe you can't force pen to paper, so whenever it happens it happens. I also don't put it down on paper are until I feel the poem is complete."
4. What was your biggest barrier, was there anything you felt you had to overcome to be present in this space?
"Probably posting my poetry online for the first time. It was nerve-racking to know that people I actually knew, more than strangers, would be reading them. I didn't want to be judged as most of my poems are about love, people tend to look at you a different way and sort of bill you as overly sensitive, which isn't the case," Gandhi said. "But after I posted my first couple poems on my personal account on Instagram a few years ago I received such great feedback from most people (I think the first one I ever posted is probably still one of my faves), that I continued to do it and eventually that lead to me creating a separate account for just my poetry."
5. What do you see yourself doing with your poetry going forward?
"I want to eventually come out with a book. It's just super difficult finding a publisher, so I might self-publish. My goal is to come out with one next year, but I'm not going to force it either," he said. "Until then, I'm just going to continue to write and post poems online for a hopefully growing number of people to see. I mean, you never know sometimes all it takes is one break, one person to see and believe in your work. I believe the universe works in mysterious ways, so I'm sort of just going with the flow until it happens."