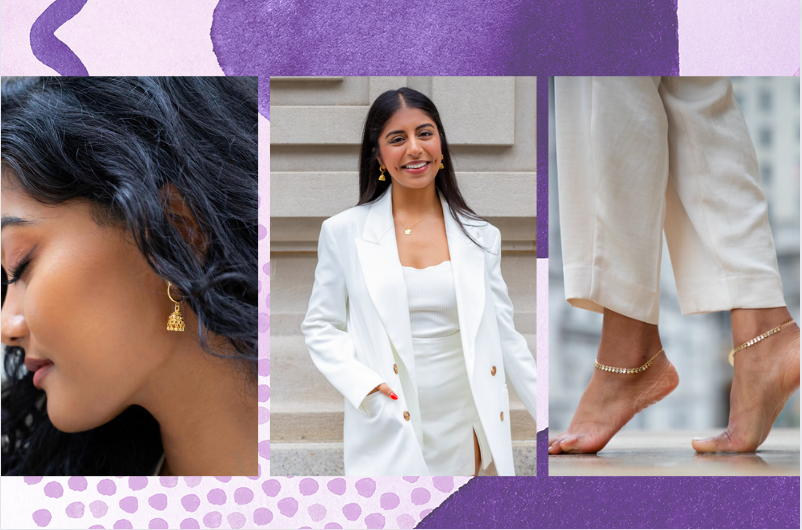 While growing up in suburban Pennsylvania, with little to no outlet to connect with her desi culture, Simran Anand always strived to stay true to her Indian roots. Fashion, which is almost the easiest medium to incorporate his or her culture, is something she and her mom enjoyed exploring. "Beauty needs no ornaments," her mom always says. Beauty is something that is innately within us, and we can only enhance it with desi jewelry or clothing, makeup, compliments or "ornaments." That is one of her favorite quotes. It serves as a building block for her personal style and the nature of her brand.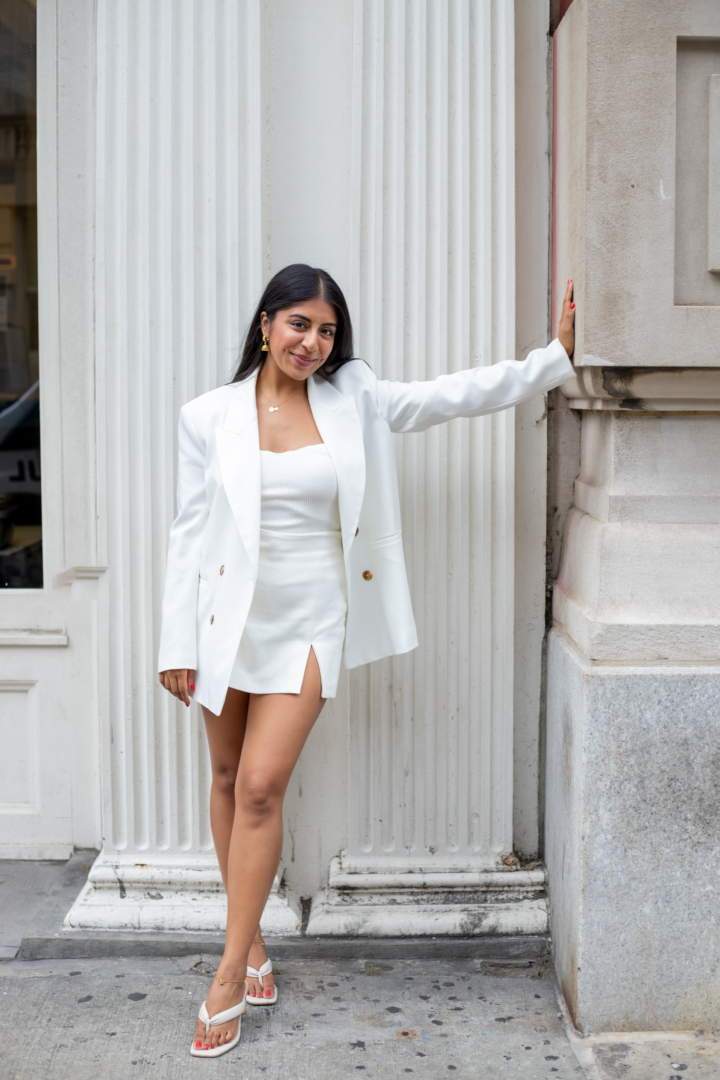 As a fashion enthusiast, she often found herself scrolling through Etsy and Amazon to find the perfect desi accessories to match her Western outfits. While there were abundant options displaying intricate jhumkas to chand-balis, none quite matched the vibe she was on the hunt for. 
And, what was that vibe? 
"Versatile, indo-western, comfortable. I truly wanted pieces that reflect western minimalism and desi maximalism. I am on a mission to create the 'desi girl aesthetic.'"
Where, oh where could she find those? Sure, the mini jhumkas are a cute addition to a Lucknowi kurta and jeans. But, what about putting a South Asian twist to the perfect white dress for your European vacation? Or, something minimal to pair with maximal Indian outfits?
That's exactly when her ever-so-supportive fiancé encouraged her to make them! Desi jewelry that is made for both sides of our identities, South Asian and American, "because that's who we are." Easier said than done, of course. The quality had to be on par with the daily jewelry we are used to wearing. Since she wanted pieces that were wearable daily, creating jewelry that is nickel-free, tarnish-free, and hypoallergenic was the goal. 
View this post on Instagram
After countless hours of designing and kickstarting her brand, she received her first batch. Staying true to her mission of producing wearable desi jewelry, the original clasp on the jhumka was a bit too thick and that was something she was not "300%" proud of. Now, her pieces fit more like a "paper-like stud." The material was one hurdle. The other ordeal was dealing with her imposter syndrome. Dealing with the fact that she started this venture, which to some, may seem like "just selling jhumkas" was something that she needed to overcome. 
So, how did you overcome that? 
The universe has its way of having your back. "When I posted a video on TikTok, I literally woke up from a nap to see it go viral."  As the feedback came in, her confidence skyrocketed. "Every no is a yes you do not know about," she promises. Sales started pouring in and Simran noticed that many felt the same need for such pieces as she did. 
Months after her launch, Simran aims to build 'BySimran' stronger each day. Soon enough, she would like for it to be a household name and a lifestyle brand. We can definitely see her "Hailey Bieber Meets Desi Girl" jewelry brand on every girl's aesthetic Pinterest boards. 
View this post on Instagram
Pro Tip: 
If you are a mono-chrome girly like herself, get a white button-down basic shirt with some medium-washed high-waisted jeans, and pair them with some kitty heels and a matching purse. And, do not forget to finish the look with the micro-jhumka if going out for brunch or running some errands. If you're getting ready for a dinner date, go for the baby jhumkas. Do not miss the Sapna anklets, which come in a pack of 2, the true desi way.