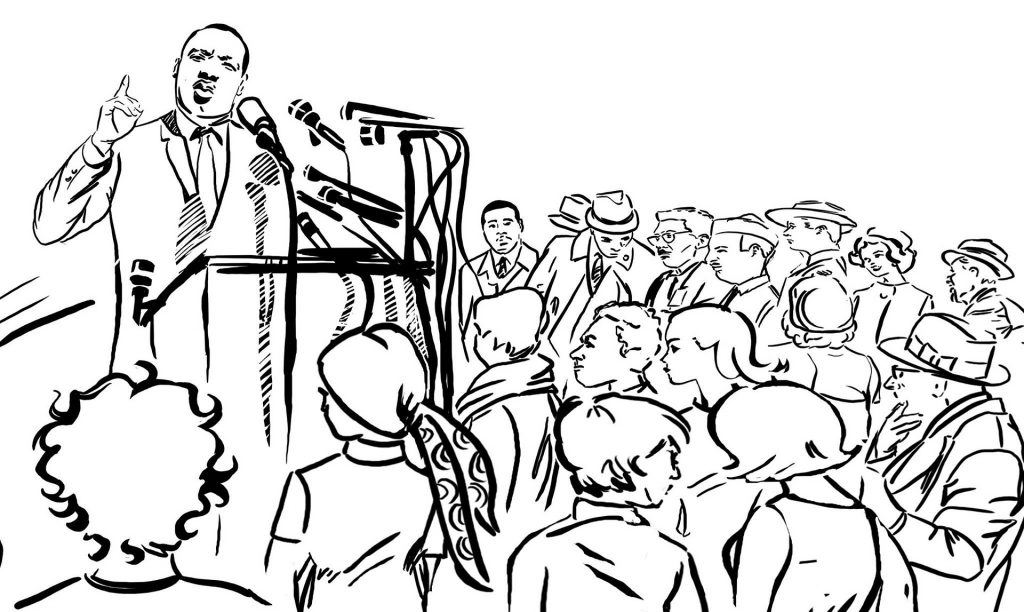 Commemorating the 50th anniversary of the assassination of Dr. Martin Luther King Jr.,  I reflect on the fearless impact and sacrifices Dr. King and Black Americans have made to build a more just America. As an Indian-American woman, I recognize that my own rights in this country would not have been possible without the work of Freedom Fighters both in this country and my ancestral land of India.
Last year, author Neil Padukone released an article entitled "India's Debt to Black America" in which he discussed the prevalent compliant and complicit "model minority" practices we abide by as South Asian people in this country. As an Indian population of immigrants, coming to America allowed us a great opportunity as a result of the fight Black Americans have fought in demanding equal rights for people of color. As a South Asian community, we often do not acknowledge that a large part of our success as a population in this country is due to the landmark Civil Rights Act of 1964 demanded by black Americans and various other groups of color in the US.
Disturbingly, many in our community participate in racism towards black people as an ever-present element of white American culture but also as a result of internalized racism much of which comes from our deep colonial history under the British Empire. It is noted that Gandhi himself shared anti-black sentiments regarding the struggle under white oppression; keeping the Indian movement distinctly separate from that of the Black liberation movement.
The irony of our often, divisive mindsets lies in the very fact that as an Indian people, our struggle during Indian Independence shares a great relationship with the US Civil Rights movement. While the concept of non-violence is not new in human history, Martin Luther King Jr. stated he first learned of the practice while reading Essay on Civil Disobedience by Henry David Thoreau as a student at Morehouse College.  In 1950 while King studied at Crozer Theological Seminary, Dr. Mordecai Johnson, the first black president of Howard University, introduced King to Gandhi's adopted teaching of Ahimsa, the principle of nonviolence towards all living things. King stated that Gandhi's stress on love and nonviolence gave him ''the method for social reform that I had been seeking''[1].
It was not until 1955, King brought into practice Gandhian principles by way of black pacifist Bayard Rustin and Glenn Smiley of the Fellowship of Reconciliation. Rustin had traveled to India in 1948, the year following Indian Independence, in order to study Gandhian teachings. It was this knowledge of nonviolent tactics King used during the Montgomery Bus Boycott 1955-1956, as Rustin served as one of King's key strategists during the movement.
While King and Gandhi never met, their shared experience of segregation and racism under white oppression cannot go unnoticed. In 1897, when Gandhi returned to South Africa after briefly visiting India, he was almost lynched by a white mob that had been awaiting his return. Later, he chose not to press charges against any member of the mob stating that his principles deterred him from doing so. It was in witnessing the plight of Indians in South Africa as well as his own experiences, which led Gandhi to question his own place in society and ultimately led him to the practice of Ahimsa.
King continued to grow in nonviolent strategies as the Civil Right Movement began gaining momentum. Over a decade after Gandhi's assassination, he visited India in 1959 and met with then Prime Minister, Jawaharlal Nehru. Regarding his visit to India, King states ''We were looked upon as brothers with the color of our skins as something of an asset,'' ''But the strongest bond of fraternity was the common cause of minority and colonial peoples in America, Africa and Asia struggling to throw off racism and imperialism''[2].
King's visit to India only fortified the relationship between freedom fighters from both nations, allowing for further exchange in the shared experiences of black Americans and Indians in the fight for liberation.
Thus, as we look to ourselves and the generations to come who carry the torch to dismantle racism in its tracks, let us first look to our ancestors who paved the way for our success. Let us honor those who have come before us by recognizing the unity and practice of philosophies that shaped the liberation of our peoples both abroad and in the United States. We must recognize that we cannot stand as one people until we begin to see how our liberations are intertwined. That the freedom of our own brothers and sisters across the seas and here itself in the United States cannot be accomplished without our joining together in the same efforts toward freedom.
---
[2] http://kingencyclopedia.stanford.edu/encyclopedia/encyclopedia/enc_kings_trip_to_india/