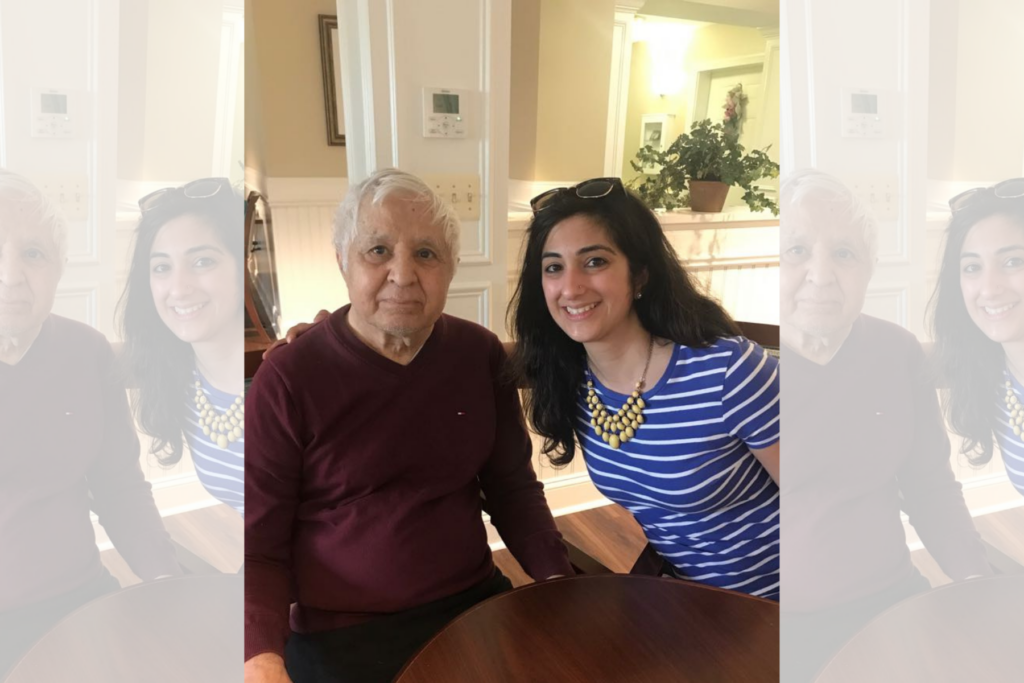 Twenty-five. That is the number of times my father asked me if his taxes were done as I juggled helping my first grader with homework and cooking two distinct dinners after a full day of work. One for my white, carnivore spouse and meat-loving daughter and one for my Gujarati, vegetarian father. "Do you think he has Alzheimer's or something?" I said to my husband later that night, downing my second glass of coping wine. "Coping wine," which is any wine available in the house, came into play on December 5th, 2016, when my father moved in with us after my gregarious, beloved mother unexpectedly died of a heart attack. My husband answered my question with an unequivocal "yes," which was followed by my unequivocal "f%&."
I spent the following week coaxing my father into the office of a geriatric psychiatrist for an official answer. When my father repeatedly asked why he had to come to the doctor and I stayed on message with, "It's just a check-up," I reassured myself this somewhat-lie was necessary and fell under the umbrella of "therapeutic lies," a term a friend of mine told me her family used when handling her dementia-laden grandfather. The psychiatrist confirmed what I already knew. My father, the engineer who helped me with homework during childhood and had a Master's degree from Johns Hopkins, had Alzheimer's. He proceeded to advise me to put him in a memory care facility and I subsequently laughed and said, "Oh, my people don't do that!" 
While I never considered myself a traditional Indian, there were parts of my cultural upbringing that were important to me — caring for elderly parents was among them. I grappled with what being a caretaker for one's parents, a time-honored Indian value, meant when you were the first generation born in America. Our parents chose to raise us here so we could have the best opportunities life could offer, which led us to work outside the home, putting our children in daycare, and not having around-the-clock help easily available. Born to my parents later in life, I looked around at my Indian peers and saw that none of them had to figure out this phase of life yet; their parents were still a bit younger and healthier. According to AARP's 2020 report "Caregiving in the U.S.," the average age of a caregiver was nearly 50, and here I was at 36.
I struggled with how Americanized I was compared to these Bollywood-watching, Hindi-speaking peers and the looks and whispers that would float around me at every Diwali function if I were to outsource my father's care. But it was not just Indian obligation that made me want to care for my father. I genuinely felt it was the right thing to do. So, I put the well-meaning psychiatrist out of my mind, filled prescriptions for a medication that had a minuscule chance of improving my father's memory, and convinced myself we would make our current living arrangement work.
This involved waking up early to ensure I had time to get myself and my daughter ready for the day, as well as explaining to my dad (repeatedly) that he would be alone and need to warm up the lunch I prepared for him (a lunch I would sometimes discover he forgot to eat). I spent my workday worrying about his physical and emotional well-being. My evenings involved arranging multiple dinners and managing his plethora of repeated questions, followed by "undoing" his day's missteps (e.g begging a software company for a refund on the five duplicate purchases he had made during the day). 
I talked to everyone I could in my desperate quest for guidance. My white friends said it was obvious that I needed to put him in a memory care facility, while my Indian folk gave me some version of "How is it even a question? He obviously has to live with you."
Meanwhile, I was barely holding on to my sanity between work, raising my daughter, and my husband's chaotic work schedule. My boss lent me Atul Gawande's book Being Mortal to help guide me. Perhaps she thought the overall message of the book — how assisted living had come a long way in America and that people's end-of-life needs varied — was going to resonate with me. Instead, I fixated on the first chapter of the book discussing how the author's family in India acquiesced to his grandfather's every demand, no matter how ridiculous. This further solidified my belief that Indian people keep family in the home. No matter what. 
Was I un-Indian for even considering an alternative? Was I disrespectful to the people who raised me? Was I selfish for not wanting to give up my career? As I struggled with these questions, I started asking other questions – would my dad, the one who raised three daughters to be educated and work hard, want any of us to quit our jobs? Would he want me to replace reading at bedtime to my daughter with reminding him twelve times to brush his teeth? If he were in his right state of mind, I know how upset he would have been to have burdened (not that I even thought of it that way) his daughters.  
As of 2020 in the US, 61% of caregivers for an elderly family member are women. Historically, caring for one's parents in India was done by women who did not work outside the home and/or who had older children with fewer needs by this stage of life. Perhaps if I had the maid, cook, and driver that middle-class families in India have, or if I lived in a joint family with bhabis and nieces to help, I wouldn't be on such a desperate search for respite.
The answer came to me one afternoon when my father stepped outside for fresh air and I said I would check on him in a couple of minutes. A couple of minutes of quiet time turned into an hour and when I looked out the window, he was not there. I frantically drove around the neighborhood for 40 minutes and, as I was about to dial 911, I spotted him sitting outside a nearby assisted living facility, thanks to the kindness of a stranger who found him walking a half-mile away.
It was a sign. 
"Dr. Vyjeyanthi S. Periyakoil wrote in the Journal of the American Geriatrics Society (May 2019) that the older Asian American population is 'projected to quadruple from 2 million in 2014 to 8.5 million in 2060. This ethnogeriatric imperative underscores the great and growing need for healthcare services that account for the cultural beliefs and behaviors of older persons.'"
The first night we settled my dad into his room at the memory care facility, I felt so heavy and yet like a weight was lifted off my shoulders. Contrary to how people viewed putting a family member in a facility, my caretaking duties certainly did not end that night. I visited my father regularly, often multiple times a day. I continued to manage his finances, hold his hand during hospital visits, and ensure family across the world could chat with him. My conflicted feelings over him being in the facility went to the back burner as I saw that I did not have to spend my workday worrying about him going out the door unattended and I could concentrate more on my growing daughter. It also helped that it only took a couple of days for my father to think his room at the facility was the condo he had bought with my mom, who he had thought passed away years ago. I continued looking after my father's well-being in every way I could, even if he wasn't in my home. 
As my visits continued, my dad's words became harder to find as his memories began to fade, though heartwarmingly he never forgot my daughter's name. My daughter, the one who would throw eye-rolling tantrums, turned into the most beautiful soul when she saw my father – playing games with him, answering the same questions repeatedly for him and his memory care neighbors without a hint of annoyance.
And my community surprised me in unexpectedly open-minded ways. When my parents' closest Indian friends visited, my dad would only occasionally remember them, but they always hugged me and told me that I was doing right by my parents. Before I knew it, I was having coffee with a fellow Guju, less ABCD than me, asking about how to get her father into the same facility since her work and family life didn't allow her to run home to pick him up every time he fell.
My father passed away in late 2018, after having been in the memory care facility for a little over a year. By this time, I had learned that I was not the only South Asian immigrant's child recognizing the unmet needs of our community. With the Immigration and Nationality Act of 1965 leading to an influx of immigrants from South Asia, 45 years later, there has been a rise in South Asian assisted living facilities and day centers where beef stews are being replaced with vegetarian thalis and Aarti is performed in addition to Sunday Mass.
Through my journey, I came to reflect on how the unconventional and difficult choice I made in caring for my dad was much like the unconventional and difficult choice my parents made in being the first in their families to emigrate from India. What started out as an unthinkable action eventually led to a better life for our loved ones.
So, perhaps, stepping outside of the status quo is, in actuality, a tradition that was passed down from my parents.  I hope I'm passing forward to my fellow first-generation children the freedom to reevaluate how we carry on our culture — something that is not only acceptable but likely necessary.