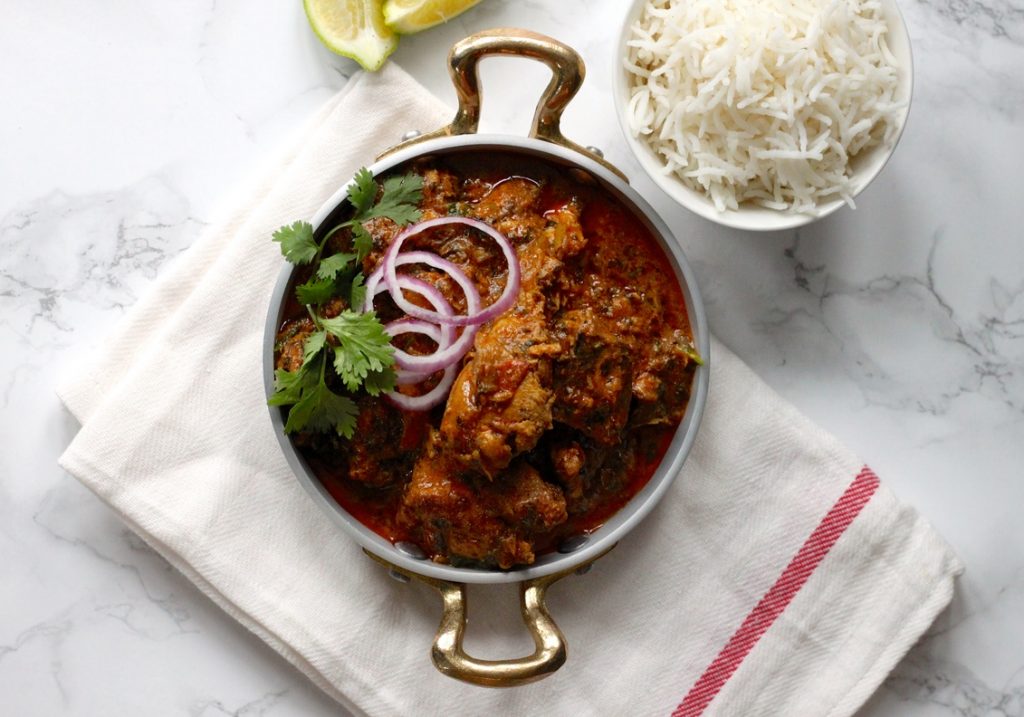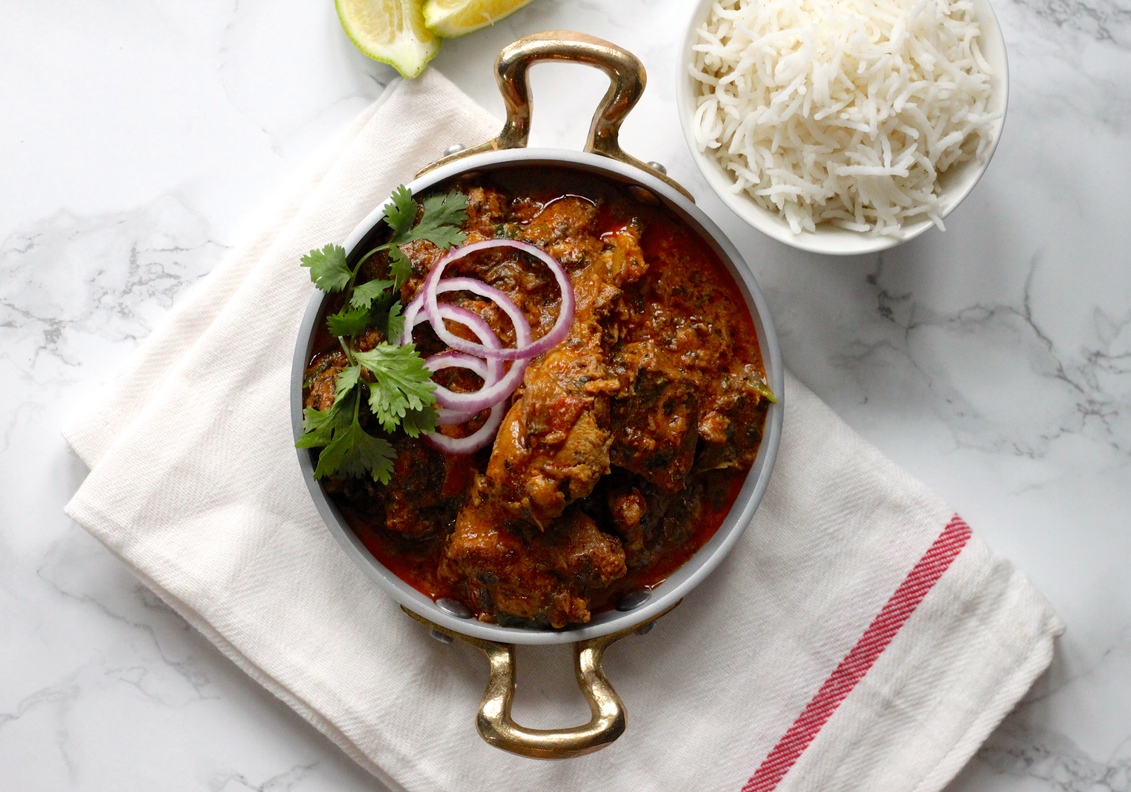 Celebrate Eid with this methi chicken this year! In this recipe, I'm going to share a shortcut on how to get juicy, flavorful chicken without having it marinade it overnight! When you have kids you know that you're bound to have some activity over the weekend, whether it be a birthday party, local event or class project, there's always something going on. That's why I love this method because it requires very little time for marinating but still soaks in the flavor. Yayyyy for last minute dinner decisions!!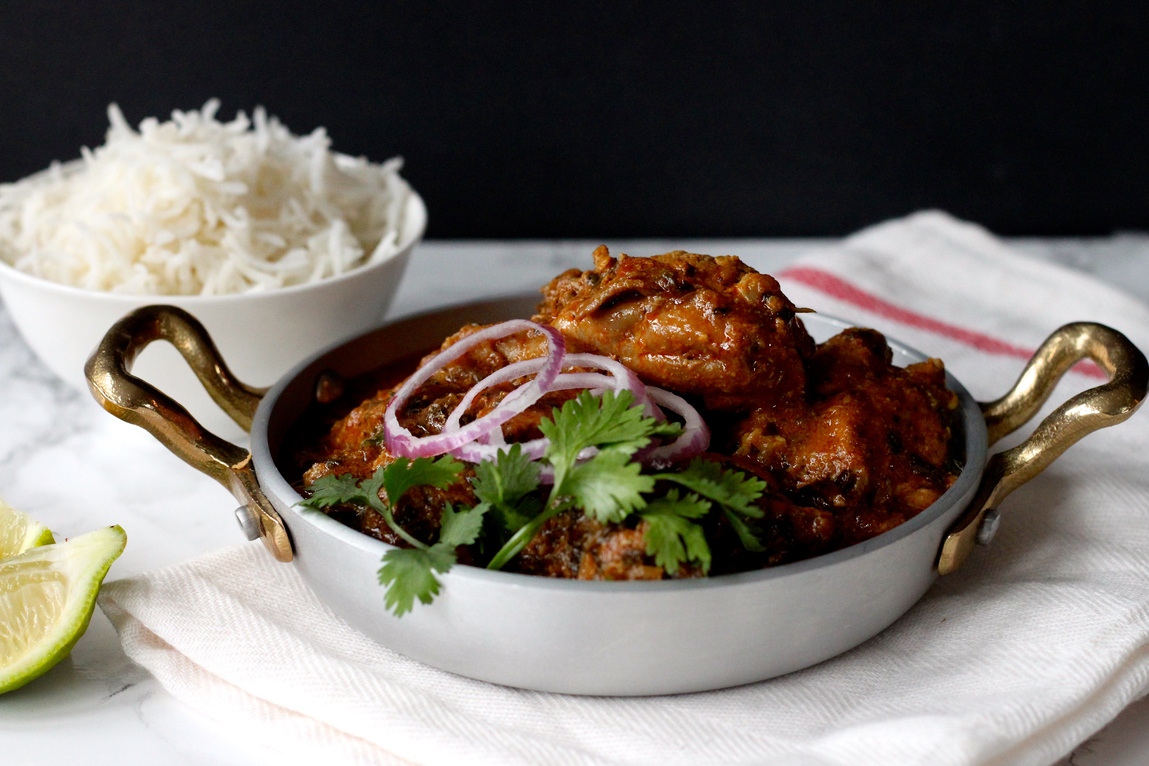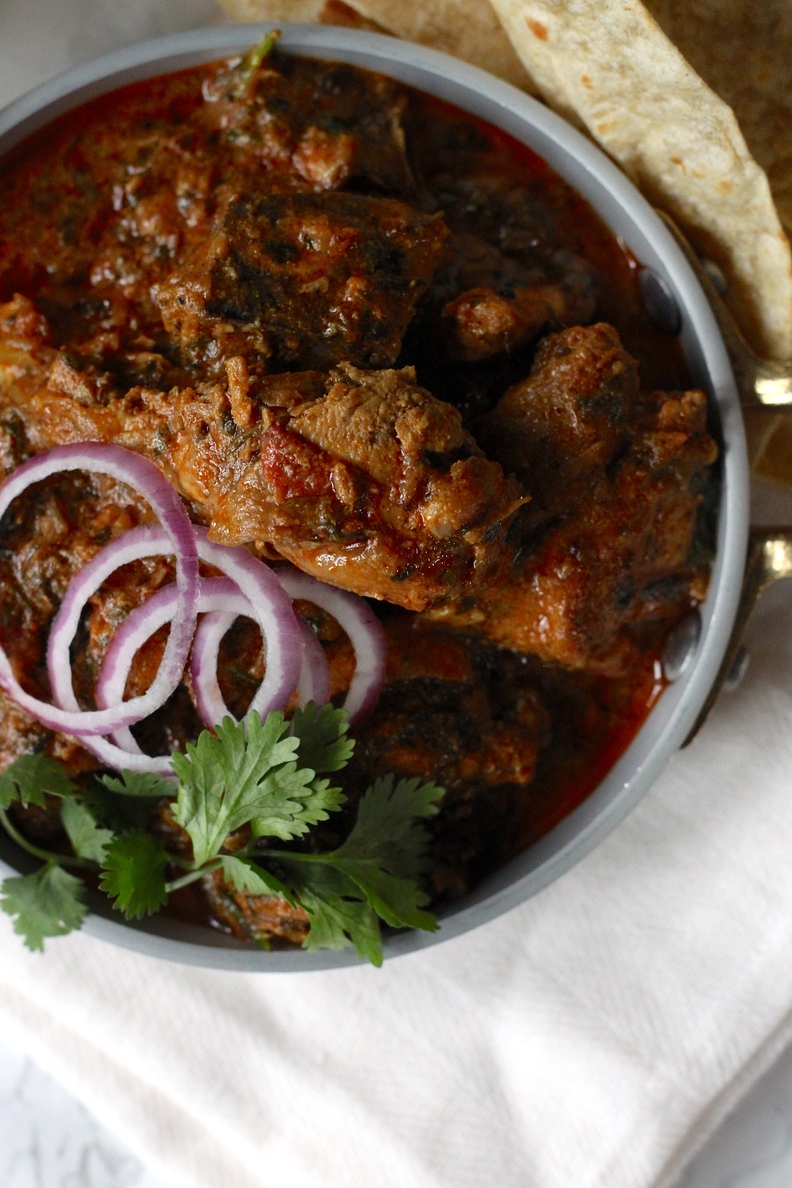 The marinade shortcut method I am referring to is "par baking." When you don't have time to marinade your chicken for a gravy dish what I like to do is bake the marinated chicken on a high heat for about 15 minutes to seal in the flavor. The juices start to release (save this) and the flavors stick to the meat. This also helps your chicken to have a slower cooked taste as opposed to a rushed boiled taste. The magic of this method is also in how it allows you to multitask. While you cook down your gravy your chicken par bakes, it's almost like magic. It's important not to overbake this! The point is to seal in the flavors and not dry out your chicken, so set a timer when using this method.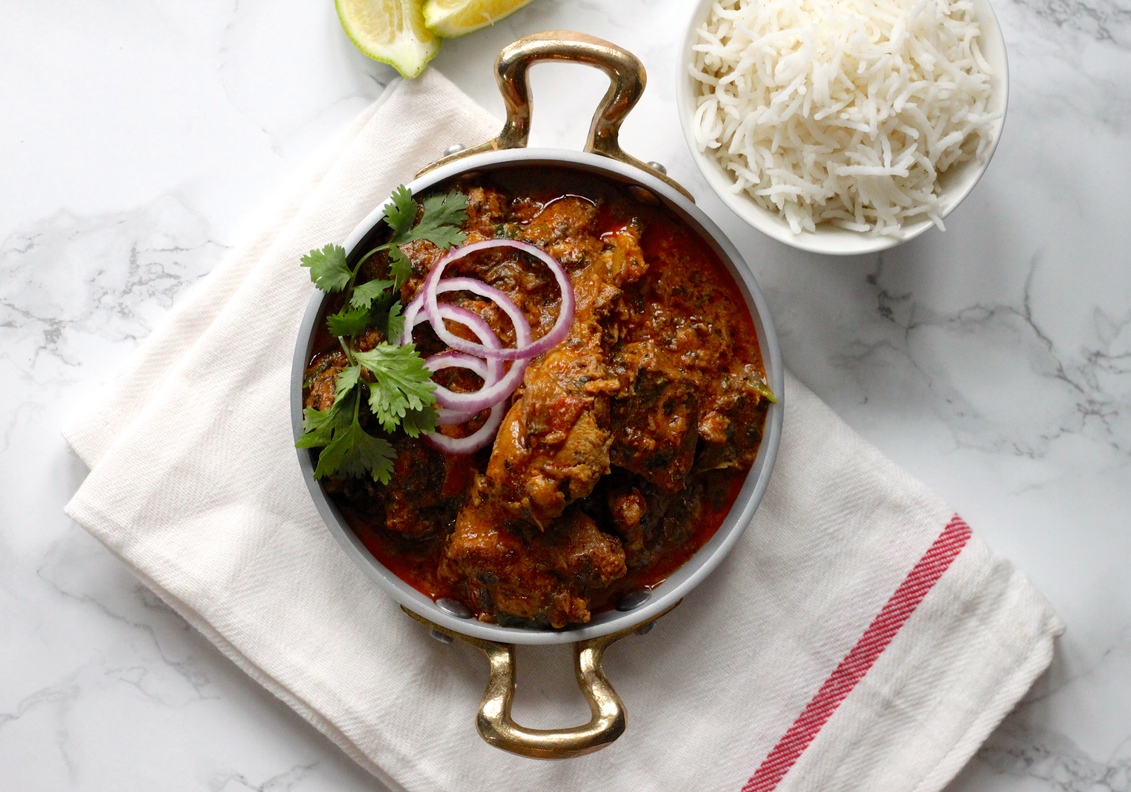 Let's talk about the key ingredients, I tend to lean towards bone-in chicken for most of my curries as I feel you really get the flavors when using a whole chicken. If using bone-in chicken have your butcher cut two-inch pieces, if using boneless, cut one and a half inch pieces. In my experience, the marinade shortcut works better with bone-in chicken! The methi I use in this dish is fresh or frozen fresh, I prefer using this as opposed to the dried variety, kasoori methi. Kasoori methi is more of a finishing herb as it should not be cooked for long periods since it tends to turn bitter. The fresh variety satisfies our family in both taste and nutrition.
METHI CHICKEN
INGREDIENTS
2 lbs chicken
1 cup fenugreek leaves, chopped; fresh or frozen
2 cup onions, chopped finely
½ cup tomatoes, chopped
½ cup tomato purée
1 cup plain yogurt
1 tablespoon ginger garlic paste
2 teaspoon coriander powder
1 teaspoon turmeric powder
1 teaspoon red chili powder
1 teaspoon cumin powder
1 Indian green chili, slit
½ teaspoon cumin seeds
½ teaspoon fennel seeds
¼ teaspoon nigella seeds
¼ teaspoon garam masala
1 cassia cinnamon stick
4 cloves
2 teaspoon salt, adjust to taste
2 tablespoon + 1 teaspoon cooking oil of choice or ghee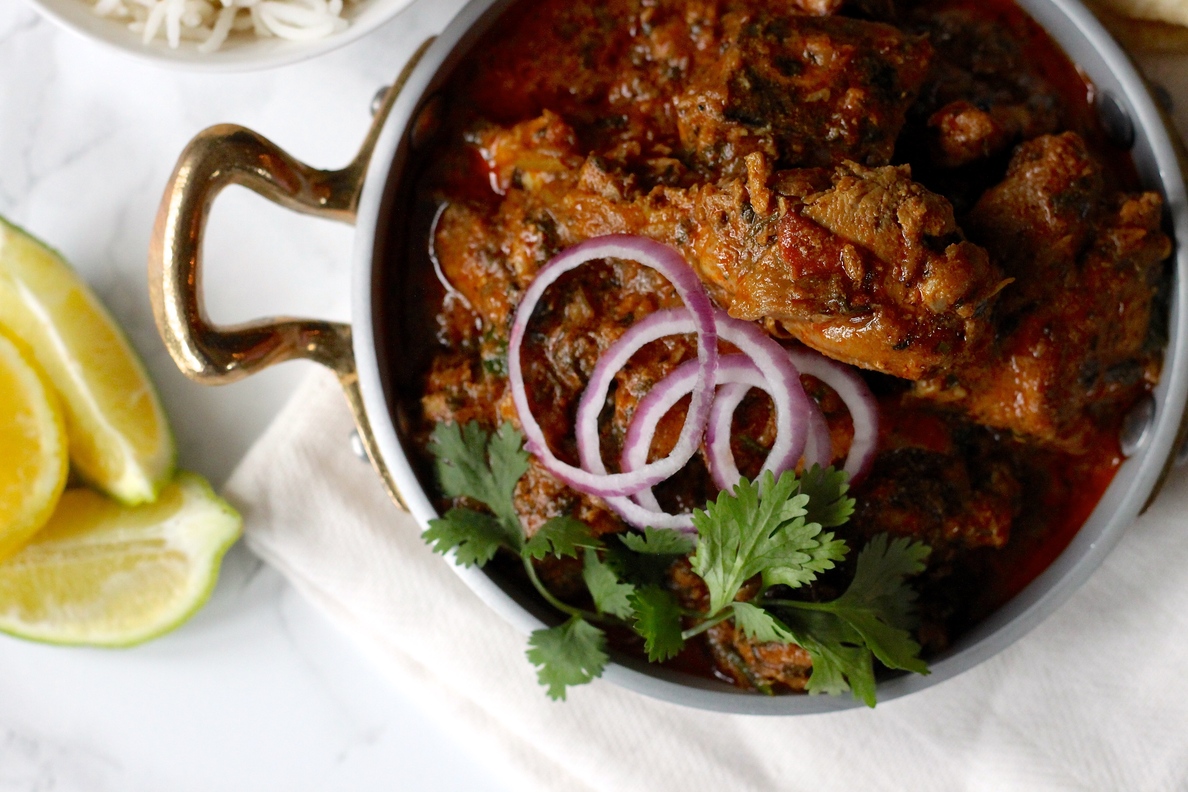 METHOD
Wash the chicken, drain the water and keep it aside.
In a large bowl mix the yogurt and half of the following ingredients: ginger garlic paste, coriander powder, turmeric, red chili powder and salt. Add a teaspoon of oil and mix ingredients thoroughly. Add the chicken and mix until coated.
Line a baking dish or tray with foil and preheat the oven to 450F.
If using fresh fenugreek/methi, clean, wash, chop and set aside. If using frozen, remove from freezer set aside.
On medium heat, warm oil or ghee in a deep pan. Once hot add the cloves, cumin, cassia cinnamon, fennel and nigella seeds. As they start to sputter add in the chopped onions and split green chili.
Cook on medium heat, reducing the onions as they release their water.
Once the oven is heated to 450F, transfer the chicken on the baking tray and bake for 15 minutes.
Meanwhile, once the onions have reduced, add the chopped tomatoes, tomato purée and remaining ginger garlic paste. Mix well and add in the fenugreek/methi.
Cover and let cook for 3-4 minutes, as the tomatoes release their juices.
Uncover and add the remaining turmeric, coriander powder, cumin powder, red chili powder, and salt. Mix well and cover again.
Remove the chicken from the oven once par-baked and immediately add to your fenugreek curry, juices and all. Mix and let cook on medium heat for 15-18 minutes covered and 15 minutes uncovered.
Taste for salt and add if needed. If the gravy has thickened too much you can add ½ cup of hot water and mix well. Add the garam masala and turn off heat.
Garnish with fresh cilantro and serve hot with roti, naan or rice.