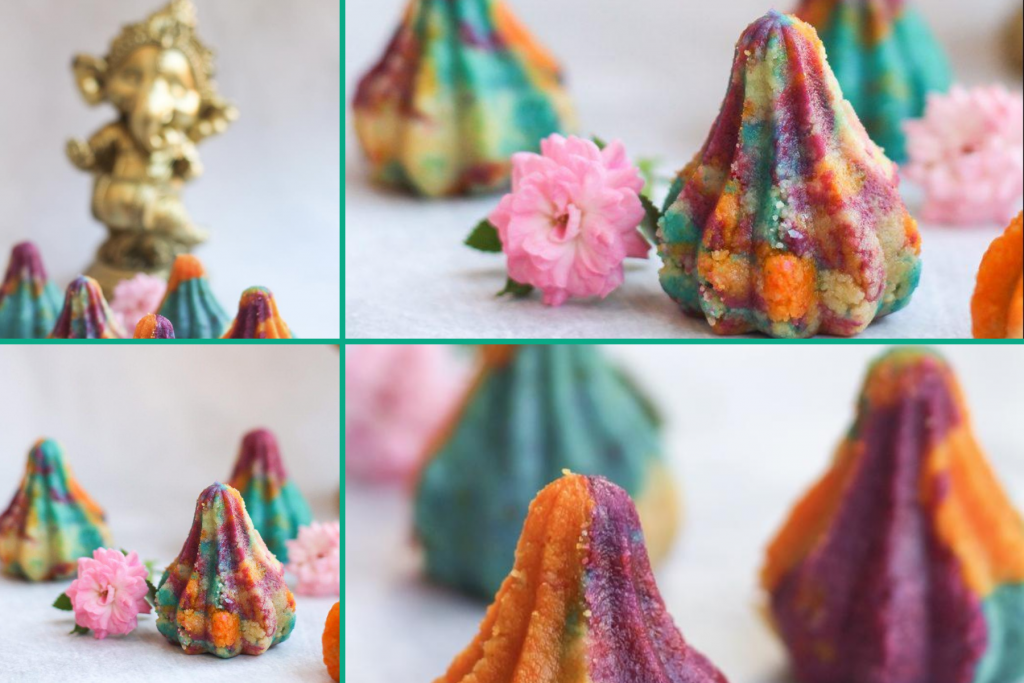 The following post was originally published to LoveLaughMirch.com and republished here with permission. 
Rainbow Malai Modaks are creamy, soft, and made with just a few ingredients! Ganpati Bappa reminds me of everything sweet and adorable, so I wanted to make a mithai that represents just that. Ganesh Chaturthi is the Hindu festival celebrating the birth of Lord Ganesh. The festival is marked with the installation of Ganesh idols in homes or in public communities. On the last day, idols are taken to the sea to be immersed in water. 
The base of Rainbow Malai Modaks are similar to my Kesar Pedas. To get different colors, I used a few drops of food coloring. You can use any color of your choice, there are lots of natural and organic options available as well. You can also leave them as is in their natural creamy, milky color. I used a Modak mould to shape these, but you can also shape them by hand, first into a ladoo and then pinch the top until pointy.
But why do we bring new idols home and say goodbye a few days later?
One of the reasons new idols are used for worship is that symbolically they represent the welcoming of Lord Ganesh. It's believed that during this time the energy attracted by Ganesh idols is very strong and requires one to follow strict daily devotion, which can be difficult for many of us with busy lives and schedules. Therefore, a new idol of Lord Ganesh is brought home during Ganesh Chaturthi and Ganesh energy is invoked in it. When we immerse the idol in water, we are hoping that Ganesh drowns our sorrows and sadness. Traditionally mud/clay idols were preferred as just as Lord Ganesha was created naturally, he would go back, naturally. 
WHAT YOU NEED TO MAKE RAINBOW MALAI MODAK
Milk Powder or Mawa Powder: You can find milk powder in the shelf-stable dairy aisle or at your local South Asian supermarket. 
Condensed Milk: This helps gives the modaks their sweet, fudge-like taste. Because of this, you will notice that I haven't used sugar in this recipe, as the condensed milk used is sweet enough.
Other Ingredients: Aside from the dried and condensed milk you'll need whole milk, cardamom powder, food color and ghee (or butter). 
Prep time: 10 minutes
Cook time: 25 minutes
Total time: 35 minutes
¾ cup whole milk powder or mawa powder
¾ cup condensed milk
2 tablespoon ghee or butter
¼ teaspoon cardamom powder
2 tablespoon whole milk, warm
food coloring, a few drops of your favorite colors
Method
In a heavy bottom pan on medium-low heat add the ghee or butter. When it melts, add the milk powder.
Mix well and bhunno/roast on low medium heat for 10 minutes. The mixture will resemble a sand type texture, watch it closely to ensure it does not burn.
Once it roasts, add the condensed milk and warm whole milk. Quickly mix the ingredients to ensure no lumps form and keep mixing with a spatula.
Cook for 15-18 minutes until the mixture starts to thicken. You can tell the mixture is ready to come off the heat once the modak dough doesn't slide off the spatula.
Add the cardamom powder, mix and turn off the heat.
Divide the Modak dough in a few small bowls and add your favorite food coloring to them and mix until incorporated.
Have a plate ready and grease palms or Modak mould with ghee or butter.
While the mixture is hot but cool enough to handle (not burning), take a tiny bit of dough from each of the small bowls and use a Modak mould to shape.
Alternatively, take tiny bits of dough from each of the small bowls until you have a tablespoon full in your hands. Roll into a ball and then pull the top up until pointy.
Store in an airtight tin at room temperature for 1-2 days or in the refrigerator for 3-4 days.