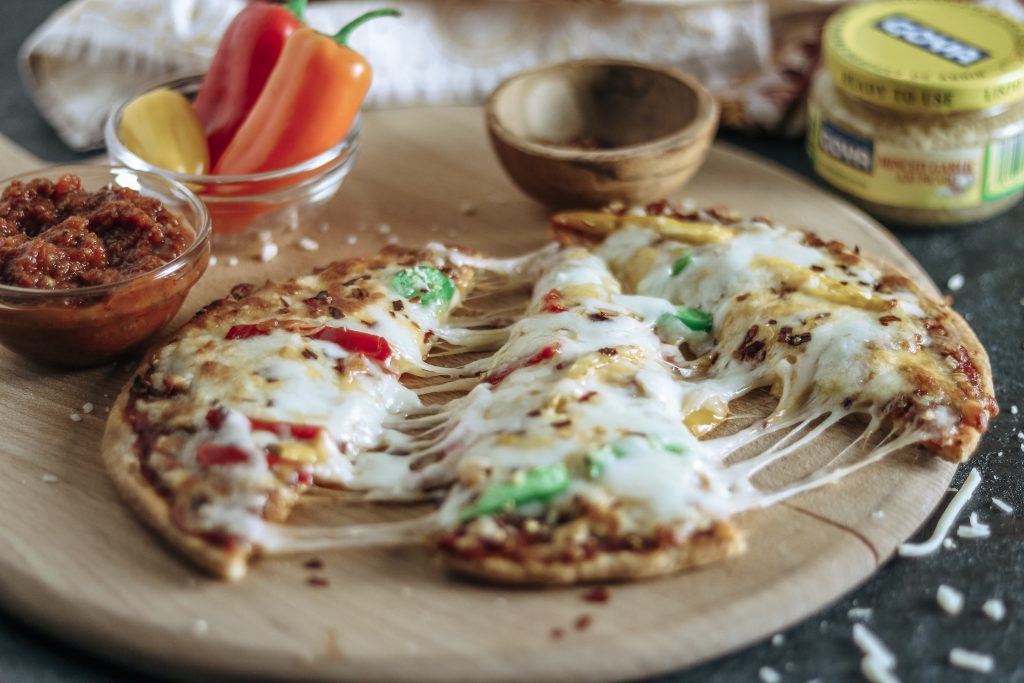 Happy National Pi Day! What better way to celebrate this delicious holiday than with Homemade Pizza?
I like making pizza at home because it's one of the quickest recipes that can be customized to EVERYONE'S liking. All you need are some yummy toppings, a BOMB sauce, pizza crust, and your favorite cheese!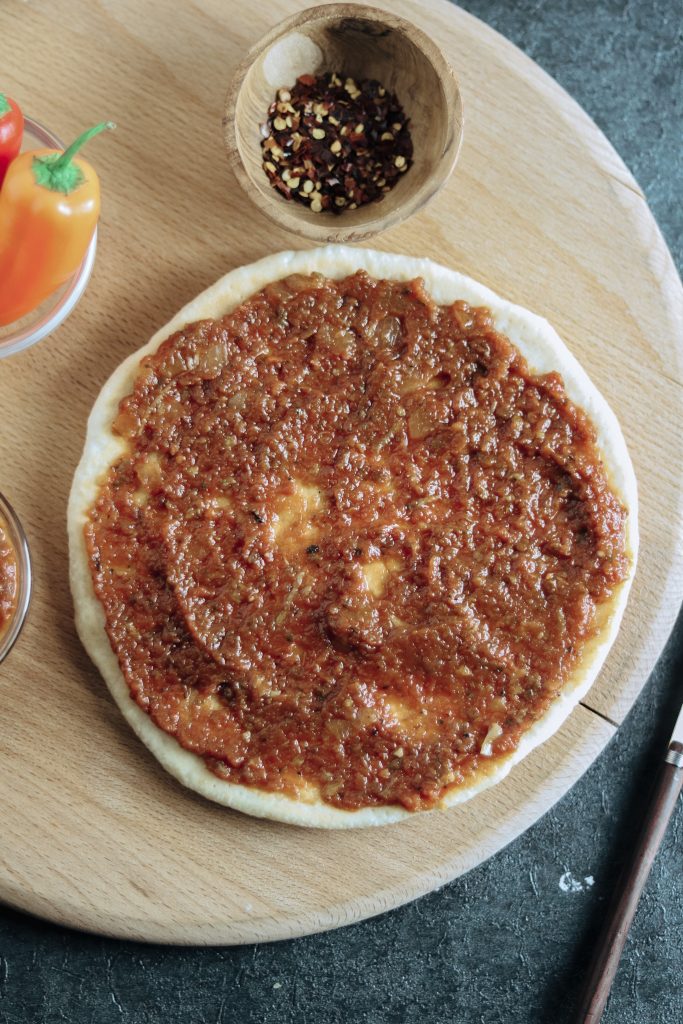 We usually make our own dough for homemade pizza, but I'm still working on the exact ingredients for you guys, so I'll have to update you next time. I know pizzas are so basic and everyone can throw together ingredients to make the perfect pie, but this one is special because of the SAUCE. Like I mentioned earlier, a BOMB sauce is entirely necessary.
When we make pizza, we typically just go all out. Nothing is straight out of the can or a plastic bag…besides the cheese of course, lol. That's why for us, the sauce is a very important step because that's where most of the flavor is coming from. We start off using a canned sauce, but jazz it up to the MAX. I'm talking garlic, onion, GINGER & more! Follow my instructions to make homemade pizza with a sauce that will change everything. Enjoy!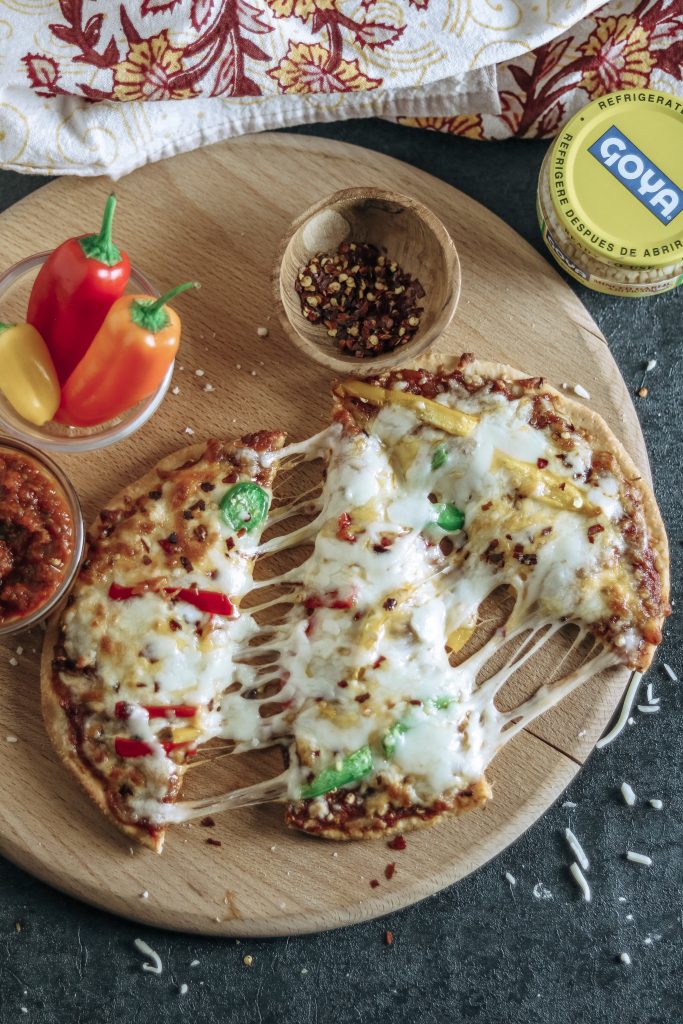 Servings: 4 people
Prep Time: 20 minutes
Cook Time: 10 minutes
Ingredients:
Sauce:
Olive oil
1/2 white onion, finely diced
2 Serrano peppers, finely diced
1/2 green bell pepper
8 cloves garlic, minced
1-inch piece of ginger, minced
1 tsp cayenne pepper
1/2 tsp sugar
1 tsp dry oregano
14 oz. can pizza sauce
Pizza Basics:
4 medium pizza crusts
3 cups Italian blend cheese, shredded
2 cups mozzarella cheese, shredded
Crushed red pepper flakes
Olive Oil
Toppings (optional):
8 cloves garlic, minced
1 cup broccoli florets, steamed
2 jalapeños, thinly sliced
1/2 onion, thinly sliced
1 bell pepper, thinly sliced
8-10 black olives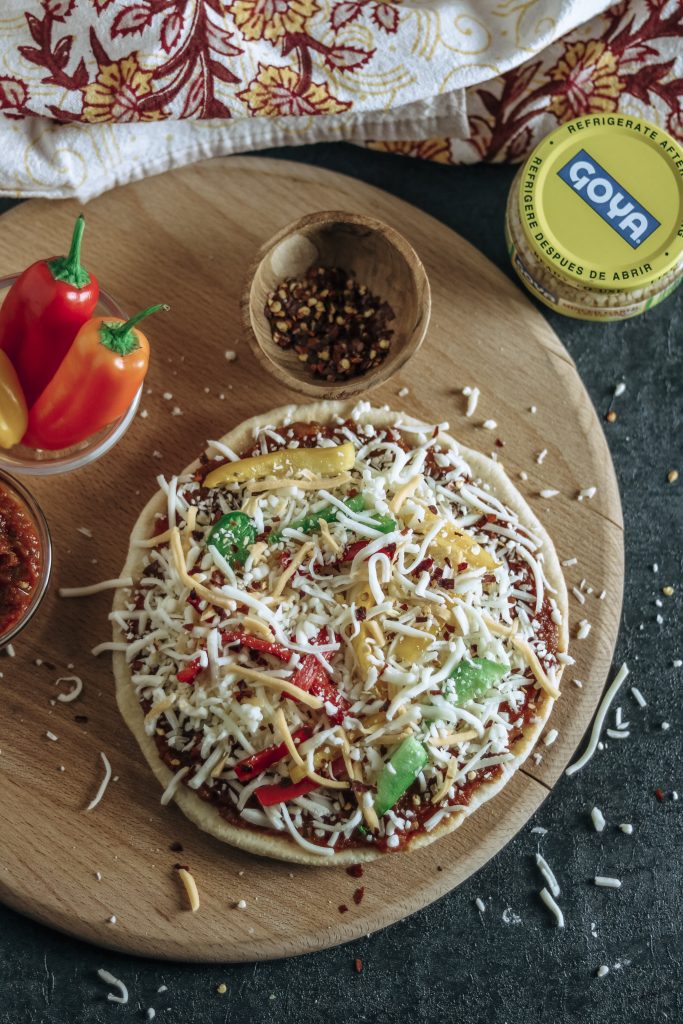 Directions
Sauce
To make the sauce, warm up a little bit of olive oil in a pot. Then add in the onion, bell pepper, and serrano peppers. Let them cook on low heat for 1-2 minutes. Throw in salt and pepper per taste.

Once they are warmed through, add in the garlic, ginger, cayenne, sugar, and oregano. Let it cook on low heat for another 2 minutes, and then add in the sauce. Let the sauce cook on simmer for 5 minutes and put aside.
To Assemble
Preheat oven to 375 degrees Fahrenheit.

Evenly distribute all of the sauce on your pizzas. First add the Italian cheese, then all the desired toppings, and finish it off with the mozzarella cheese.

Sprinkle with crushed red pepper flakes and drizzle some olive oil on top of each pizza.

Let it bake in the oven for 8-10 minutes, until the cheese and melted and the crust is crispy!

Cut in slices and serve :)