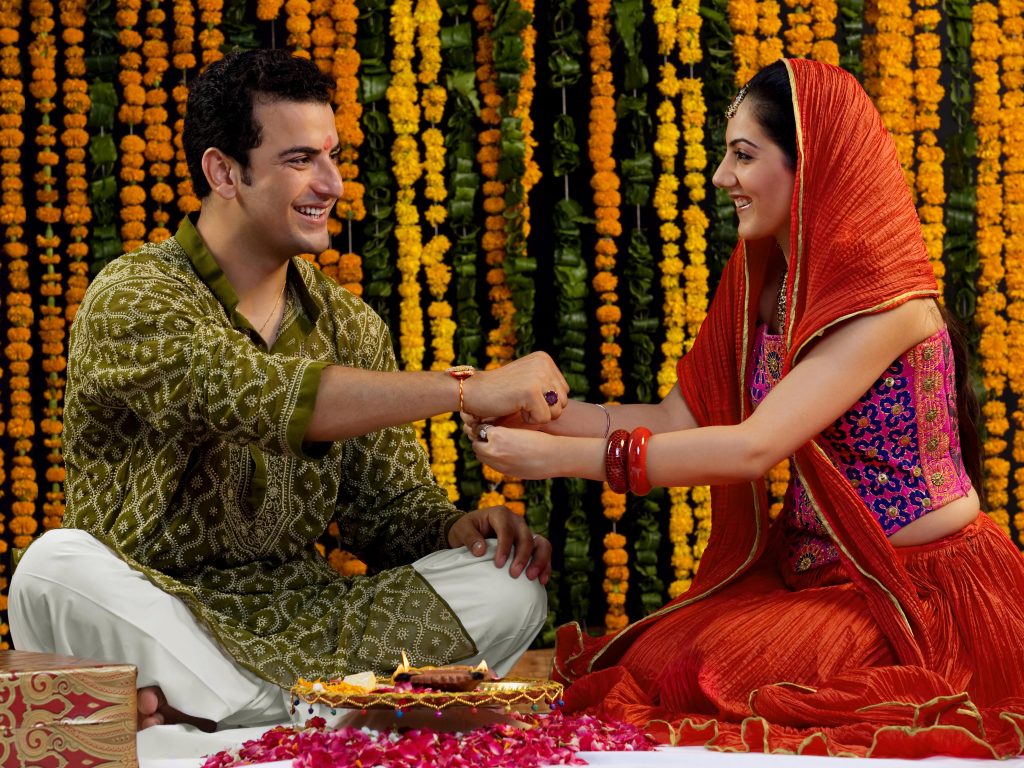 by BG Staff – Follow @browngirlmag
Raksha Bandhan—or as its more commonly known, Rakhi — is an annual tradition in the Indian subcontinent, celebrated by many religions. On this day, a girl ties a rakhi (ceremonial thread) on her brother's wrist. The brother, in turn, promises to protect his sister always, and shares sweets and gifts as a token of his affection.
Celebrated in different forms around the world, and among those who are siblings by more than just blood, Brown Girl Magazine asked our staff to share some memories of rakhi, and what it means to us, on this day.
To our brothers, both near and far: thank you for your love, guidance, protection, and really, just for being you. We love and appreciate you, today and always!
~~~
I've heard so many phrases to describe the person that is the object of one's adoration — "apple of my eye," "heart and soul," "jigar ka tukda" and so on. There is just one person on this earth that description would apply to in my life – my brother.
He stormed into my life when I was almost 9 years old. I harassed my mom for years for a brother or sister. I was about 8 years old when she told me that I was going to have a little brother or a sister—I was over the moon.
I remember poking her pregnant belly gently, wondering if the baby could feel it. I stared at her belly for hours wondering how a brother or sister would come out of there, and how he/she was breathing at that instant. The day he was born, I recall looking down at the cradle to see this little bright red wrinkly creature, almost like a tomato that is past the ripe point, and needs to be used today or thrown away. He had a shock of black hair, and his mouth opened to almost the size of his head when he cried or yawned. His little finger was about the size of a grain of basmati rice (I exaggerate, but only a little). When he opened his eyes, they were unfocused but curious. When I poked his palm, he closed his hand around my index finger so tightly and clutched on like he'd never let go. That's when I lost my heart to the little monkey—and he's had it ever since.
Even though I'm almost 9 years older, our fights are legendary, and we still argue constantly. But if I ever so much as consider a life without him, my heart turns to lead. I really would take a bullet for the guy. He's a mercurial character, my brother. I realized that I haven't ever written about him; part of it is my fear that my words are inadequate to describe him, and my love for him. But inadequacy is better than nonexistence, so this is my futile attempt to capture my brother in words. He's not fond of reading, and I doubt he'll ever read this… but somehow I think I manage to convey what he means to me in subtle ways, perhaps just not in the extent I'd like to.
Winds ruffle his hair
Wiry, black and thick.
The shutters are down
On his wide, clear eyes,
Suggesting a misanthrope.
But when he smiles
You'll see the heart of gold,
The one he does his best to hide.
He spends nights wide awake
Lost in virtual reality.
In sleep, he's Rip Van Winkle
So far, he cannot be reached.
In slumber, you'd see
Why he's so loved.
Watching him sleeping
Is by far more beautiful
Than any dream he sees.
He's often misunderstood
So quick to lash out.
He's impenetrable in his shell
Looking out at the world
From the dark fortress
He's built around himself
Over years of hurt.
For he feels not only his pain
But also my agony
He hides from people around.
He flinches at my tears.
But then there are those times
When he reaches out
He cries tears of my blood.
Rages over my trauma.
He secretly spends hours
Cutting out my excruciating past
From old, bittersweet photographs.
His reluctant hugs are bliss
More revealing than he realizes.
His bone crushing hold on me
Gives life to my very soul.
His roguish pranks and irreverence
Delight me beyond belief.
More intelligent than he admits,
He assigns himself to mediocrity
Punishing himself for reasons unknown.
His face, his smile, his existence
Pervade my every breath.
My dreams for him know no bounds,
But my foremost hope
Is that he learn to love himself,
See himself and see the world
Through my eyes, to know
He's at the core of it all.
—BG Pooja
~~~
In first grade, my teacher asked our class to do a project on our favorite holiday. Naturally, there were a lot of kids talking about Christmas or Halloween. The other two Indians in my class picked Diwali, and I picked Raksha Bandhan.
When my family celebrated this, it was always really small and simple: the aarti, the sweets, and me struggling to tie the rakhi on my brother's wrist. Of course, I liked the part where I got a present, but what I really cherish is the continual bond the rakhi represents between me and my brother.
Rakhi is my favorite holiday because it was constant for me. My brother is eight years older than me and there were times when we went weeks without interacting. While he'd be in college or medical school hours away working hard and succeeding, I would be at home with an extra bedroom upstairs where he used to be. Despite everything, we always try to celebrate Raksha Bandhan. Whether we tie the rakhi a couple days early, or a couple days late, or if I have to send him a rakhi through the mail, we try our best to keep this as a tradition no matter what. I have looked up to him for as long as I can remember and I feel like although the rakhi is small, it represents my support for him and all he hopes to achieve in his life.
—BG Sriya
 ~~~
Happy Raksha Bandhan to all the brothers and sisters out there? How are you celebrating rakhi? Tell us in the comments below!