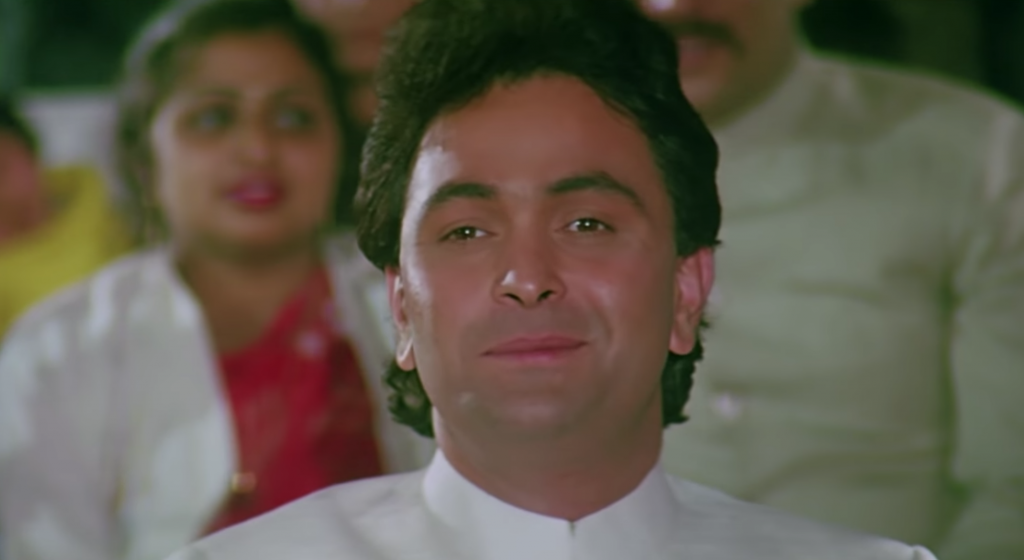 "Main Shayar Toh Nahi." "Khullam Khulla Pyar Karenge Hum Dono." Growing up, I knew that when I heard those songs, a good Bollywood film night full of laughter and romance was sure to come. And it's all thanks to one man: Rishi Kapoor.
From "Mera Naam Joker" to "102 Not Out," Rishi Kapoor did it all. He wasn't just an icon, throughout his career, he was a heartthrob for some, a brother for others, a dad, an uncle, and so much more. He was the epitome of Bollywood, the original "chocolate boy" we couldn't help but love. Kapoor past away on April 30 after battling leukemia for two years, less than 24 hours after the death of another Indian acting icon, Irrfan Khan. The one-two punch was a blow to not just the Indian film industry but anyone and everyone who enjoyed their incredible work.
As an honorary tribute, here are 14 amazing Rishi Kapoor movies that you should add to your Bollywood movie night, and the songs from each film to turn into your new Spotify playlist.
"Bobby" (1973)
Song from the film: "Main Shayar to Nahin"
How could we make a list of the best Rishi Kapoor films and not put "Bobby" at or near the top spot? This movie is one of the main reasons that we all first fell in love with Kapoor and his talent.
"Chandni" (1989)
Song from the film: "Chandni O Meri Chandni"
Rishi Kapoor & Sridevi. Is there a better combination from the late 1980s? This film was the definition of Bollywood romance for many generations, both in India and the diaspora.
"Amar Akbar Anthony" (1977)
Song from the film: "Parda Hai Parda"
This film gave us all the pure onscreen joy of a trio that is Rishi Kapoor, Amitabh Bachchan, and Vinod Khanna. All three actors play off each other perfectly, the film features non-stop laughs and all three heroines (Neetu Singh, Parveen Babi, and Shabana Azmi) are top-notch.
"Damini" (1993)
Song from the film: "Jab Se Tumko Dekha Hai Sanam"
"Damini" is considered to be one of the first feminist films in Hindi film history. We're recommending people check out the film, but that recommendation comes with a trigger warning, as the film does contain scenes depicting and discussing sexual violence. It's a powerful film with brilliant performances from Meenakshi Seshadri, Sunny Deol, Amrish Puri, and of course, Rishi Kapoor.
"Zamane Ko Dikhana Hai" (1981)
Song from the film: "Bolo Bolo Kuch To Bolo"
This film featured Padmini's debut in the Hindi film industry – her onscreen chemistry with Kapoor was undeniable!
"Sargam" (1979)
Song from the film: "Dafaliwale Dafali Baja"
A beautiful drama (which was originally made in Telugu, then remade in Hindi), "Sargam" was the second film to garner a Filmfare Award nomination for Rishi Kapoor for Best Actor.
"Khel Khel Mein" (1975)
Song from the film: "Khullam Khulla Pyar"
A great Hindi thriller, "Khel Khel Mein" is most famous for featuring another great Rishi Kapoor performance and fantastic music from the late, great RD Burman.
"Deewana"
Song from the film: "Sochenge Tumhe Pyaar Kare Ke Nahi"
Rishi Kapoor + Amrish Puri + the debut of Shah Rukh Khan. Enough said.
"Karz" (1980)
Song from the film: "Ek Hasina Thi Ek Deewana Tha"
https://www.youtube.com/watch?v=sumjOrUW4HM
A wonderful cult thriller in the storied career of a legend.
"Saagar" (1985)
Song from the film: "Sach Mere Yaar Hai"
This film has everything you could possibly need from a Bollywood feature: a complicated love triangle, class divides, Rishi Kapoor & Dimple Kapadia together again, and some Indian crossover appeal with the casting of Kamal Hassan.
"Bol Radha Bol" (1992)
Song from the film: "Tu Tu Tu Tu Tara"
Rishi Kapoor plays two roles in this film, one of the most memorable entries in the Rishi / Juhi Chawla list of onscreen gems together.
"Kapoor & Sons" (2016)
Song from the film: "Buddhu Sa Mann"
"Kapoor & Sons" is not only an excellent film about a dysfunctional but ultimately loving family, it also features one of the best Rishi Kapoor performances from the last two decades. Hands down.
"Do Dooni Chaar" (2010)
Song from the film: "Baaja Bajeya"
A sweet story about family with Kapoor at the center, "Do Dooni Chaar" was awarded the Best Hindi Feature at the 58th National Film Awards. This film also featured the onscreen pairing of real-life couple Kapoor & Neetu Singh again for the first time in 30 years.
"102 Not Out" (2018)
Song from the film: "Badumbaaa"
A story about an aging father and son whose lifestyles are the complete opposite, it was a complete blast to watch iconic actors and friends—Kapoor and Bachchan—have so much fun with each other in silly, joyful roles. This song may not be the next banger, but it is guaranteed to bring a big smile to your face.
Other great performances from Rishi Kapoor over the last two decades include:
"Mulk"
"Love Aaj Kal"
"D-Day"
"Fanaa"
"Pyaar Mein Twist"
"Luck By Chance"
"Patel Ki Punjabi Shaadi"
"Hum Tum"
Everyone at Brown Girl Magazine sends their prayers of strength and love to the entire Kapoor family during this incredibly difficult time. His legacy will live on for generations to come.