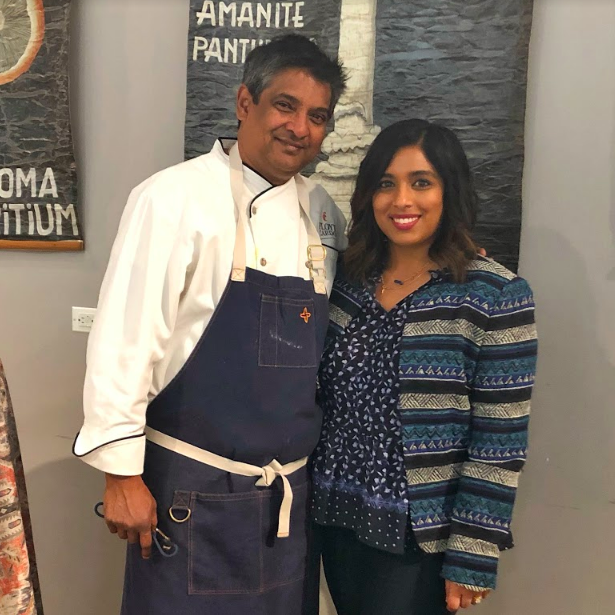 With acclaimed restaurants like New York City-favorite The Bombay Bread Bar and India's Bombay Canteen under his belt, four-time James Beard Award nominee and cookbook author, Chef Floyd Cardoz, is probably best recognized as the winner of season three of Top Chef Masters on Bravo. A chef who literally wrote the book on flavor ('Flavorwalla') would no doubt create an exceptionally prepared, mouth-watering food experience, and now you and your guests can experience it in person. Starting this spring, the award-winning catering house, Neuman's Kitchen, will be offering a private catering experience like no other through an exclusive new partnership with Chef Cardoz.
Brown Girl Magazine was invited to experience the partnership at Neuman's Kitchen and, spoiler alert, it did not disappoint! We also had the chance to chat with Chef Cardoz to discuss what this collaboration could bring to the weddings and events space (especially for South Asians) as well as get his thoughts on what makes food good, and advice for home cooks.
Your new partnership with Neuman's Kitchen is fantastic news and sure to completely elevate the culinary experience for weddings and events. What are you most excited to bring to the table with this partnership?
Working with Neuman's Kitchen will allow me to offer my food to a much bigger crowd, something I can't do in my restaurants. Neuman's has the right capabilities for me to create an elevated food experience without compromising on the flavor people know me for. Additionally, there haven't been many options for creating luxury South Asian food experiences that bring authentic flavor and fun presentation so I think this partnership will be able to change that.
What are some of the most memorable dishes you've created for special events?
The upma polenta is a favorite. The mango kulfi is some of the best I've personally ever had. The chili chicken fry we do at The Bombay Bread Bar is one of my favorites. I'll say most of the dishes I create are memorable because they're connected to me and a recreation of my nostalgia with family. My food is personal and brings passion to the original dish.
Are you experimenting with any new dishes?
I am mainly looking at India as my focus because it is so vast and so much is to be seen. My travels there continue to inspire me, especially as I go from state to state. I am trying to see as much as I can and bring regional experience.
What are some of your favorite flavors?
I love Japanese food. It's incredible with its freshness. I also love Spanish, Italian, and Southeast Asian food.
Is there a go-to, comfort dish that you love making at home?
Biryani is one of my loves to make. I also love making Goan fish curry.
What advice do you have for home cooks?
I think what makes a good cook is if they can cook from the heart and with passion. Don't try to be fancy or out of your comfort zone. Do what you love to eat. It has to have passion because no passion makes no good food. If you're happy, your food will be good.
Did you grow up in an environment of cooking? Did your family cook?
At our home, we would always discuss what our next meal was going to be. When I was younger, I'd watch my grandmother cook for all of us. When I'd come home from school, I would always peek into the pots in the kitchen. She was my influence and made such incredible curries.
What inspired you to become a chef?
I was actually a biochemist in my earlier days. I would cook a lot at home and found so much fun and love in it. I ended up going to culinary school which is where I learned I could cook really well and, from there, I just fell in love with the process.
Year after year we read about Indian food becoming "the next big thing" among food trends. Do you think it has happened? Is it happening as we speak?
It hasn't had its moment. Indian food is just so vast and there is still so much more to share than what's currently in the mainstream. It's coming, though.
What continues to motivate you to share your food with the world?
My love for food and cuisine is what motivates me. I love people to have a shared food experience and that feeling that comes with it just never gets old.
What does cooking mean to you?
I believe good food and good cooking are not only about how good something looks or tastes, it's also about how good you feel while cooking for someone you love, or eating something that has been lovingly prepared for you. The entire process of cooking is about expressing your soul. If your food does not have soul, it will not give joy to those eating it. And without soul, we are nothing.
To learn more about the partnership with Neuman's Kitchen and Chef Floyd Cardoz, visit neumanskitchen.com.