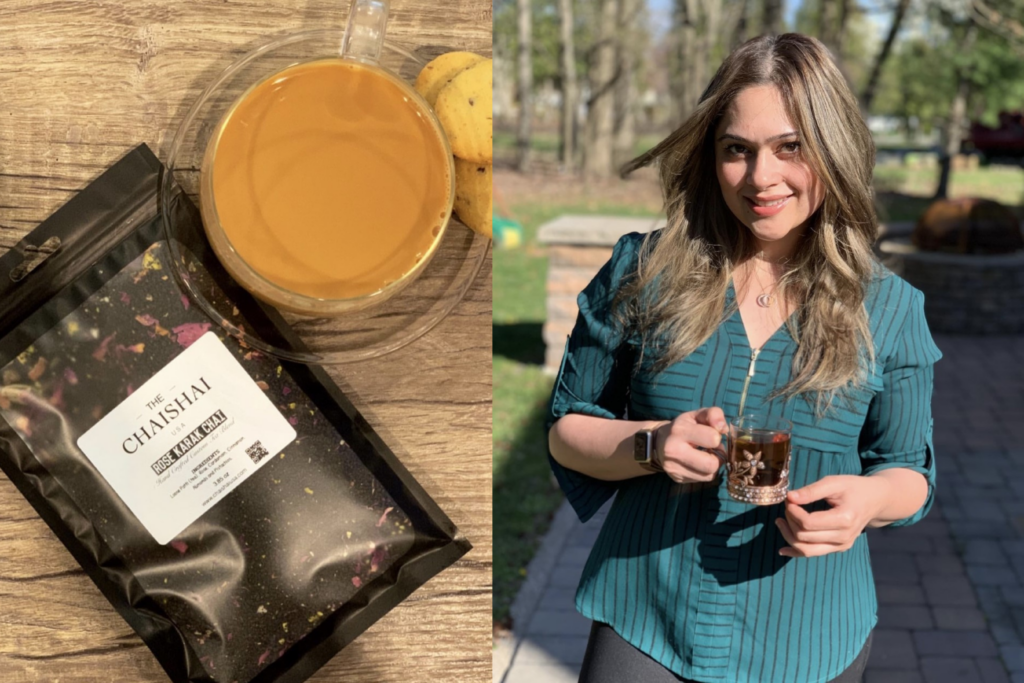 The idea started brewing when Rabia Faisal, the founder of Chai Shai USA, wanted to do something for herself. Initially, the plan was to start a halal tea room in New Jersey. However, juggling a toddler and another baby on the way, she figured it would be best to start from home. Why chai, you may ask? Because for Rabia, the importance of chai goes beyond just her liking for it. For her, it's all about the stories that follow a good old cup of chai and the personal connections that develop in between sessions. 
Faisal's journey started almost five years ago, with the invention of 'The Chai Station.' The Chai Station is a catering cart serving whipped patti chai, her special blend of rose karak chai, Kashmiri chai, and more. It is a major hit at events like weddings, bridal showers, and birthday parties.
In her words, "a lot went wrong" in the beginning, as it was a fresh, new business. But, "a whole lot more went right," and her first 'Chai Station' was a success, selling about 270 cups of chai. Now, she has customers ordering from her website, all the way from Alaska and Sweden. Not to mention, her products are a fan favorite in the States. 
So, what makes her Chai Shai blends different from the rest? It's the personal touch reflective of the bonds she developed over a cup of chai. Rabia's father used to make a killer cup of chai, she recounts. And all her ingredients have a backstory of their own. The loose rose karak chai comes from Iran, as well as the Persian roses. The Dubai Cardamom karak chai is inspired by her time spent with a close friend, who she misses so dearly after she moved to Dubai. On this dear friend, Rabia says: 
Most of the good times we've spent are when we drank chai together.
View this post on Instagram
When asked what her favorite blend was, she immediately responded without a hint of doubt:
½ cup [oat] milk, ½ cup water, and 2 tbsp of my rose karak chai tea. It is purely therapeutic.
The best part about her blends? You don't need to add sugar, as the natural oil from the nuts in the blend gives all the flavor that a good cup of chai requires. And, those with dietary restrictions, like Rabia herself, you can even make it vegan… And it will still taste like a cup of chai from the stalls in India or Pakistan. The secret is to:
Let it brew and let it cook.
Along with being a treat for your taste buds, Chai Shai also aims to make a difference in the community. Over the past year, Rabia feels her brand was fortunate enough to be one of the small businesses that grew despite the pandemic, even though she had to run a one-woman show. She plans to extend the same opportunity to housewives, moms, and those who want to start a side hustle but don't know where to start. In the next five years, Rabia hopes to franchise her 'Chai Stations' so women in the South Asian community, in any state, can run their own business. Plans to perfect her own Kashmiri chai blend from Pakistan into teabags are also in the works! 
Speaking of small businesses during the pandemic, we asked Rabia what she thought about the new 'hot chocolate and chai bombs' trend. She was purely in "disbelief" — in a good way, of course. When small businesses reached out to her to use her blends for the bombs, she felt just so proud.
We will do whatever it takes to share and help out, whether it be reposting and advertising your dessert bombs no matter where you reside.
And, that's the power of her "Insta family," as she calls it; the community she has built on Instagram, growing her brand from strength to strength. 
View this post on Instagram
Her advice to Brown girls, and boys alike, would be to "take a deep breath and take the first step". When you have a personal passion for an item or a product, positive results will show sooner or later. You will learn as you go.
If it's something meant to be and you're good at it, you will be unstoppable.
If it doesn't take off, then you will know, and perhaps you can go another route. But, that doesn't mean you cannot try.  The "time is now," "take the chance."