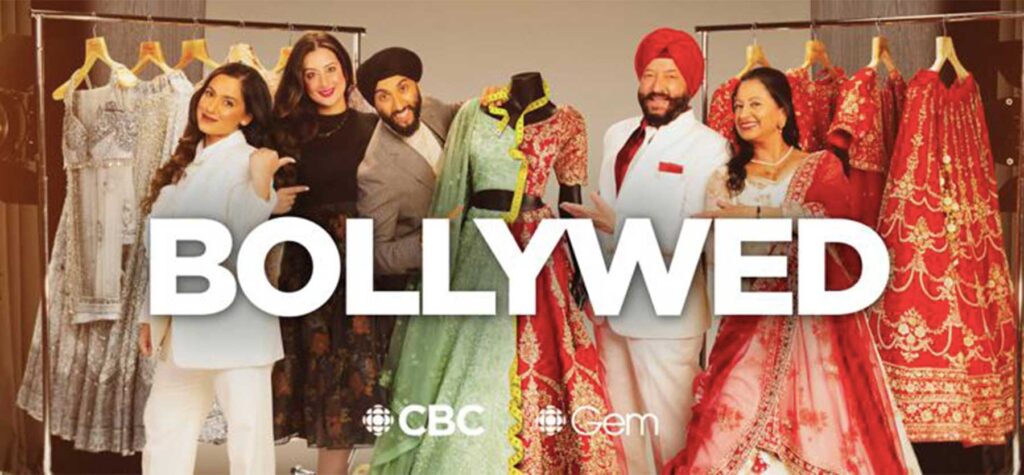 For the Singh family, Chandan Fashion has always been bigger than simply a bridal showroom. Located in the heart of Gerrard Street, a bustling Little India in Toronto, the bright blue and pink building can be spotted from a distance. Over the years, Chandan has garnered attention from customers from all over North America, even as far as California and Virginia.
For Chandan and Roop, who work alongside "Mom and Dad," Chandan Fashion is a family business and a way to showcase the beauty of South Asian culture while playing a helping hand in allowing every bride and groom to feel special on their big day. Chandan is their legacy and one they hope to be able to showcase the beauty and intricacies of throwing that "big Indian wedding" on their new CBC show, "BollyWed."
View this post on Instagram
"BollyWed" follows this tight-knit family through the joys and difficulties of running a multigenerational business. Throughout the variety of clients, discussions of new generation business practices versus old generation, many lehengas, and plenty of laughs, this is one whirlwind journey through the marriage industry.
Brown Girl had the opportunity to interview Chandan and Roop Singh, who were incredibly down-to-earth and a joy to speak to. Here is the interview down below!
What was the inspiration for opening Chandan?
Chandan: My mom and dad started the vision back in 1984 — they started the business. I have a store in India that was started by my grandfather which my father worked in as well, so it is kind of multi-generational of being within this industry of clothing and fashion. My father had a dream of starting what his father did in India, in Canada. While visiting friends in Toronto, my father knew that the Gerrard Indian Bazaar was the right place for them to start, it was the largest Indian market in the Northern America area. He rented a space for two years a couple of doors down from where Chandan originated and then in 1986 we had the opportunity to purchase the corner unit and grow it from one floor to two, to now a four-floor showroom.

Roop: And it should be noted that 1986 is also the year that Chandan was born, hence the name of the store. Chandan Fashion.
Many cities have their own versions of Little India. What was it like growing up/operating in Gerrard Street East? What do you think makes Gerrard Street unique?
Roop: It is funny you say that because even now when we have people traveling to Toronto, checking out Gerrard Street is on their itinerary. So we get a lot of clientele that are visiting from out of town whether it be visiting for the day or weekend. Some of them will sometimes get a hotel nearby for about a week and do their entire wedding family shopping with us.

Chandan has literally grown up in Gerrard Street, but I grew up in Toronto as well. I spent a good chunk of my own childhood in Little India on Gerrard Street. Growing up in the 90s, it was the only Indian bazaar in the greater Toronto area, so anyone who wanted to meet members of their community, have really good South Asian food, shop for upcoming events, or celebrate Diwali or Holi, this is where [they'd] go. This is where my mom would take me on the weekends and I remember popping into Chandan Fashion when my mom needed an outfit. In that way, our childhoods are connected over Little India and I feel like a lot of first-generation kids will sympathize with me, when we wanted to feel a little bit at home, that is where we would go.
How did you get the "BollyWed" opportunity on CBC? What is it like working with your family? What roles do you all play in the business? How do we get to see this in the show?
Roop: It has been quite a journey. It wasn't necessarily such a drastic transition because already the family was very close-knit in the sense that they are working day in and day out. We do our social media together and our buying together, go to fashion shows. So naturally things we were already doing as a family were just translated to the TV. That is what I love the most about the show, it is just an authentic following of what we do on a daily basis as a family and as a business. It has been a great experience and something that we are super grateful for. It was actually seven years in the making and I'll let Chandan tell you how "BollyWed" came to be.

Chandan: It started out in 2014. I was at a wedding show and I was approached by the executive producer, Prajeeth and we shot a shizzle. He had an idea of a wedding show with a family narrative and I had been watching 'Say Yes to the Dress' extensively. I knew that there was this really interesting market and this fascination with South Asian outfits and bridalwear given that it was so colorful and the beadwork was so ornate. There was a lot more interesting subject matter, especially if we tie that into a seven-day-long wedding and you tie that into multiple events and families. That is more prevalent in South Asian culture: what the mother-in-law thinks, what the mother thinks. But five to six years went by and we got 22 rejections over that period by almost every network imaginable. I was always excited that we were getting rejected because I knew that eventually, we would get a yes. Eventually at the end of 2021, around the end of the COVID era, the production company reached out asking if we were still interested in the show. I said it was never a question of 'if,' it was a question of 'when.' From the get-go, I knew that this show would be picked up, I knew it would be a success. In March 2022 we got greenlit. We had this amazing journey of seven months of continuous filming. It has been an amazing journey to be able to represent South Asians on television in a way that has not been done before. I like lighthearted programming and I am glad that we were able to influence the show because of our lives and make it a lighthearted family show that people can watch. But we still get to have important discussions.
Roop: I love that Chandan mentioned this. We get to showcase a lot of pivotal subjects in today's society. For example, we made sure that inclusivity was showcased across all 10 episodes and that is something that I give credit to our directors and producers, they did a wonderful job showcasing how inclusive not just us as a business, but as a brand and as a family we are. These are values that have been instilled in us, that when somebody crosses your threshold and comes into your store, it doesn't matter what their background is, their color, or their orientation, that is irrelevant. It is something that we don't factor in, we just consider that this is the patron, the client. There is no judgment — not in our store, not in our family. And I love that we were able to share that on a big screen for everyone to see. That was one reason why it was so important to do this, but the other reason has a lot to do with Chandan and his childhood.

Chandan: So for me, I was born and raised in Toronto. I went to a very small school where I was the only South Asian for a long time in that school. I was the only Punjabi kid, the only kid with a turban, and eventually the only one with a beard, so I noticeably stood out compared to all my peers. My father with his best intentions sent me to a really small school, a private school, that he could not afford to pay for. Where at times the check would bounce every month, but he had a very strong belief that if he provided me a quality education [so] I would keep something really dear to him —keeping the belief in religion — I wouldn't cut my hair, I wouldn't cut my beard, I wouldn't conform to society. He wanted to give me the best chance to succeed as is, [but] the unfortunate truth was I was bullied, I was picked on. I wouldn't tell him, but people would grab my jurra, my turban, and my hair. And as a kid I would just let it go because you do not want to go home and tattle to your parents, but also because I knew how sensitive of a topic it was to my dad. And I think that my experience would have been different if people didn't ask me every month, 'How long is your hair? What do you keep under that?' All these questions made me feel really uncomfortable, but the other kids also asked because they had never seen anyone like me. If I had grown up with a show like this, I would not have felt so alone, such a strong desire to belong. This is one of the reasons I really believed in the show, I really wanted to have representation. Even if there is just one other kid who watches this show and grows up in a suburb where there aren't many South Asian kids; if he is able to turn the TV on and see my dad with such a thick accent — English isn't his first language — but he still owns it so confidently. Or they see a guy like me with a turban and a beard and see that frankly he still has such a hot wife.

Roop: But beyond that, this gentleman with a turban and thick accent, they are such normal people. They love takeout, they like to play tennis, and they could be your neighbor. Other than their outward appearance, they are very much like you, very similar.
View this post on Instagram
Your support in styling Priyanka for their drag performance was inspiring and refreshing to see. How do you change your styles/designs to foster inclusivity?
Roop: I think that goes back to what I was saying about how Mom and Dad have fostered this universal approach to our clientele. We do not look beyond their needs. I think it is also important to note that some people had thought that we had Priyanka come onto the show to make it more interesting, but their relationship with the store spans over the past five to seven years.

Chandan: Twenty years. Priyanka and their family have been shopping at the store for the past 20 years since they were kids. When Priyanka started exploring the world of drag, they came and said they needed a costume that they would be designing. It also wasn't even any of my peers or me that made that connection with Priyanka, it was actually my dad, the older generation. He said, 'Don't worry beta.' He actually corrected himself and said, 'Beti, we will be there for you.' And he got them a really nice sari and lehenga which they converted into a costume that won the first season.

Roop: And Priyanka put their own spin on it and created something amazing. Only because we were the designers of those pieces could we tell that that is a piece from our lehenga. They did such a fabulous job with it.

Chandan: I think we sometimes think of the older generation, like our parents, as being more conservative, but I think that it is a one-sided narrative. Not all of the older generation is as conservative as we think. And my dad just took it as a paying customer is a paying customer. It doesn't matter what their orientation or beliefs are, and that just naturally unfolded into the story that we are sharing. He did not treat it as a big deal.
View this post on Instagram
For our readers currently planning their weddings, do you have any pieces of advice on how to balance all the heavy details of wedding planning without losing sight of why they are doing it for?
Roop: One thing for the bride and groom is not to lose sight of themselves in all of this. I've been there and done that. You plan this extravagant seven-day affair, you have all these people flying out to your wedding, and you feel this really heavy responsibility to make sure that all these guests are taking time out of their lives to celebrate your union. And like myself — and I am guilty of this, which is why I want to tell my fellow brides — [you] tend to make it less about [yourself] and more about everyone else who is attending. And yes, of course, everyone is important and I owe them respect for joining us. But remember what you want in the heart of heart, if you want a small wedding, go for a small wedding. If you want a big wedding, go for a big wedding. If you want the seven-tiered cake, go for it, if you just want cupcakes, go for that. At the end of the day don't forget what makes you happy. Don't lose sight of it, just be authentic to yourself.

Chandan: Oftentimes in the wedding industry, people are really looked down upon. Like, 'Oh my gosh, you are spending so much for this wedding!' Or, 'You are obsessing over these details!' If it is important to you, it is okay. I would not let judgment get in the way of doing what you want whether it be a small intimate 20-person wedding or a having a 1000-person wedding. This is your moment. The biggest thing I hear is, 'Oh, it is only for an hour.' But, if you have a photographer, nothing is for an hour. It is for a lifetime. Those moments last a lifetime. If it is something that you hold near and dear to you, you will cherish it. I wish people would stay true to themselves.

Roop: Yeah, agreed. Be mindful of what sparks joy in you and let that be your compass. The most important piece of advice though: At every function please request that your caterer create a to-go container of the meal at the event for you and your partner to enjoy after because often, and it is so sad to hear this, the bride and groom will eat last at their own event or not at all. And you spend all these months planning [an] extravagant menu and then you don't even get to eat your own wedding cake. Hah! That happened to us!
Do you have any future plans that you feel excited about sharing with Chandan?
Chandan: Yeah! I would say concrete plans are in the pipeline. In the first episode of 'BollyWed' [you] see that we come to the realization that there is just not enough space and we would love to expand into another space.

Roop: And this is where you get a lot of the new generation, old generation beliefs. Because mom and dad believe that the family should stay very close-knit and together to run the one location. And Chandan has the belief that [the] true success of a business is when it is scalable, and has multiple locations nationally, globally even. In Episode 10 you get a conclusion, but we will let the readers watch it for themselves!
You can now watch the inaugural season of CBC's "BollyWed" on CBC TV every Thursday at 8 p.m. EST or stream it for free on CBC Gem! And that's not all from the Chandan Fashion team! They'll soon be featured in an Instagram LIVE chat with Brown Girl Magazine, so stay tuned!