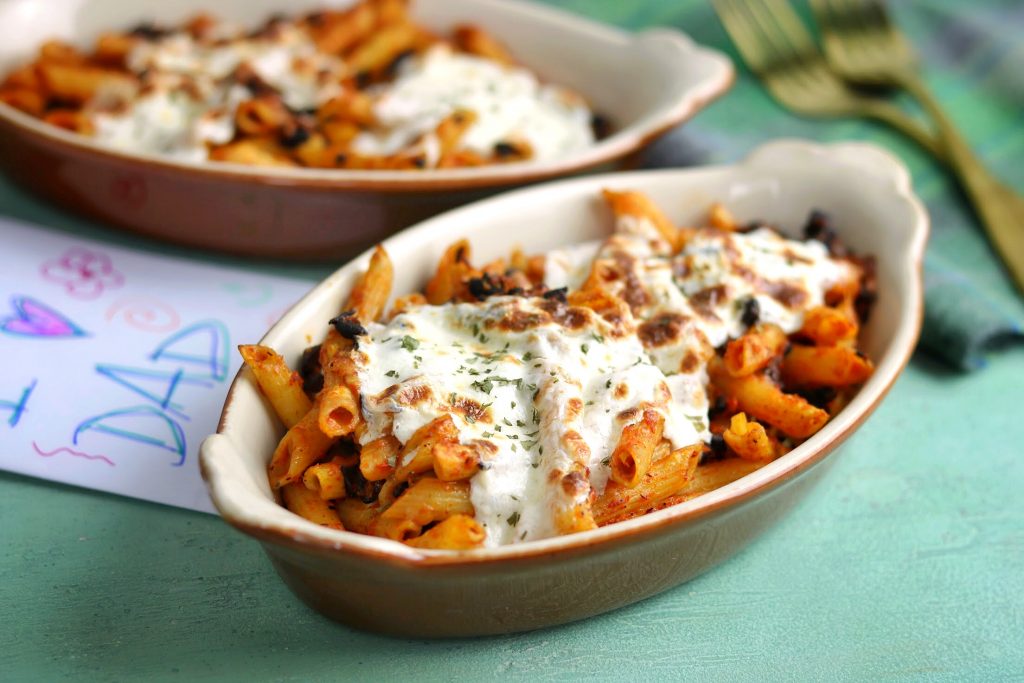 I almost always think about the recipes my mom taught me as a kid and credit her with a lot of what I've learned, but, this Father's Day, I need to give some credit to my dad. Father's aren't always seen in the home kitchen, especially in our culture, but there are plenty of men that cook. Actually, the majority of U.S. chefs are men. Why there are only a mere 20 percent of women chefs in the U.S.? Well, that's a story for another day. I digress.
My father came to this country with the American dream in his pocket. He came to build a life full of opportunity, not just for himself, but more for his future family. His first job was at Pizza Hut as a manager and evenly district manager. It's funny, he told me when he was younger, he thought pizza was some sort of dessert! Guess he found out otherwise.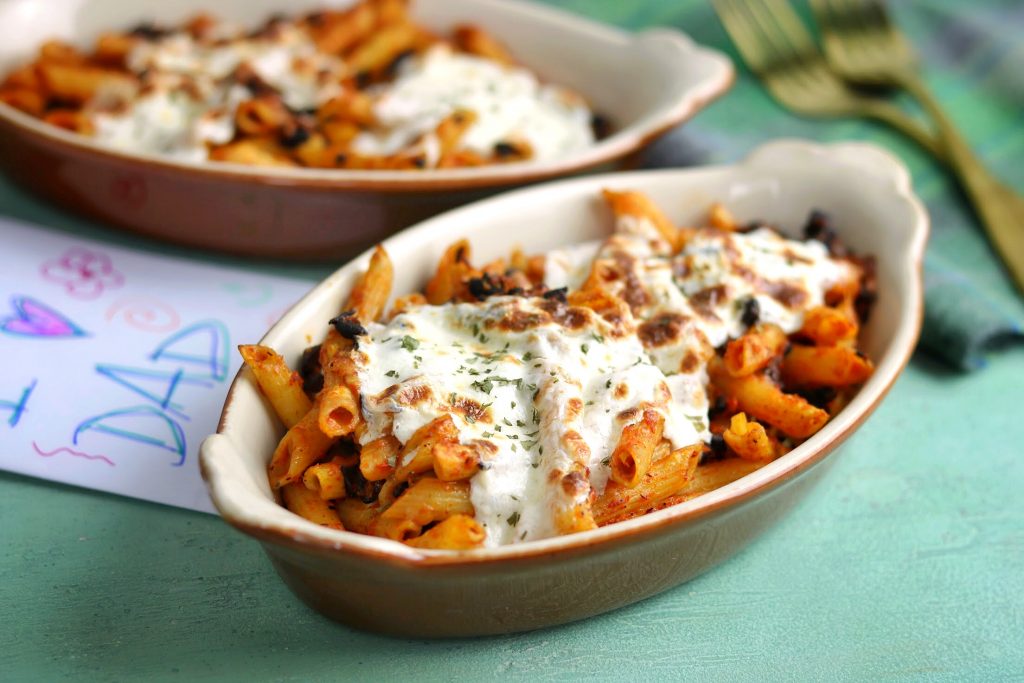 Our home was full of Pizza Hut-branded merchandise like cups, plates, t-shirts – but, the thing we kept over the years were four little brown clay baking dishes. I cherished just the sight of these little dishes coming out of our cabinets because it meant that dad was going to make us all his famous baked spaghetti. Dad's recipe wasn't anything out of the ordinary—boxed spaghetti noodles, jarred tomato sauce, ground beef, and cheese—but, he treated the process as if he was making magic. And, he always quietly told us that a little sprinkle of sugar was the secret ingredient in his sauce. Getting to hold on to these four dishes in my own kitchen today is special, not just so I can bake pasta, but so that I can relive those tender moments of happiness and joy.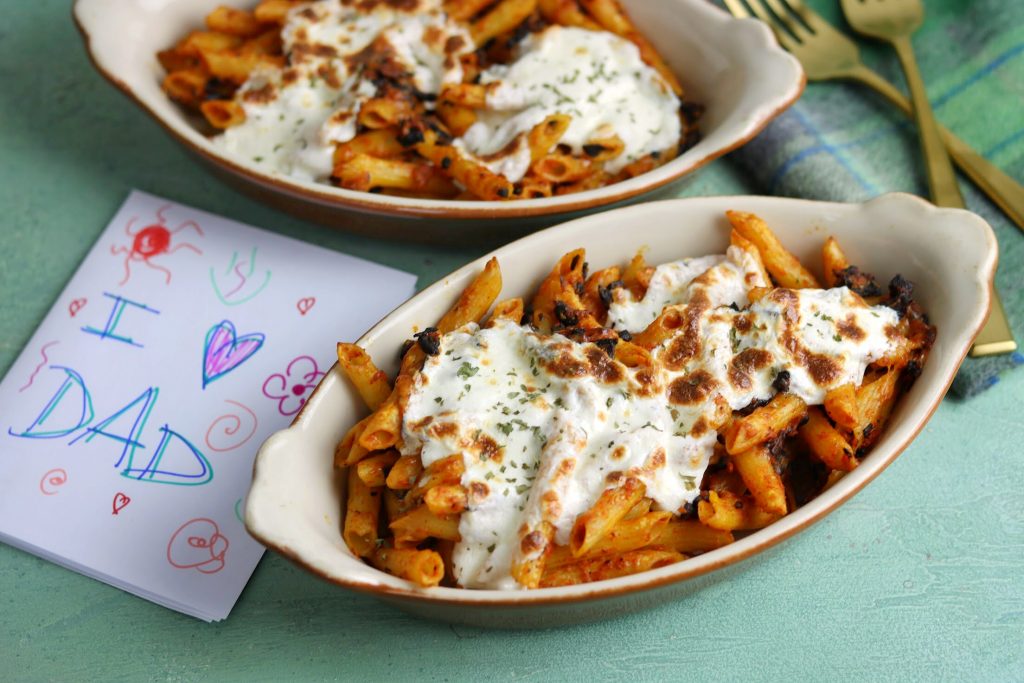 The recipe below is a modern ode to my dad's original recipe. This Cheesy Baked Mushroom Penne Pasta is full of flavor and is so easy to make. The way the mushrooms are cooked are meant to mimic the ground beef we'd typically use in the recipe – trust me, even mushroom haters can't hate this! I hope you enjoy making this recipe and, bonus points to you if you make it for Father's Day, if not for your father, for yourself to enjoy.
Ingredients
Penne Pasta, 16 oz box, cooked
Grated Parmesan Cheese, 1 cup
Mozzarella Slices, as needed
Parsley, finely chopped
Mushroom "Meat":
Olive Oil, 2 tbsp
Portobello Mushrooms, 6, large, finely diced
Hickory Liquid Smoke (by Colgin), 1/2 tsp
Salt, 1/2 tsp
Tomato Sauce:
Olive Oil, 2 tbsp
Onion, 1, diced
Bell Pepper (any color), 1, diced
Jalapeno Pepper, 2, diced
Garlic Cloves, 6, minced
Diced Tomatoes, 2 cups (canned is fine)
Italian Seasoning Blend, 2 tbsp
Brown Sugar, 1 tbsp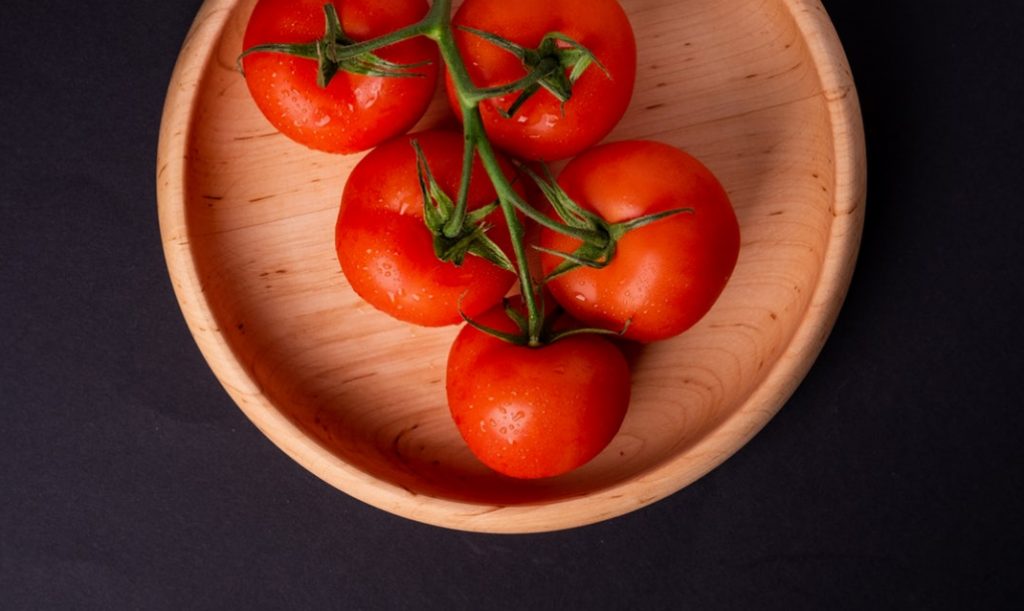 Make the meat. 
In a skillet on high heat, add the olive oil. Once the oil is hot, add in the finely diced portobello mushrooms. Cook for about 6-8 minutes or until the mushrooms water content cooks out and they become slightly crisp. Add in the liquid smoke and the salt then mix together. Set aside.
Cook the pasta. 
Bring a pot of water to a rumbling boil and add about 2 tbsp of salt to the water. Once the water comes to a rumbling boil, cook the pasta according to the box instructions. I typically cook for about 7-8 minutes to get firm pasta. Immediately drain the pasta under cool water, but be sure to reserve a 1/2 cup of the pasta cooking water.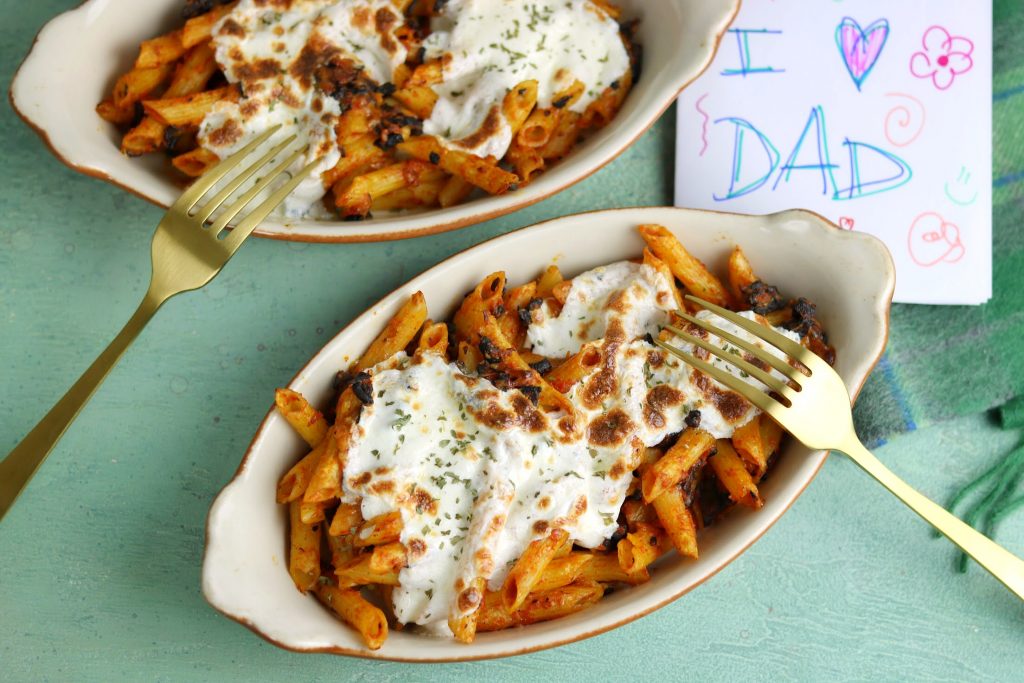 Make the tomato sauce. 
In the same skillet on medium high heat, add the olive oil. Once the oil is hot, add the onions, bell peppers, jalapenos, and garlic cloves. Saute until lightly golden and soft. Now add in the diced tomatoes and mix everything together. Finally, mix in the Italian seasoning and brown sugar. Transfer the chunky sauce to a mixing bowl and use an immersion blender to puree the sauce. *Alternatively, wait until the chunky sauce has cooled down then use a blender to puree the sauce. 
Mix it all together and bake.
Preheat the oven to 400 degrees. Now add the cooked pasta, pasta water, mushroom meat, tomato sauce, and parmesan to your pot. Toss everything together until evenly mixed. Add the pasta to a baking dish and top with the mozzarella slices and parsley. Bake just until the cheese is melted and bubbly. Done!