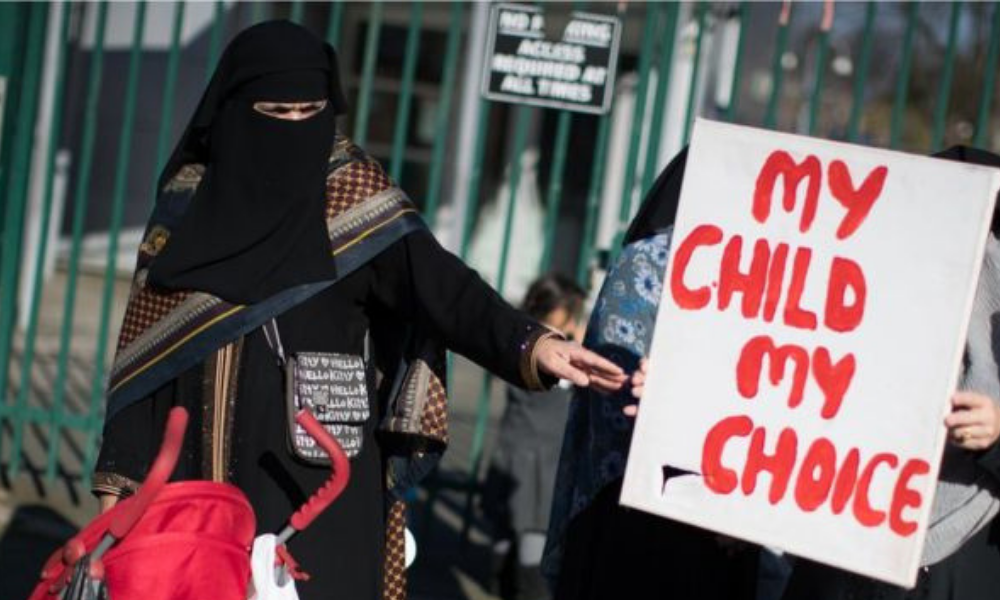 With Pride celebrations that recognise lesbian, gay, bisexual, transgender and queer social and self-acceptance, well underway across the country, there are still communities within the U.K. — including some members of ethnic minority groups — that are still less than willing to learn more about the LGBT community. A handful of primary schools across Birmingham, in the West Midlands region, are finding out the hard way that not everyone wants their child to be educated in understanding different lifestyles.
In recent months parents of children at Parkfield School and Anderton Park School protested against the schools' "No Outsiders" programme, which strives to educate children in line with the Equality Act 2010. The program, designed by Parkfield's headteacher Andrew Moffat, who is gay himself, teaches tolerance towards different races, religions, and disabilities. But the LGBT element of this has been embroiled in controversy, with many parents, South Asians included, removing their children from the schools, and protesting outside the gates.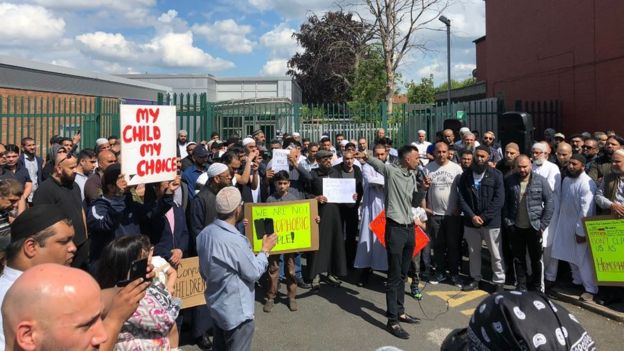 The aim of the programme is to educate children about the different people and communities that make up our wider world, in order to create a fairer and more tolerant society. It has been considered as age-appropriate so that children are never exposed to unsuitable content. For example, the program uses a storybook featuring two male penguins adopting a chick (based on the true story of Roy and Silo at New York's Central Park Zoo).
It's a simple, but effective, way to explain different relationships to young children. These lessons expose children to the broad ideas of two male penguins starting a family, or a dog who doesn't quite fit in, to allow them to get used to the concept of people being different to one another, and hopefully accept people as they are. A pilot project was in fact conducted in 2014 within the city, leading Moffat to become an MBE recipient for his services to including diversity and equality into the education process. 
However, parents at both schools have been removing their children and protesting against this initiative, bombarding teachers and pupils with placards and chants. Many of these parents, and indeed the leader of the protesters, Amir Ahmed, have cited religious and cultural contradictions as their reasons for halting the lessons. Ahmed himself has no children at any of the seven Birmingham schools he has been protesting against but references his religious beliefs as a Muslim as his reason for protesting. Whilst stating he was not homophobic, Ahmed told the BBC,
We are a traditional community – we have traditional family values and morally we do not accept homosexuality as a valid sexual relationship to have.
His protests have inspired other protests across the country, but the staff is hitting back, saying that they have tried to engage with parents, claiming that the protests are hindering calm and reasonable discussions. Sarah Hewitt-Clarkson, the headteacher at Anderton Park, has spoken to the Metro regarding parental consultation after Shakeel Asfar, whose nephew attends the school (but who has no children at the school himself) claimed that there had been no attempt to consult parents. Afsar has been particularly vocal at Anderton Park and is seen as the leader of the protests there. He has claimed that any consultation attempts between the school and parents had broken down, but Ms. Hewitt-Clarkson told Metro,
Mr Afsar is not a parent or legal guardian of a child at the school, which is why he is not a part of the mediation process – it has not broken down, he is simply not a part of it for this reason.
She has also issued a video on the Anderton Park website discussing the new policy for Relationship Education, designed as a resource for parents and reiterating that "[they] do not teach children to be gay," which seems to be the main concern for many of these parents.
MP Jess Phillips summed up the situation to the BBC very succinctly, 
You don't get to pick and choose which equality you can and can't have. Our equality laws protect us all. 
While that includes religious freedom, you can't expect support when you're using that freedom to oppress another group — effectively, it's all or nothing.
With the vast majority of protesting parents coming from South Asian and Muslim backgrounds, this controversy highlights again the reluctance of South Asians to accept the LGBT community. Every time we think the situation is improving, the very little movement seems to have been made. When Muslim leaders are protesting against LGBT equality outside a primary school, calling teachers "paedophiles" and terrifying pupils, one has to ask — who exactly are they trying to safeguard? Equally, this week, Sara Khan, who was appointed by the home secretary to lead the Commission for Countering Extremism, admitted that the Department of Education should have invested more in supporting the headmasters affected by the outrage.
History tells us that hatred stems from ignorance and a lack of education. While parents try to do right by their children, each generation is influenced by the ignorance of the one before it. Islamophobia comes from people not understanding Islam and therefore hating it. Racism comes from a lack of education and a superiority complex and again leads to hatred. Homophobia is ignorance of the LGBT community, a lack of education and understanding that all humans are equal.
Gay Muslims react to the Parkfield School LGBT lessons row

[tap to expand]https://t.co/i8bqgihRJR pic.twitter.com/LJpt3D2TQ9

— BBC News (UK) (@BBCNews) April 5, 2019
The hours spent within an educational institution allows children to interact with people different from themselves, with different cultures and religions. It's the opportunity, outside of the parental home to treat everyone equally, including boys who love boys and girls who love girls! You might not like it, you might not understand it, but it's a part of life such lessons will allow children to grow into compassionate adults. Being educated about a topic does not cause you to be influenced by that topic. I learned about cells and I am not a biologist (sorry mum).
I love our community — our rich and colourful cultures, our diverse languages, our differences. It's time our community embraced the LGBT one with open arms, a culture just as colourful and diverse, and by no means a lesser part of society. We do not get to pick and choose our equality. Society is a community and children are our future — let's help them create a better one than we have.