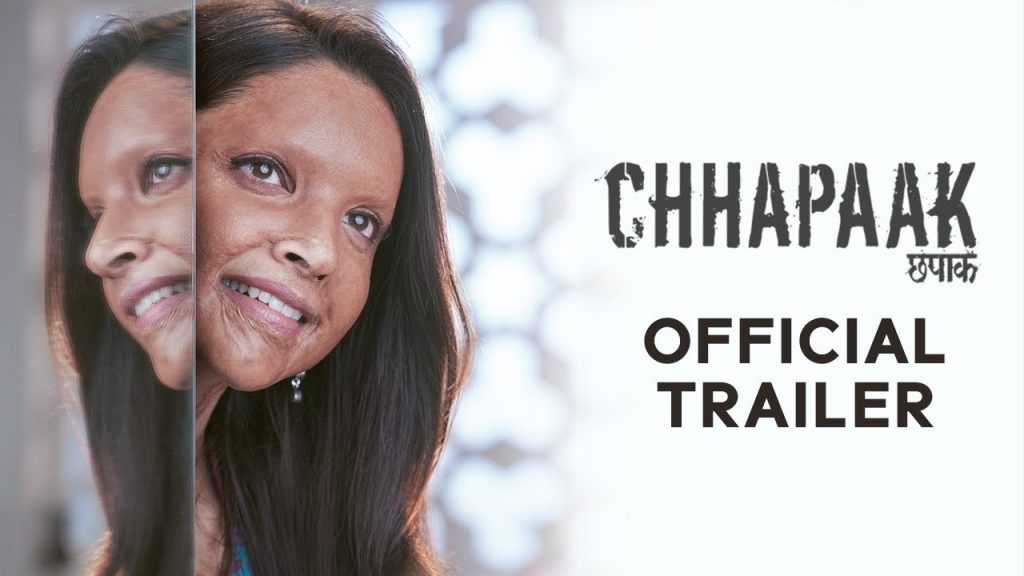 Telling the story of any survivor of violence is a daunting task. Telling the story of an inspiring acid attack survivor who then spearheaded a movement? Next to impossible. Thankfully, the task was bestowed upon Meghna Gulzar, the ridiculously talented director of "Raazi" & "Talvar", and Deepika Padukone as star and producer with "Chhapaak."
"Chhapaak" tells the story of Malti using the real-life events of Laxmi Agarwal, a young girl who was the victim of a vicious acid attack, then uses her pain as a strength to try and stop the sale of acid in India while trying to get justice against her own attacker. Padukone stars as Malti and she leads a stellar cast including Vikrant Massey and Madhurjeet Sarghi. While there are a few issues with the film's script, the film is still an honest look at a horrible epidemic in Indian society that doesn't show signs of slowing down. A few of our BG staff saw the film and share a few of their visceral reactions to this important film:
In a few sentences, what did you think of "Chhapaak"?
Kamini Ramdeen:
This film is an essential must watch for all women. Before walking into the theater I was honestly scared to watch the film, I was holding my breath for the defining moment of change, the physical marker and moment of the acid attack. In fact, my friends and I were running a little late and I was hopeful that I would miss it. Spoiler alert: I didn't miss it. It was horrific, impactful and well done. It's easy to throw that scene out there to shock the audience but "Chhapaak" builds on that moment. We get to know the main character Malti and see her through her journey after the attack, so the moment when she is attacked is all that more jarring.
Karuna Chani:
Disturbing, Emotional, Riveting, Well directed, Important.
Sonali Patel:
A well made film that takes you on the heartbreaking yet inspiring journey of an acid attack victim. It draws you into the victim's world and the rollercoaster of emotions, turmoil and pain. This was a very important film to be made to bring awareness to this unbelievably heinous crime.
Hima Barot:
This film was definitely something that wasn't easy to watch, but I encourage everyone to do it. It's so important that we're aware of these tragedies happening so we can efficiently solve them.
Alisha Dosani:
This story revealed the journey of an acid attack survivor, shedding light on the physical and emotional struggles of rebuilding one's life from scratch after such an awful crime.
What moment made you the angriest with the legal system?
Karuna Chani:
No attention given to the lawyer as a female. No importance given to ban or to screen purchasing of acid. The blame game on acid attack victim.
Sonali Patel:
At the beginning of the film, the officer said Malti had so many phone numbers of boys in her phone, therefore implying the blame is on her that she was attacked. Victims are often not believed, blamed and shamed from the start. One of the victims didn't receive treatment from a hospital because they believed her to be from a lower caste and unworthy of treatment.
Hima Barot:
When I realized it was a woman who did this to another woman. Also when I realized the reason for which this acid attack happened. It's due to an insane amount of insecurity and the feeling rejection that the attacker thinks it's justified to ruin someone's life.
Alisha Dosani:
There were a series of moments that angered me about the legal system in India. More often than not, a female's story typically isn't regarded as highly as a male's story, disclosing the continued struggle of gender inequality and the overwhelming burden placed on women.
https://www.instagram.com/p/B7N90FDgSe9/
What surprised you the most about Laxmi Agarwal's story (known as "Malti" in the film)?
Kamini Ramdeen:
I can't say that I ever felt truly hopeless for her at any point in the film. She continued to display tremendous amounts of courage despite insurmountable obstacles and went on to fight for others who suffered from acid attacks while trying to prevent future attacks by attempting to change laws.
Karuna Chani:
Her spicy personality and positive attitude through all the pain.
Sonali Patel:
She rarely faltered through all the pain and disappointment and constant abuse from society and legal system. Her resilience over time to allow her true self to shine through once again (getting back to a career that speaks to her and finding love).
Hima Barot:
Honestly it gave me goosebumps when I saw her smiling through all the pain, that too completely genuinely. Even when she did speak about it, she mentioned how great it would be if acid wasn't even sold. She was so mentally strong and stable, unlike the attacker, that she was able to realize the root solution to this problem instead of dreading what happened and why.
Alisha Dosani:
Mati's perseverance throughout her journey was a true testimony to her grit and resilience.
https://www.instagram.com/p/B7NtAaEj5_5/
What moment made you feel the most hopeless for Malti?
Kamini Ramdeen:
I can't say that I ever felt truly hopeless for her at any point in the film. She continued to display tremendous amounts of courage despite insurmountable obstacles and went on to fight for others who suffered from acid attacks while trying to prevent future attacks by attempting to change laws.
Karuna Chani:
The endless attempts to jail the Babbu with no bail. The endless attempts to ban the purchase of acid products.
Sonali Patel:
I always felt Malti's strength throughout the film but I felt hopeless every time her attacker was out on bail and in court when it was quite obvious that all evidence lead to proving who her attacker was, it was difficult to watch the legal system fail her in the initial phases. Also, the years long attempt to ban acid products seemed futile after awhile. Heartbreaking that what these victims have gone through isn't enough to consider banning acid.
Hima Barot:
When the attacker kept getting bail and when this issue wasn't taken seriously.
Alisha Dosani:
The moment that felt defeating was when her brother also battles an illness. It made feel as though she and her family couldn't escape the series if unfortunate events.
Speak to Deepika Padakone's acting: What part of her character could you relate to (if any)?
Kamini Ramdeeen:
The idea of looking in the mirror and not being able to see yourself anymore, I think that moment when she does go to the mirror and sees her reflection and then screams in horror was relatable. It's something we so often take for granted, our reflection. As women, we may fuss over a pimple or our makeup being 'off' but that irreversible moment where she sees that the physical representation of herself is gone that's a fear that many don't have to deal with and yet brings to light how much that first impression of seeing someone's face means in society and to us as women especially.
Karuna Chani:
Her innocence, courage, persistence. Family values to provide and support the family all the while never acting or showing she is a victim of violence.
Sonali Patel:
Naivety, innocence, hopefulness, finding the good in tough situations, sacrifice, love of family, caregiver. I think Deepika did a great job in portraying the various characteristics and personality shifts that a victim may go through.
Hima Barot:
I'm so glad Deepika did this film. It's so important to bring these issues to light. The ending was perfect in which it showed that although there is a "happy" ending there's never really a happy ending because the attacks are still happening all the time. It's so important for someone like her who has that power and importance, to do a film like this. I have so much respect for her after doing such an incredible job portraying what an acid attack victim goes through. I think if anyone could reduce acid attack victim cases and ban the product altogether, it would be her. I also believe that yes, india's stance should change in which acid should be completely banned, but at the same time I'm highly optimistic that this film will inspire the change that India so desperately needs.
Alisha Dosani:
Deepika played the role flawlessly, I felt as though I could join in her sorrows and joys firsthand. Her performance was truly impactful and emotionally charged, allowing the audience to walk Malti's journey alongside her.
What does "Chhapaak" say about the state of India and its stance on acid attack victims?
Kamini Ramdeen:
There's still so much more that needs to be done. So much more.
Karuna Chani:
India is much farther away from education, awareness and action standpoint than I thought. The numbers are rising rather than declining. Very disappointing and disheartening for the females of India and the constant state of fear and danger they live in. Hoping this film brings awareness & education on a GRAND scale.
Sonali Patel:
Violence against women has historically been a huge issue in India. There's a fundamental issue throughout Indian society of how women are viewed and therefore, treated based on those views as well as lack of education. It's a complex and deep-rooted issue. These types of stories are only just coming to light. But there are so many untold stories. It's so important to bring awareness to acid attacks and violence against women. Hopefully, this will bring about action and change.
Alisha Dosani:
The movie made me angry on the stance of acid attacks in India because the topic is not taking the precedence it should. An acid attack , as we saw in the movie, can alter the path of someone's life tremendously and that alone should be driving immediate change.
"Chhapaak" is in theaters now.