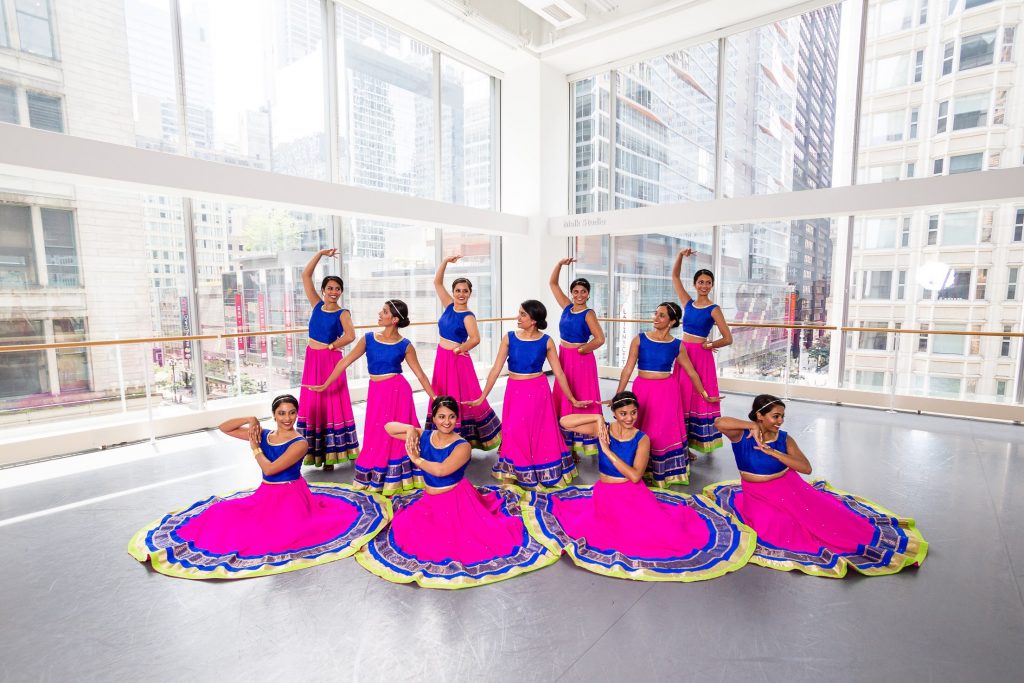 by BG Staff – Follow @browngirlmag
In the summer of 2016, a group of young women in Chicago had a vision.
These were no ordinary women—for starters, each has at least 20 years of continuous dance experience, and all trained in Bharatanatyam in addition to newer styles they picked up. Over texts, emails, and spirited conversations, the seven women realized they shared a common goal and artistic vision, which they harnessed to create Ameya Performing Arts.
Based out of the Chicago area, Ameya debuted in September 2016 with a performance video two months after the company's initial inception.
"Our biggest challenge this year has been: how we do continue to get our name out there and raise awareness?" Ameya's marketing director Samy Simha told Brown Girl. "While all of our performances and event gigs have been organically sourced, we want to continue to find more ways to integrate with the community."
Ameya is currently hard at work prepping for their first company showcase, BOUNDLESS, on Nov. 11. It's been in the works since January and primarily the focus of five board members within Ameya.
"The original plan for the showcase was to display the dances we already had in our repertoire for a variety show type feel with no real theme," Simha explained. "However, once the showcase board was in place, our showcase director, Nisha, envisioned creating a show with a message – with a purpose that the women of Ameya could relate to but at the same time, was so much bigger than them. They realized that they had to use this showcase as a platform to spread awareness about an issue that was so critical in today's world through the greatest form of expression they know – DANCE."
The showcase, titled, is all about empowering women, and it could not come at a better time with both politics and entertainment charged by accusations of inequality and silence. The performance will touch upon stereotypes, gender equality, social pressures, domestic abuse and more over three acts that end with an ultimately powerful and positive message. Between acts, speakers will take the stage to share personal stories relating to the theme.
"We want the audience to emotionally engage with our dancers and speakers and the stories they are conveying on stage," Simha said. "We hope to shed light on how women fight to find strength, power and courage despite the obstacles and roadblocks life has thrown at them. It is important that the audience understands the struggle but also see the triumph and positivity in every act."
Even with a cohesive artistic goal, Simha said scheduling is a major speed bump for Ameya, but it's a common struggle with dance companies whose members are employed full-time outside of dance. Ameya is still finding its foothold, looking for photographers and videographers to help with the company's visuals and social media presence but also prioritizing choreography and training over everything else.
"From Ameya's perspective the dance scene in Chicago is still growing," Simha said. "It's at a stage where new companies like us have the opportunity to create our own space in the professional Indian dance community and promote our brand. It isn't over saturated yet and that is our greatest advantage. Moreover, the people are welcoming and open to learning new types of dance!"
Ultimately, Simha said, Ameya's goal is to be the premiere Indian dance company in the Chicago area, and to use the company's platform to drive social justice and conversation.
"We will continue to use dance as our platform to shed light on important social topics and create pieces that can initiate conversation," she said. "From there, the possibilities are endless."
BOUNDLESS takes place Saturday, Nov. 11 at 5 P.M. local time. Tickets can be found here.