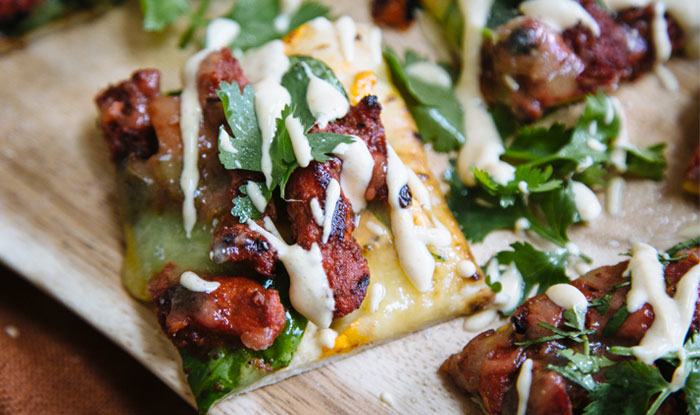 by Palak Patel
This post was originally posted on The Chutney Life and republished with permission. 
Valentine's Day is just around the corner. You've been asked out, your date is hot-and-happening, and you've also decided what you wanna do — you wanna stay in. Low-key, intimate dates are all the rage right now. No wonder popular pizza chains are introducing the heart-shaped pizza worldwide! And for anyone who's not picking up the hints, we just gave you your plan for Valentine's Day: an intimate date, right in your living room with wine and a heart-shaped pizza. Done!
Well, it doesn't have to be a heart-shaped one, but a pizza is a surefire winner for any date night. All I'm going to do it crank up the heat (in light of the occasion), and show you how to make my favorite (and famous) Chicken Tikka Pizza.
To minimize your time spent in the kitchen, and maximize on spending time with your special someone, I suggest you use ready-made pizza crust; you can take to the kitchen and make your own, too!
So, here's how to throw down this Valentine's Day!
Chicken Tikka Pizza w/ Curry-Lime Yogurt
Note: chicken is best when it is marinated overnight or at the least 3 hours before cooking, so try to plan ahead of time.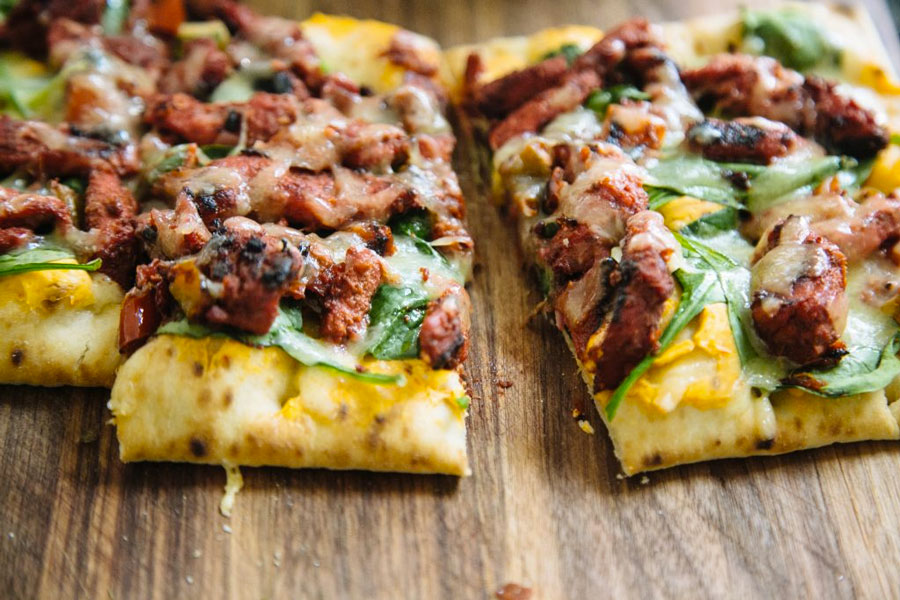 INGREDIENTS
3 tbsp yogurt, whole milk (full fat)
1 tsp chili powder
2 tbsp Swad Tandoori Masala
2 tsp coriander powder
1 tsp garam masala
2 tsp garlic powder
2 tsp onion powder
salt to taste
2 lb boneless skinless chicken breast, cut into small strips
2 serrano chilis, diced
1/4 cup cilantro chopped
1 tsp cumin seeds
2 tbsp garlic, minced
1 tbsp ginger, minced
1 large onion, diced
1/2 cup green bell pepper, diced
1/2 cup red bell pepper, diced
2 tbsp oil
1 cup Monterey Jack or Mozzarella, shredded
3 tbsp cream cheese
1 tsp chili garlic paste (I use Prakash Thetcha Chutney)
Prepared pizza crust (I used Brooklyn Bred)
CURRY-LIME YOGURT SAUCE
Combine the following :
1 cup plain whole milk yogurt
2 tbsp tahini
1 tbsp garlic powder
1 tbsp curry powder
1 tbsp honey
2 tsp sriracha
1 lime,  juiced
1/2 lime, zested
salt & pepper to taste
INSTRUCTIONS
Preheat the oven to 375 degrees Fahrenheit
Combine the first eight ingredients well and add the chicken. Let marinade refrigerate for at least 3 hours.
Heat a large skillet over medium-high heat and add oil. Once oil is hot, add cumin and serrano peppers.
Add the onion and cook until translucent. Add the chicken along with all of the marinade into the pan and cook for 10-15 minutes or until chicken is no longer pink and is cooked through completely.
Combine the cream cheese with the chili garlic paste and spread it onto the pizza base.
Top with a bed of spinach or arugula and place chicken on top. Add chopped bell peppers to chicken and sprinkle cheese on top.
Place pizza on a perforated pizza pan or regular baking pan and bake for 15 minutes until cheese is melted and remove from oven.
Top with yogurt sauce and fresh cilantro. Cut into squares, serve hot.
Trust me when I say that we're about to add a whole lotta heat to your Valentine's Day!
---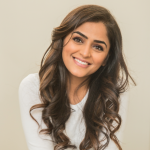 Palak Patel is a passionate home cook and food blogger who has an affinity towards creating dishes that provide a fresh and modern take on the familiar flavors of Indian cooking. Her belief that food can empower us, heal us, and most importantly connect us, is the driving force behind her blog. She especially loves sharing recipes that incorporate global flavors with locally sourced and seasonal ingredients.